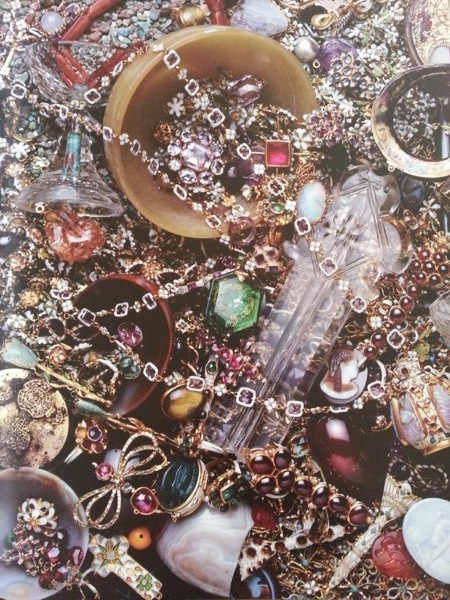 The Cheapside Hoard. Photo: Museum of London.

Last Thursday, I was fortunate enough to spend the morning at Museum of London at the press preview for the superb new exhibition about the Cheapside Hoard – a hidden and rather mysterious stash of precious Tudor and Stuart jewellery.
I almost didn't make it actually as I had to get up at half past three in the morning to get there on time (particularly painful on my birthday!) and then got held up on the way with the result that it looked for a while like I might miss the whole thing. I got there in the end though and am very pleased that I did as the exhibition was definitely worth any amount of fuss and effort!
It's beautifully laid out – you enter through what a turnstile which immediately gives the impression of some sort of bank vault and then find yourself in an atmospherically lit exhibition space where the story of the jewels from their initial discovery beneath a dilapidated cellar floor on Cheapside in 1912, back to their creation in a City jewellers shop to the current still remaining questions about their providence is artfully and intriguingly told with the assistance of wonderful portraits showing how the jewels would have been worn, a fascinating reconstructed 16th century jeweller's workroom, fascinating displays about the trade in precious stones and the way that they were employed and worn and a specially commissioned Elizabethan inspired scent (created by Roja Dove who was on hand to talk about it – he blended geranium, rose, lavender and patchouli with clove, clary sage, vetiver, cedarwood and oakmoss then added tonka bean, coumarin, labdanum, beeswax, frankincense, civet, benzoin and spices to create a really quite authentically 'churchy' and heady Tudor fragrance).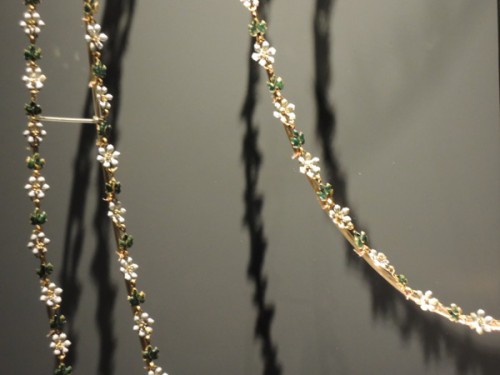 'I love that seventeenth century London was such an important port of entry for exotic goods arriving from every corner of the known world. The idea that scent can re-connect moments in time with one drop and one breath utterly captivates me. And this is something that I kept in the back of my mind at all times when creating this fragrance. The result of blending the intoxicating fragrance of tonka bean with that of rose and lavender and rich spices has formed an extremely distinctive, spicy and warm creation fir for the dazzling treasure trove that is the Cheapside Hoard.' — Roja Dove on his Elizabeth scent, which visitors to the exhibition can try for themselves.
It's the jewels themselves that, obviously enough, are the real draw of this exhibition though and they really don't disappoint. Although the bulk of the hoard is held within the collection of the Museum of London, a few pieces were dispersed elsewhere to other London museums so this is the first time the hoard has been displayed all together for the first time since its discovery. As there are almost five hundred pieces, I think presenting them in a non confusing way probably presented a bit of a challenge but the curators rose to the task admirably and the result is really quite breathtaking and even magical as you are led past display cases full of glittering rings, pendants, pomanders and other ornaments including several long and extremely beautiful precious stone and enamel chains, which would have been originally worn in loops that cascaded to the waist of the wearer. It really is stunning.
One of the most eye catching pieces on display is the emerald cased watch, which is rightly one of the most amazing jewels in the world. I mean, just look at it. It's a watch made of solid emerald for heaven's sake, which was carefully cut along the natural prismatic structure of the crystal and the facets to enhance the natural play of light within the piece. We obviously have no way of knowing who this piece was intended for but it's likely that the emerald was specially sourced in either Asia or South America for a specific client.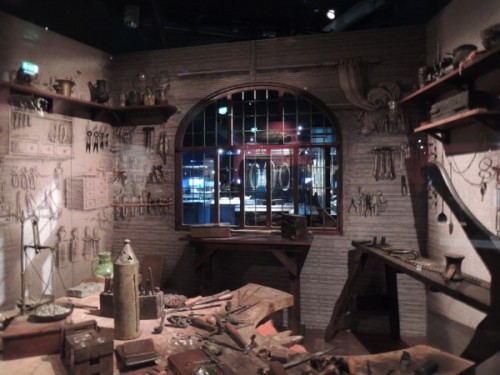 Walking through the exhibition is a wonderful and also rather moving experience as the pieces are in such wonderful and pristine condition and so beautiful that it's almost hard to believe that they are so old. Thanks to portraits, we are all familiar with the exquisite and ornate beauty of the jewels worn by our Tudor and early Stuart forebears but to actually SEE them and in such huge quantities is really very special indeed.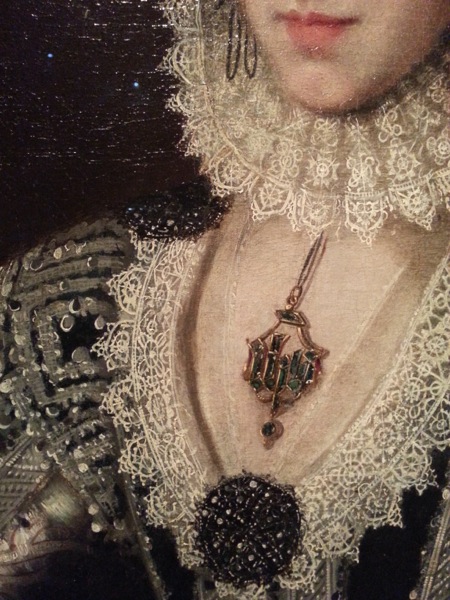 It also serves to reinforce what we already know about the vast and conspicuous consumption of the late Tudors and early Stuarts, which was fed and fostered by the ever expanding trade links to the east and Americas. While here we are invited to imagine the jewels as they would have been worn by the ladies and gentlemen of the court as well as more humble Londoners, all doing their best to keep up with that notable regal magpie Elizabeth I, there is also the perhaps even more fascinating story of sixteenth century commerce at play here.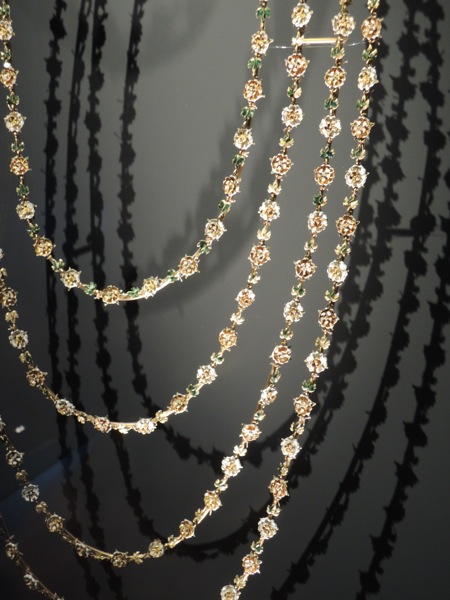 It's hard not to gasp in wonder at many of the pieces on display here – from the exquisite little white enamel and gold jewelled scent bottle set with opals, rubies, pink sapphires and diamonds which was originally intended to hold scents created from flower distillations and spice to the pretty gold and emerald pendants in the shape of bunches of grapes, which were most likely intended to be worn as earrings. There are older pieces too, such as an antique cameo profile bust of a Ptolemaic Queen, possibly Cleopatra, which would have been incorporated into sixteenth century jewellery for discerning clients.
Behind this glittering display there lies a rather darker story however as the curators and experts researching this exhibition uncovered a grisly and shocking tale of counterfeit jewels, skullduggery and murder linked to the Hoard by the presence of two fake rubies, which were produced by dodgy seventeenth century jeweller extraordinaire Thomas Sympson, who is a very strong candidate for being the original creator of the entire hoard.
As Hazel Forsyth, the exhibition curator says: 'The sixteenth and seventeenth century jewellery trade was clandestine by its very nature and skulduggery was rife. Jewellers couldn't shout about what they were up to or the precious gemstones that they were dealing with. That in itself would make them walking targets for theft, corruption or worse.'
As for the mystery of who made the hoard and why and when it was hidden away, that is something that may never be answered although it is explored in the exhibition. Hazel Forsyth herself suspects that it was buried during the upheaval of the English Civil War and, certainly, that seems like the most probable explanation.
If you can't get to the exhibition then there is a really superb accompanying catalogue London's Lost Jewels: The Cheapside Hoard
which was written by the curator, Hazel Forsyth. I was lucky enough to get hold of a copy while I was there and it really is a stunning book that not only includes many large photographs of the jewels themselves in full colour but also provides a lively and fascinating history of the Tudor and Stuart jewellery trade, the stones they used and the way they were worn and the mystery that surrounds the collection's hasty burial. It really is a must read if you are at all interested in the sartorial history of the sixteenth and seventeenth centuries as it provides a fascinating background to the splendid fashions of the age.
The Cheapside Hoard: London's Lost Jewels is on right now until the 27th of April 2014 and is an absolute MUST SEE if you like jewels and have even a passing interest in the fashion and commercial history of sixteenth and seventeenth century London.
******
Check out my new alternative lifestyle blog, Gin Blossoms!
'Frothy, light hearted, gorgeous. The perfect summer read.' Minette, my young adult novel of 17th century posh doom and intrigue is now £2.02 from Amazon UK
and $2.99 from Amazon US.
Blood Sisters, my novel of posh doom and iniquity during the French Revolution is just a fiver (offer is UK only sorry!) right now! Just use the clicky box on my blog sidebar to order your copy!
Copyright secured by Digiprove © 2013 Melanie Clegg