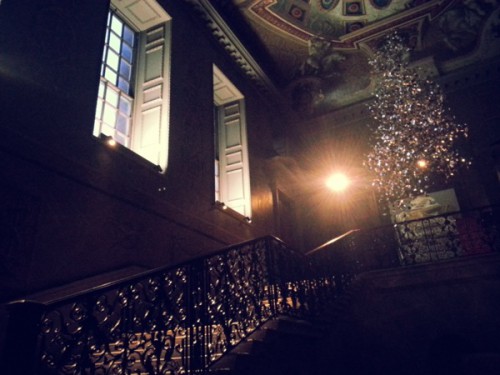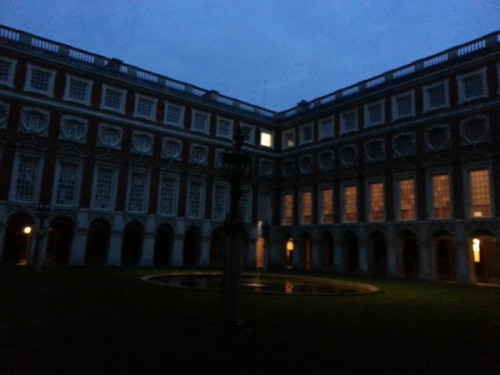 I can't believe that it's now the end of September! Where did the month go? I like to think though that I ended it on a high note with my trip to Hampton Court Palace for the second ever sleepover in one of the stately galleries overlooking the Fountain Court. It really was the most amazing event imaginable, even magical at times, and the team at Historic Royal Palace deserve all manner of kudos and congratulations for arranging it.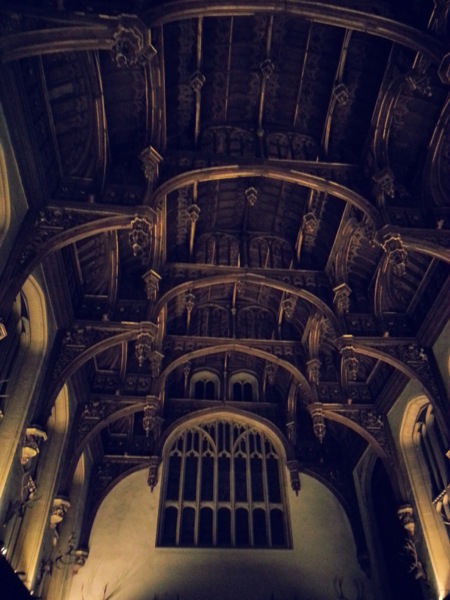 I spent most of the afternoon beforehand mooching around the City before heading amidst some drama and stress to Waterloo (always my least favourite station) to catch a train out to Hampton Court for the start of the sleepover, which was due to start at half past six. On the way there I bumped into my chum, Laura and her friend Cathy and we went in together, almost beside ourselves with excitement as we were greeted at the entrance and told to go through to the Queen's Staircase, where we had our bags checked to make sure that we hadn't brought in any ghost hunting devices or other such naughtiness.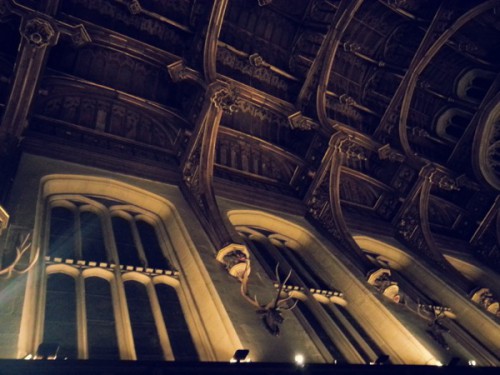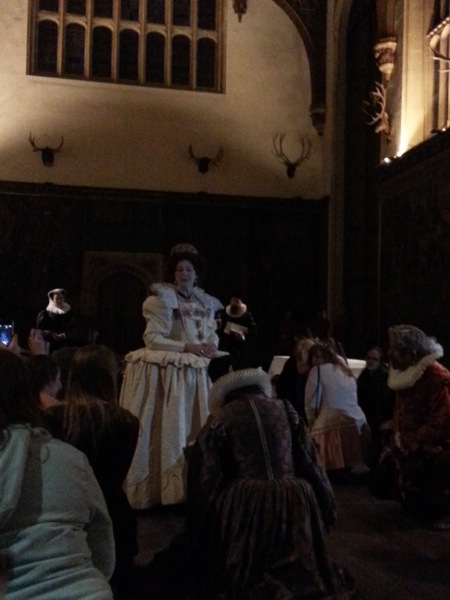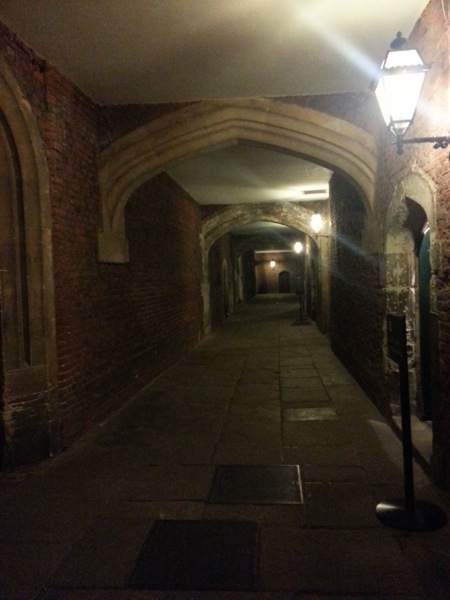 After this, we went up the stairs and turned right on to the gallery lined with Lely's wonderful portraits of Stuart court beauties then crossed an antechamber to the Cartoon Gallery, which is hung with copies of Raphael's cartoons of the Acts of the Apostles and which was to be our 'home' for the night. On the way in we were told there were around sixty people taking part in the sleepover and there was plenty of room for all of us in the gallery, even once some (better organised than me!) people had put up airbeds and so on. It reminded me a bit of the scene in Harry Potter and The Prisoner of Azkaban when the whole of Hogwarts sleeps in the Great Hall for the night after it's thought that Sirius Black has broken into the castle.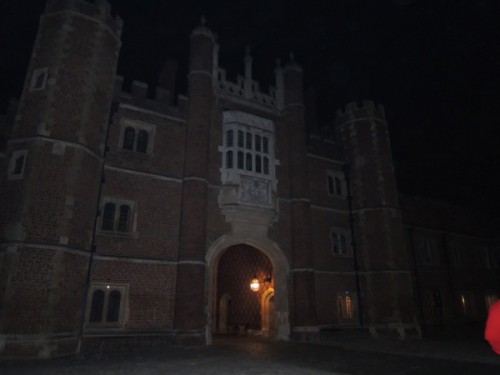 Anyway, the Cartoon Gallery really was superb – wood panelled and stately with a most lovely view down into the Fountain Court, which is part of the later Stuart additions ot the palace. We were warned beforehand that it might get cold at night but it was actually really cosy, as most of the rest of the palace, much to my surprise.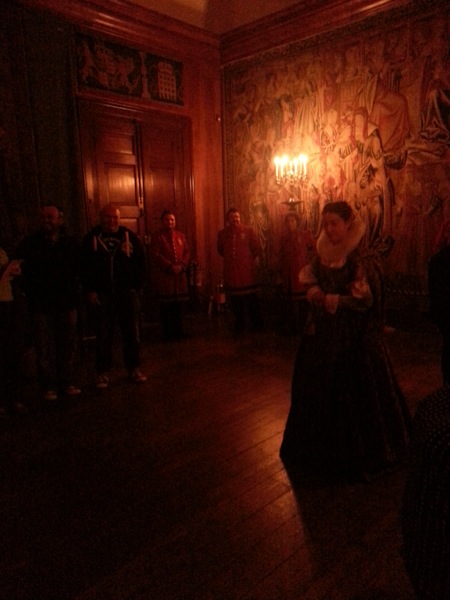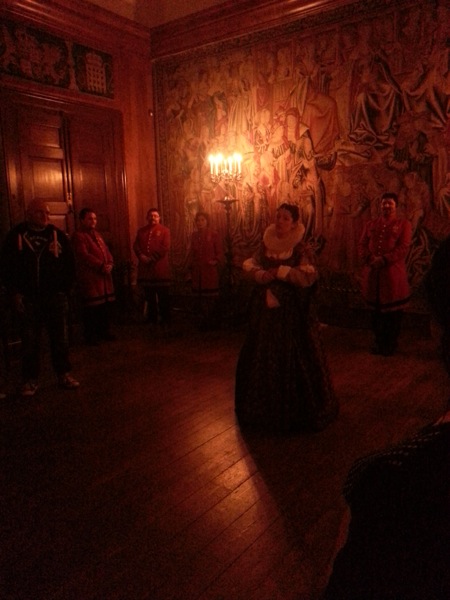 Once we'd arranged our stuff, we headed down to the crypt for a champagne reception, which was enlivened by visits by the wonderfully indiscreet Lady Throckmorton and her not so very secret husband Sir Walter Rayleigh – both of whom were superbly costumed and great fun. Informing us that the Queen was away for the evening, they took us all up to the Tudor Great Hall for a spot of Elizabethan dancing – namely a not so very stately pavane, which we all thumped through with all the grace of a herd of drunken elephants for the delectation of Elizabeth I, who made a dramatic appearance half way through.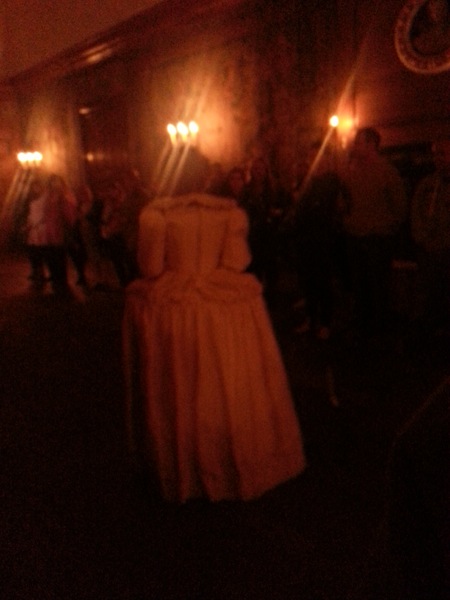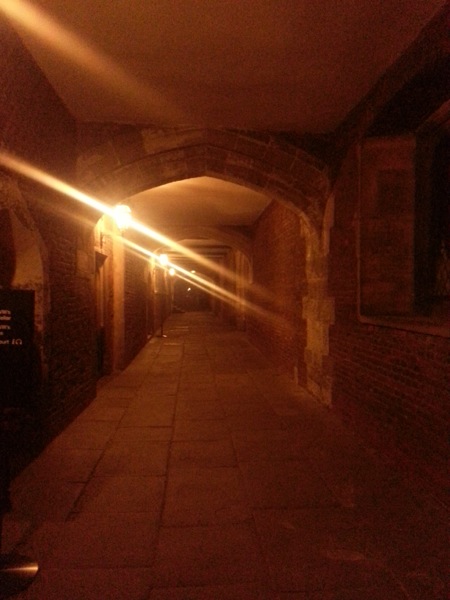 Our reward for dancing badly was dinner, which was served in the Queen's Privy Kitchen by the chapel and turned out to be a feast of authentic Elizabethan food or as Baldrick from Blackadder would have put it 'potatoes; potatoes and potatoes; potatoes, potatoes and potatoes'. At least, that's what I had due to being a vegetarian. I'm cool with that though as it was still nice and the elderflower cheesecake that followed was well worth suffering potatoes, potatoes and potatoes for.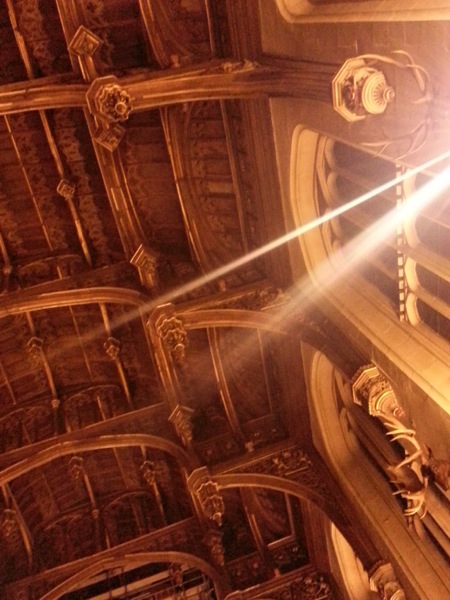 Once dinner was over, we were taken back up to the Tudor apartments by Lady Throckmorton and Sir Walter and there treated to another appearance by Queen Elizabeth in the Great Watching Chamber, which was all very exciting as we had to bow and there was much shouting and people being put in the Tower and all manner of fun. After this we then split into two groups and were taken on tours of the palace at night, which was absolutely wonderful as we got to see the Haunted Gallery looking its most gloomy best, although Catherine Howard failed to make an appearance!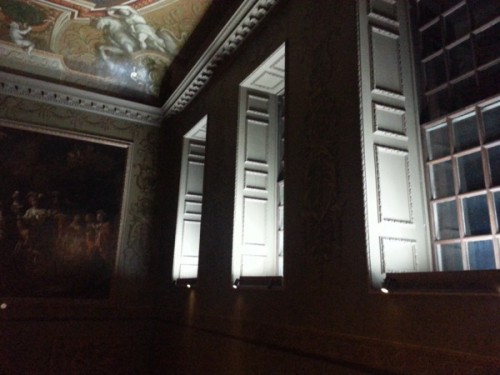 The first tour I went on was based on Dr Dee, Elizabeth's alchemist and included visits to the Council Chamber, the wine cellar (VERY creepy in the middle of the night) and then outside to the Base and Clock Courts. After this we had a look at some of the Tudor rooms and galleries, which were lit by candlelight and looked wonderful.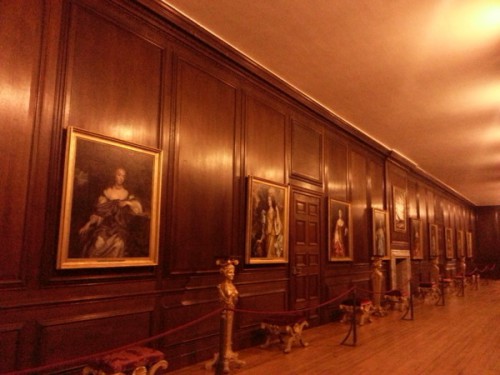 It was time for bed after this and amidst much excitement we got into our pyjamas, nestled into our sleeping bags and waited for the lights to go out. As expected, I didn't have great night's sleep thanks to a combination of lack of pillow, hard floor and the incessant and distinctly warthoggish snoring of someone who was at the other end of the gallery but still managed to keep pretty much everyone awake. We were all given earplugs on the way in, which took some of the edge off it but dear God, it was still really REALLY LOUD.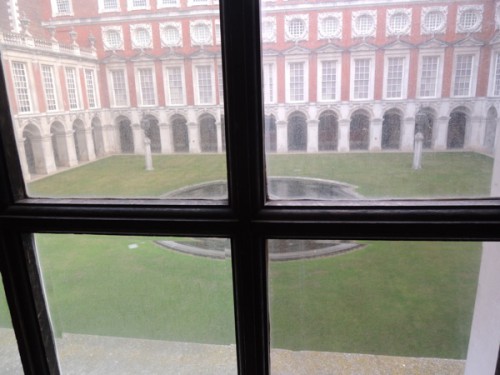 After a terrible night, I therefore stumbled downstairs (note that while everyone else got up at around seven, the Phantom Snorer was STILL asleep and going strong while we all staggered out of our sleeping bags and cursed them with many whispered threats to give them a gentle kick) for some mint tea then lurked in the beautiful Fountain Court until it was time for breakfast in the Privy Kitchen, which comprised bacon rolls for the meat eaters and an egg roll for me.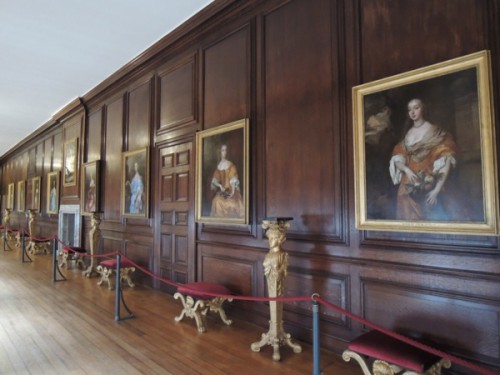 Suitably revived, I then went to the Royal Chapel, one of my favourite places to listen quietly to the morning service which was being chanted and sung from the King's pew overhead. The chapel was otherwise deserted and although I am not at all religious, I found the whole experience extremely beautiful and calming. It made me feel closer to the people who lived in the Palace centuries ago as well – I suppose that if you really want to understand the people of the past, it isn't going to be by dressing up as them or looking at their portraits but by experiencing the everyday things that they did in the same settings that they enjoyed.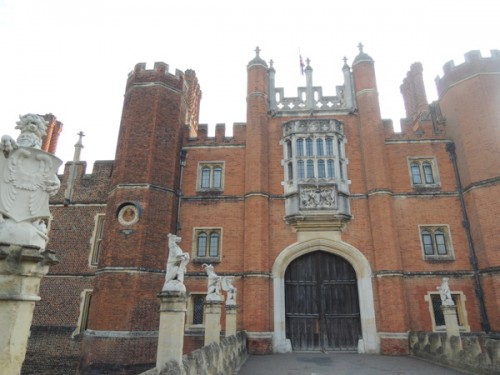 After this, I packed up my things and put them in a locker then went for a long bracing walk around the gardens and along the river with Laura, while we waited for the palace to officially open for the day. As part of the Sleepover, we all got given wristbands which allowed us free entry to the palace the next day, which was rather superb, I thought although sadly I'd already booked my train and only had time to go around the Secrets of the Bedchamber exhibition and have a quick stroll around the gardens before it was time to go.
In summary, it was THE most excellent evening and, I feel an absolute bargain at just £100, which included staying in the palace, the tours and entertainments, food and free entry to the palace the next day. It was also the most SPLENDID fun and had clearly been very well thought out and organised as it was pretty seamless and there was plenty for us to see and do before we went to sleep.
If you ever get the chance to go on a Royal Palaces sleepover then I'd definitely urge you without hesitation to do so. I'm certainly VERY keen to do it again and am hoping that the next event will have a Stuart flavour as it'd be ace to experience the rather more raucous court of Charles II.
******
Check out my new alternative lifestyle blog, Gin Blossoms!
'Frothy, light hearted, gorgeous. The perfect summer read.' Minette, my young adult novel of 17th century posh doom and intrigue is now £2.02 from Amazon UK
and $2.99 from Amazon US.
Blood Sisters, my novel of posh doom and iniquity during the French Revolution is just a fiver (offer is UK only sorry!) right now! Just use the clicky box on my blog sidebar to order your copy!
Copyright secured by Digiprove © 2013 Melanie Clegg