I was massively disappointed not to make it to Paris in time to see the much anticipated exhibition about Madame Élisabeth, the youngest sister of Louis XVI, who was fated to share his family's imprisonment and would eventually be guillotined in May 1794 at the age of thirty.
Parish register of Notre Dame de Versailles with the baptism record of Madame Élisabeth 1764. Photo: Archives des Yvelines.
Madame Élisabeth, Vigée-Lebrun, 1782. Photo: Musée national des Chateaux de Versailles et de Trianon.
Long term readers of this blog will know that I've always been very interested in Élisabeth's story and, in fact, have written about her at great length in past with a particular interest in her interactions with the rest of her family, her intellectual life and her experience of the Revolution. Whatever your feelings about the aristocracy and the deservedness of their fate, it's hard not to sympathise with Élisabeth, a woman of enormous devoutness and kindness, who eschewed the decadent machinations of court life and instead devoted herself to good works. Even Robespierre was opposed to her execution and did what he could to save her, without success.
Presumed portrait of Madame Élisabeth, Vigée-Lebrun, 1780-5. Photo: Musée national des Chateaux de Versailles et de Trianon.
White muslin gown allegedly worn by Madame Oberkampf, c1787. Photo: Musée de la Toile de Jouy.
Clock made for the apartments of Élisabeth's niece, Madame Royale, 1778. Photo: Musée national des Chateaux de Versailles et de Trianon.
Anyway, despite not making it to the exhibition, I still managed to get my hands on a copy of the accompanying catalogue, which goes into great detail about all sorts of aspects of Élisabeth's life – from her profound piety to her plans for her house at Montreuil to her, sometimes conflicted, loyalty to her brothers during imprisonment. It really is a most fascinating read and I feel like I know even more about her than I had done previously.
Madame Élisabeth Playing the Harp, Leclercq, 1783. Photo: Musée national des Chateaux de Versailles et de Trianon.

Caraco worn by Madame Élisabeth, c1780-90. Musée des Arts Décoratifs, Paris.
The illustrations are also marvellous – charting the wonderful pieces that were collected together for the exhibition – from portraits of Élisabeth, her family and friends to pieces of furniture destined for her use at Versailles and Montreuil to her own books to the simple white muslin dresses that she would have favoured. There is an incredible richness and depth to the choice of items you can see in the book and if you can't read French (the text is all in French) then the illustrations tell their own story – of a good hearted, devout and simple life devoted to family, friendship and innocent pleasures.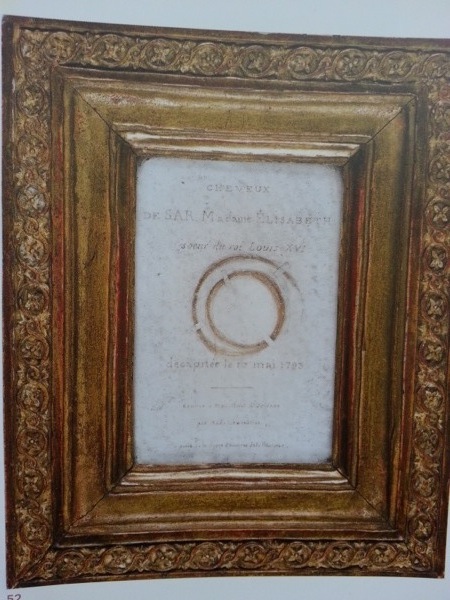 Lock of Madame Élisabeth's hair, 1794. Photo: Musée Carnavalet.
Madame Élisabeth, after Brachard, 1821. Photo: Cité de la Céramique, Sèvres.
Madame Élisabeth de France, the King's Sister, Fleury, 1817. Photo: Musée national des Chateaux de Versailles et de Trianon.
It is easy to become rather mawkish when talking about someone like Élisabeth but this book reminds us that she herself was far from milquetoast and in fact had a very vigorous intellectual interest and had an enormous amount of courage and self will as evidenced by her continued refusal to escape Paris with the rest of her fleeing relatives and instead remain at the side of her brother and his family. Foolhardy perhaps but there is no doubting Élisabeth's devotion and loyalty to those that she cared for.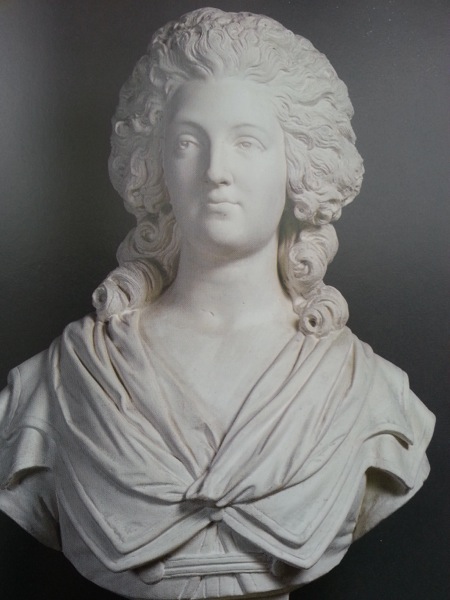 Madame Élisabeth, Dumont, 1843. Photo: Musée national des Chateaux de Versailles et de Trianon.
Chair from a drawing room at Montreuil, 1789. Photo: Musée du Louvre.
Map of the domaine de Madame Élisabeth at Montreuil, Huvé, 1787-8. Photo: Bibliotheque nationale de France.
This book, Madame Elisabeth: Une princesse au destin tragique (1764-1794)
really is a most remarkable read and I highly recommend it to anyone interested in the life of this doomed princess. It certainly manages to paint a most evocative picture of another less worldly and more gentle and kinder side of Louis XVI and Marie Antoinette's Versailles and serves as a reminder that not everyone was prancing about as if on the set of Les Liaisons Dangereuses.
The household of Madame Élisabeth, Almanach de Versailles, 1784. Photo: Musée national des Chateaux de Versailles et de Trianon.
******
Check out my new alternative lifestyle blog, Gin Blossoms!
'Frothy, light hearted, gorgeous. The perfect summer read.' Minette, my young adult novel of 17th century posh doom and intrigue is now £2.02 from Amazon UK
and $2.99 from Amazon US.
Blood Sisters, my novel of posh doom and iniquity during the French Revolution is just a fiver (offer is UK only sorry!) right now! Just use the clicky box on my blog sidebar to order your copy!
Copyright secured by Digiprove © 2013 Melanie Clegg