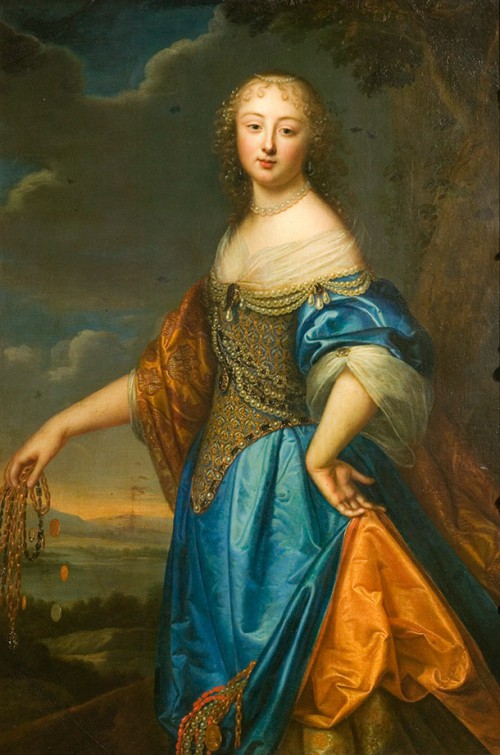 Portrait of Jeanne de Marigny, attributed to Charles (1604-92) and Henri Beaubrun (1603-77), Paris, about 1650-60, oil on canvas. Photo: Victoria and Albert Museum, London.
As long term readers may remember, I have a bit of a love/hate relationship with the Victoria and Albert Museum – love, because they really do have a superb collection and hate because their curators can be kind of rude, they never reply to my emails about pieces in the collection and the building itself always seems really badly organised to me. So that's mostly hate really. Ah well.
Anyway, it generally takes quite a lot to get me inside the V&A as I always find the experience intensely aggravating but I think I may well have to brace myself and make an exception for the new exhibition about pearls, which is kicking off tomorrow, the 21st of September.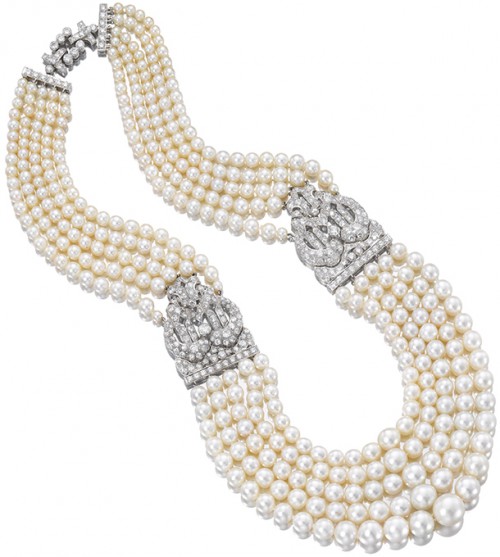 Necklace with five graduated strands, Cartier, France, 1930-40, platinum, diamonds and natural Gulf pearls. Qatar Museums Authority. Photo: Sotheby's.
'Pearls are a worldwide phenomenon going back millennia. Fascination for these jewels of the sea transcends time and borders. Natural pearls have always been objects of desire due to their rarity and beauty. Myths and legends surrounded them, chiefly to explain the mystery of their formation. Goldsmiths, jewellers and painters exploited their symbolic associations, which ranged from seductiveness to purity, from harbingers of good luck in marriage to messengers of mourning.'
Like a lot of people, I am completely fascinated by really REALLY nice jewellery but would have to say that it's usually pieces involving pearls that catch my eye. There's just something so profoundly beautiful and mysterious about them and although there's all sorts of silly rules about the type of complexion and age that can carry off the fiery sparkle of diamonds, I think that pearls are universally flattering to everyone. There's also something really sensual about something that starts off so cold and then becomes warmed by your skin as you wear it.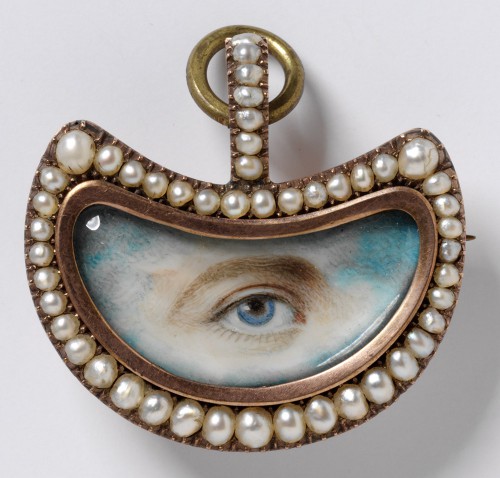 Lover's Eye brooch, England, 1800-20, gold, pearls, diamonds and painted miniature. Museum no. P.56-1977. Photo: Victoria and Albert Museum, London.
Anyway, Pearls at the V&A looks like it is going to be a bit of a must see as it traces the history and mythology of pearls from ancient times to the modern day by looking at the way that pearls are harvested and then used – not just for jewellery or personal adornment but also presumably as a cosmetic and medicinal aid. It really promises to be absolutely fascinating.
Pearls is running at the Victoria and Albert Museum from the 20th of September until the 19th of January next year. Tickets are £11.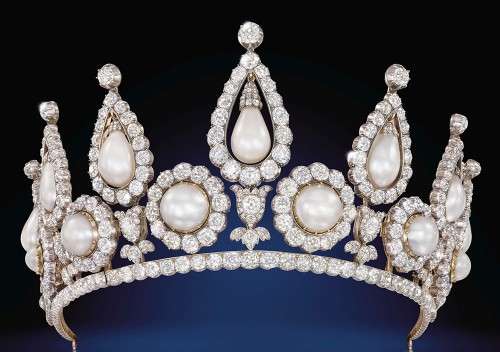 The Rosebery Pearl and Diamond Tiara, London, 1878, gold, silver, diamonds, natural bouton pearls and natural drop-shaped pearls. Qatar Museums Authority. Photo: Christie's.
******
Check out my new alternative lifestyle blog, Gin Blossoms!
'Frothy, light hearted, gorgeous. The perfect summer read.' Minette, my young adult novel of 17th century posh doom and intrigue is now £2.02 from Amazon UK
and $2.99 from Amazon US.
Blood Sisters, my novel of posh doom and iniquity during the French Revolution is just a fiver (offer is UK only sorry!) if you order before the end of August! Just use the clicky box on my blog sidebar to order your copy!
Copyright secured by Digiprove © 2013 Melanie Clegg