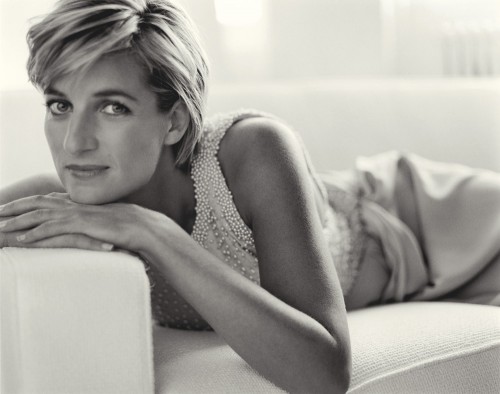 Diana, Princess of Wales, Mario Testino, 1997. Photo: Vanity Fair.
When I was a very little girl I used to collect books and magazine articles about Princess Diana and in fact was so obsessive about this endeavour that my collection eventually filled several large cardboard boxes. If you'd asked me back then what I liked so much about her, I probably would have answered that I thought she was beautiful, that I liked princesses and that I loved (some) of her clothes and hats but almost certainly nothing more penetrative than that.
I'd lost interest by the time I hit my teens, giving myself over to goth music and more historical interests and I'm sure my grandparents were very relieved to discreetly dispose of my collection, certainly I never saw it again after one of our house moves. Possibly it's still lingering in an attic somewhere. I was excited of course to actually get to meet Diana when she presented diplomas at the Royal College of Surgeons but not as thrilled as I would have been perhaps five years earlier.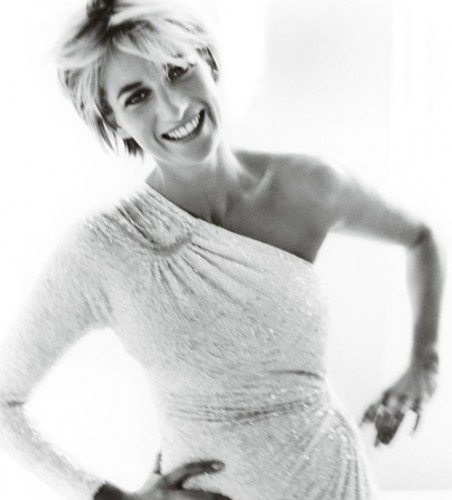 Diana, Princess of Wales, Mario Testino, 1997. Photo: Vanity Fair.
At the time of her death, I was in my early twenties and my fascination with Princess Diana was very much a thing of the past although if anything happened to recall her to mind, I could still easily remember how infatuated I had once been even if my rose tinted view of her had become rather cloudy over time thanks to the growing cynicism of adulthood.
I still remember where I was when I heard about the car accident in Paris. I myself was in a car at the time, a taxi taking me from Southend to Benfleet in Essex at about 1am on the morning of the 31st of August 1997. The taxi driver had the radio on and as soon as we climbed into his car, relieved to have nabbed it from under the noses of a gang of raucous City boys trying to get back to London after a night out in Southend, he turned to us and said 'Have you heard the news? Princess Diana's been in a car accident. They reckon she's dead.' Recalling this now sixteen years on, I STILL feel the frisson, a chill of horror and shock that went down my spine as he said those words. How could it be true? I suppose there is a feeling that the royal family are somehow immortal, untouchable by death and disaster in the same way as everyone else even though we have ample proof that this is very much not the case. They have their losses in war, just as we do, they get ill, die, divorce, fight and mourn.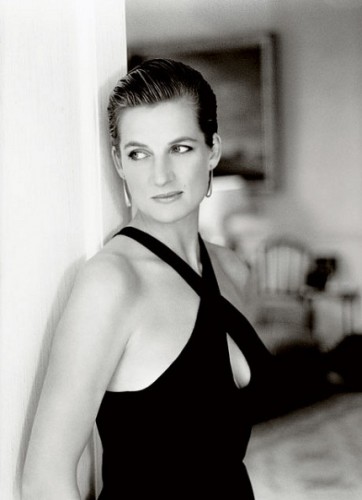 Diana, Princess of Wales, Mario Testino, 1997. Photo: Vanity Fair.
The next morning I was woken up early by the radio in my then boyfriend's family kitchen. He came in to tell me that the princess was dead and even he, a six foot something punk with the lyrics to the Sex Pistols' God Save The Queen on the back of his leather jacket looked shocked and silent. Even in a household with no particular royalist feeling, no one knew what to say and I remember wondering if it was like this everywhere.
I took a train to London later that day and took the underground from Liverpool Street Station to St Pancras as I was on my way back to Nottingham. It was a Sunday morning but even so the underground should have been buzzing with people as usual. Instead, my recollection is that it was eerie, like something from 28 Days Later – silent, almost deserted, shocked.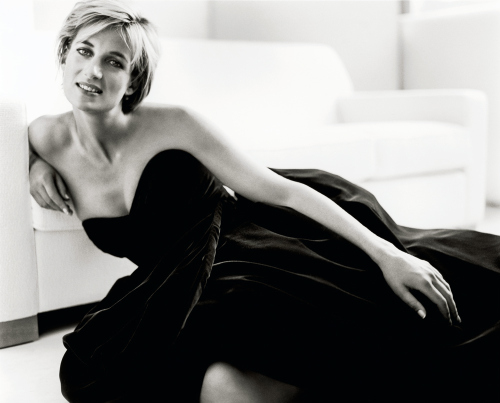 Diana, Princess of Wales, Mario Testino, 1997. Photo: Vanity Fair.
My own attitude towards Diana has mellowed again in the years since her death – I suppose partially because my own personal issues mean that I 'get' and understand her more now than I ever could have done as a little girl. If you asked me now why I like her so much then I would reply that it was down to her continual courage, kindness and compassion even though she was struggling with her own demons and problems.
RIP Diana, you won't be forgotten.
******
Set against the infamous Jack the Ripper murders of autumn 1888 and based on the author's own family history, From Whitechapel is a dark and sumptuous tale of bittersweet love, friendship, loss and redemption and is available NOW from Amazon UK
and Amazon US.
'Frothy, light hearted, gorgeous. The perfect summer read.' Minette, my young adult novel of 17th century posh doom and intrigue is now 99p from Amazon UK
and 99c from Amazon US. CHEAP AS CHIPS as we like to say in dear old Blighty.
Blood Sisters, my novel of posh doom and iniquity during the French Revolution is just a fiver (offer is UK only sorry!) right now! Just use the clicky box on my blog sidebar to order your copy!
Copyright secured by Digiprove © 2013-2014 Melanie Clegg