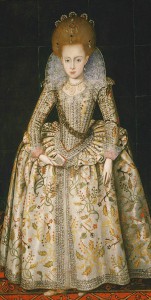 Elizabeth Stuart, Queen of Bohemia, Peake, c1606. Photo: Metropolitan Museum of Art, New York.
This blog has developed a distinctly Stuart flavour over the last year, which is actually rather pleasing as I still maintain that there just isn't enough written about the Stuart dynasty these days! I don't entirely understand why that is to be honest as after all they are every bit as scandalous, tragic, glamorous and interesting as their Tudor relatives so why is there is so much love for the latter and so little for the Stuarts? Come on fellow Stuart fans – let's do something about this!
Anyway, in honour of the birth of the always fascinating Elizabeth Stuart, Queen of Bohemia on this day in 1596, I have decided that there could be no finer portrait of the week than this wonderful depiction of her by Robert Peake at around the age of ten in which she shows all the poise, willowy burgeoning beauty, hauteur and self assurance that one would expect from a god daughter of Elizabeth I and granddaughter of Mary Queen of Scots.
Elizabeth Stuart, Queen of Bohemia, Peake, c1606. Photo: Metropolitan Museum of Art, New York.
Elizabeth's father, James VI of Scotland had inherited the throne of England in 1603 just three years before this portrait is believed to have been painted and it's clear from the opulence in which the young princess is garbed that her parents had been working hard on dispelling any snobbish notions that their English court and populace might have had about the new Stuart rulers who had come from what was believed to be the rather barbaric lands beyond the border while at the same time upholding with aplomb the famed magnificence of the late Tudor court.
Obviously Elizabeth grew up to be one of the most fascinating and enigmatic personages of the seventeenth century if not all history and you can see why in this portrait, which shows her gazing out into the world with a frank curiosity while a hint of amusement lingers about the curve of her lips. We can also imagine what a stark contrast this poised young lady made with her gawkish, awkward, stammering and much less intelligent brother Charles, the eventual heir to the throne after the tragic early death of their altogether more promising and adored brother Henry. No wonder people, no doubt still hankering after the triumphant heyday of Elizabeth I, thought that this Elizabeth would make a far better successor to their father and little wonder perhaps that the architects of the infamous Gunpowder Plot intended to make her biddable little puppet Queen in the event that their plans to assassinate her father and remove her brothers from the succession were successful although one wonders if perhaps they'd over estimated how malleable the little princess would have been in such circumstances. I suspect that they might well have had a shock in store if everything had gone their way…
Elizabeth Stuart, Queen of Bohemia, Peake, c1606. Photo: Metropolitan Museum of Art, New York.
******
'Frothy, light hearted, gorgeous. The perfect summer read.' Minette, my novel of 17th century posh doom and intrigue is now £2.02 from Amazon UK
and $2.99 from Amazon US.
Blood Sisters, my novel of posh doom and iniquity during the French Revolution is just a fiver (offer is UK only sorry!) if you order before the end of August! Just use the clicky box on my blog sidebar to order your copy!
Copyright secured by Digiprove © 2013 Melanie Clegg