Detail from the Blairs Memorial Portrait of Mary, Queen of Scots, early 17th century. Photo: Blairs Museum. This portrait is the first thing you see before you as you enter the exhibition.
As long term readers of this blog will know, I'm more than a little bit fascinated with Mary, Queen of Scots and have been since I was a very little girl. It's a bit of a love/hate thing though as I am always torn between sympathy for the tragedy of her life and huge frustration at the ridiculous mistakes that she made. Overall though there is something very loveable and fascinating about the all too human frailty of Mary Stuart with her habit of wearing her heart on her sleeve, running after awful men, that hopeless habit of putting her trust in all the wrong people and never quite learning from her mistakes.
Let's face it, we've all had a friend like Mary at some point – the one who never seems to be single, who rings up at 3am drunk and incoherent after another awful break up, who gets evicted because she spent her rent money on shoes, who asks for advice all the time then never takes it, who is adorably charming when everything's going her way and a terrible mess when it isn't. Hell, some of us ARE Mary. But how many of us are like her formidable cousin Elizabeth and therein lies the key to Mary's endless appeal – we love her, faults and all, because she is just like us.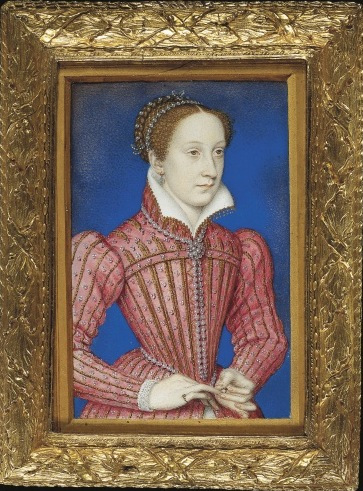 Mary, Queen of Scots, Clouet. Photo: The Royal Collection.
Mary, Queen of Scots, unknown artist, early 17th century. Photo: Blairs Museum.
I was desperately keen therefore to take a look at the new exhibition about her at the National Museum of Scotland in her former capital of Edinburgh and have to say that I was absolutely astounded by the wealth of paintings, artifacts and documents pulled together by the National Museums of Scotland for the show. Seriously, there must be blank spaces on walls and shelves in museums and galleries all over the world as everything related to Mary would appear to have been gathered together for the exhibition from beautiful enamel portraits of her French family to wonderful jewels associated with her to a wonderful replica of her tomb effigy to the actual casket that may have once held the infamous casket letters. It's all here and that's what makes this an unmissable exhibition for anyone at all interested in the life and times of this most tragic Queen as I can't imagine such a wealth of objects being drawn together ever again for public perusal.
Wedding portrait of James V and Marie de Guise, unknown artist, 1538. Photo: Blair Castle, Perthshire.
Dauphin Francois, Limosin, 1553. Photo: Musée du Louvre.
Book of Hours originally made for Mary I of England then owned by Mary Queen of Scots, Granjon, 1558. Photo: British Jesuit Province.
I drifted through the exhibition as if in a dream, frankly unable to believe my eyes as every display offered more treasures like jewel like miniatures of Mary as a young girl in France, pearl embellished necklaces, fabulously decorated objects from her various palaces, a sapphire ring sent by Mary to one of her followers, a wonderful wall hanging worked on by Mary and Bess of Hardwick, contemporary coins and documents signed by Mary during her all too brief reign.
Mary Queen of Scots, unknown artist, c1560-1592. Photo: National Portrait Gallery, London.
There were amazing contemporary models of Mary, Elizabeth I, Henry VIII and other figures of the period all based on actual portraits and dressed in fabulously decorated and embellished costumes. Even more astonishing, if a bit creepy was the reconstruction, reminiscent of the recent one of Richard III, of how Mary may have looked at around the age of twenty five at the end of her reign, which was based on actual portraits of her by Clouet and others and is intended to fill in the peculiar gap of authentic portraits of Mary from this period. The whole exhibition in fact was put together with great imagination and verve, with a wonderful illustrated time line of Mary's life running throughout and wonderful modern displays bringing to life her tragic story and the people associated with her.
Mary, Queen of Scots in mourning, Clouet, c1559-61. Photo: Royal Collection.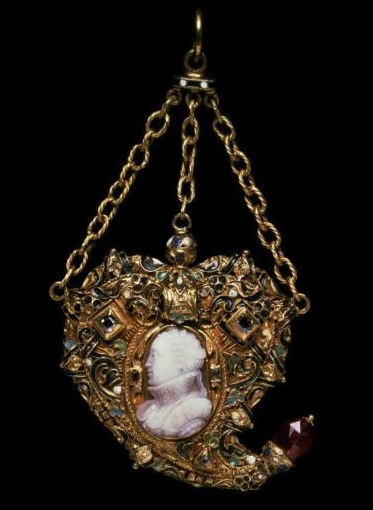 Heart pendant with cameo portrait of Mary Queen of Scots, Scottish, late 16th century. Photo: National Museums Scotland.
Ultimately, I would say that this is an unmissable show for anyone interested in Mary's life and sad fate. I am not, as I have previously explained, given to excessive amounts of fan girling about Mary but I was actually quite tearful by the time I'd reached the end of this exhibition as I felt unbelievably touched by the experience of seeing so many objects associated with her altogether and the stark reminder at the end that even her own son pretty much abandoned her to her fate. There is no attempt here to whitewash the bad decisions and scandal that disrupted Mary's life and brought her to disaster and tragedy but overall her story is treated here with sympathy and even tenderness and the visitor is left to make up their own mind about Mary's own personal culpability in the events that swept her from the throne and took her to the scaffold. It's certainly given me much to think about as I research my future novel about her.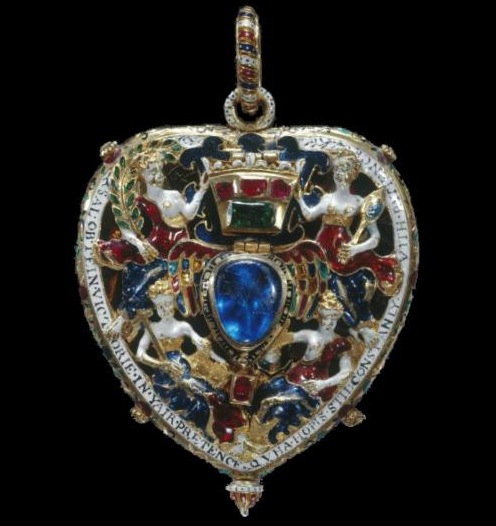 The Darnley Jewel, unknown maker, c1571. Photo: Royal Collection.
Ryal of Mary and Darnley, 1565. Photo: National Museums Scotland.
Mary, Queen of Scots is running at the National Museum of Scotland (a fabulous museum in its own right, I might add) until Sunday the 17th of November so there's plenty of time to see it before it finishes! Tickets are £9 for adults (or £4.50 if like me you have a National Art Pass card!), £7.50 for concessions and £6 for young people aged between twelve and fifteen with the under twelves getting in for free.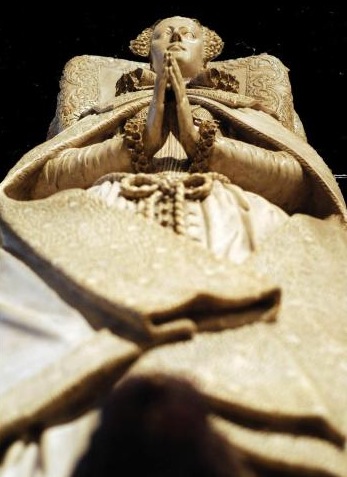 Replica of Mary Queen of Scots' tomb effigy. Photo: Scottish National Portrait Gallery, Edinburgh.
If you can't get there then don't despair as there is a brilliant accompanying catalogue, written by Rosalind K Marshall which lists the wonderful things on display and which can be bought from Amazon UK
for £12.99.
The Mary, Queen of Scots reconstruction commissioned for the exhibition. Photo: National Museum of Scotland.
******
Set against the infamous Jack the Ripper murders of autumn 1888 and based on the author's own family history, From Whitechapel is a dark and sumptuous tale of bittersweet love, friendship, loss and redemption and is available NOW from Amazon UK
, Amazon US and Burning Eye.
'Frothy, light hearted, gorgeous. The perfect summer read.' Minette, my young adult novel of 17th century posh doom and intrigue is available from Amazon UK
and Amazon US and is CHEAP AS CHIPS as we like to say in dear old Blighty.
Copyright secured by Digiprove © 2013-2015 Melanie Clegg