Seeing as today is the anniversary of THE Royal Wedding on the 29th July 1981, what could be a more fitting dress of the week than the fabulous gown worn by Lady Diana Spencer for her wedding with Charles, Prince of Wales?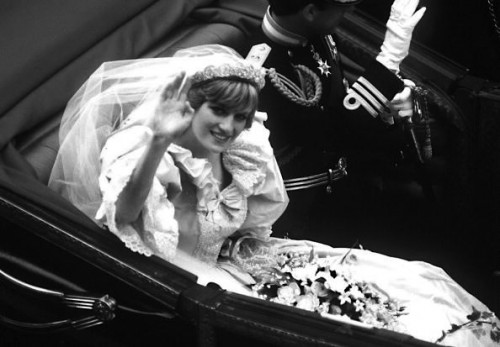 Nowadays people tend to poke fun at Princess Diana's huge meringue of a gown but I still love it anyway. It was just so darn ROMANTIC and like something that a princess in a fairytale would wear – perfect I suppose for such a young bride and for one so starry eyed and in love with her groom. Nowadays we look with critical eyes at all that rumpled taffeta and those enormous skirts that unfurled around her like peony petals as she stepped down from her carriage in front of that other opulently baroque masterpiece St Paul's Cathedral but those of us who remember watching must surely recall that collective sigh of wistful appreciation that we all shared when we caught our first glimpse of the dress and its 25 ft train.
The dress itself was designed by the then husband and wife team David and Elizabeth Emanuel, who worked in the greatest secrecy to create the gown, which the official press release described as being 'made of ivory pure silk taffeta and old lace, hand embroidered with tiny mother of pearl sequins and pearls. The bodice is fitted and boned with a wide frill around the gently curved neckline, and intricately embroidered lace panels on the front and back. The sleeves are full and gathered into a taffeta frill at the elbow, with an elaborately embroidered lace flounce underneath. Another lace flounce surrounds the neckline, with a taffeta bow to match those on the sleeves. The skirt of the dress is full, worn over a crinoline petticoat consisting of many layers of ivory tulle, and is trimmed around the waist and hem with embroidered lace. The sweeping train, 25 feet long and detachable, is trimmed and edged with the same sparkling lace.'
This description only hints at the vast amount of work that went into the creation of the wedding dress, which was handmade with much of the work being done by just two of Emanuel's seamstresses, Nina and Rose, who spent hours working on it from putting together the original toile to sewing on the fine antique lace, which had once belonged to Queen Mary and the thousands of sequins and pearls that decorated the bodice and lace. Even Diana's shoes had 542 mother of pearl sequins decorating them (and two identical pairs were made for the big day) and her veil had 10,000 sequins, all of which were sewn into place by just one lady who worked in greatest secrecy in her sitting room, using a tambour to keep her place.
If you want to know more about Diana's wedding dress then I'd definitely recommend getting hold of a copy of A Dress for Diana
by David Emanuel and Elizabeth Emanuel, which is a gorgeously glossy and informative look at the process behind designing one of the most famous wedding dresses of all time from the initial commission to the fittings and design process behind the dress to its eventual rapturous reception. It was clearly an immensely exciting time for the Emanuels and this really comes across as they describe the huge amounts of love and care that went into the dress and how moved they were when it was finally revealed for all the world to see.
'We began to hear this applause from the crowd, which gradually grew louder and louder as the carriage drew nearer. There was a moment when an enormous cheer broke out and we realised that Diana had arrived.' — excerpt from A Dress For Diana.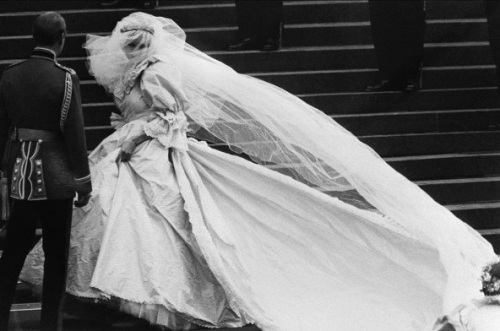 ******
'Frothy, light hearted, gorgeous. The perfect summer read.' Minette, my novel of 17th century posh doom and intrigue is now £2.02 from Amazon UK
and $2.99 from Amazon US.
Blood Sisters, my novel of posh doom and iniquity during the French Revolution is just a fiver (offer is UK only sorry!) if you order before the end of August! Just use the clicky box on my blog sidebar to order your copy!
Copyright secured by Digiprove © 2013 Melanie Clegg