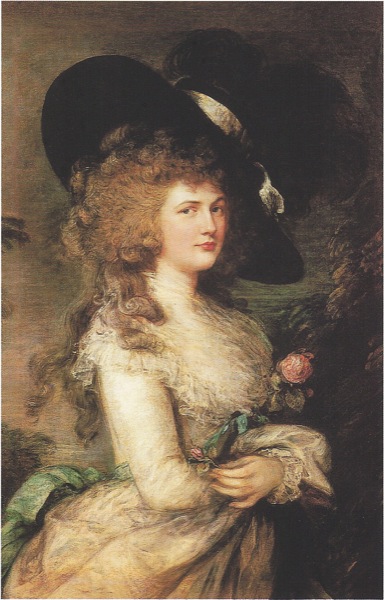 The Duchess of Devonshire, Gainsborough, 1787. Photo: Devonshire Collection, Chatsworth.
On this day in 1774, her seventeenth birthday, the noted society beauty Lady Georgiana Spencer married the fifth Duke of Devonshire. The couple were actually supposed to be married two days later but so great was the interest in the forthcoming nuptials that the bride's adoring parents went into a bit of a panic and moved the date so as to avoid a vulgar and intrusive fuss ruining their daughter's big day. Imagine if the royal family did this now?
Plenty of brides would be highly miffed to have their wedding plans changed so drastically and at such short notice, but not Lady Georgiana who was of a very definitely romantic turn of mind and probably highly approved of the subterfuge of what was to all intents and purposes a secret marriage albeit one attended by her parents. She also, at this stage anyway although her illusions were quickly to be shattered, trying her best to be in love with her rather less than enthusiastic groom, who seemed ironically to be the only man in London not to be madly in love with his intended bride, so no doubt thought that a veil of secrecy would lend a more romantic aspect to what was ultimately an arranged and loveless marriage.
Promotional shot from The Duchess, 2008.
Secret though the ceremony was destined to be, no expense was spared when it came to Georgiana's wedding gown and all important trousseau. Her parents, determined to send her off with the very best that money could buy, spent three months and £1,486 (a vast sum at the time) assembling a wonderful collection of clothes – everything that a new young, beautiful and fashion conscious Duchess could require in fact from gowns for every conceivable occasion, riding habits, hats, sixty five pairs of shoes, twenty six pairs of gloves and forty eight pairs of stockings. Nothing was left out or forgotten.
As for the wedding dress itself, although it no longer exists, we are told that Lady Georgiana appeared resplendent in a gown of white and gold, with pearl drops fastened in her powdered hair and cloth of silver slippers on her feet. She must have made a dazzling spectacle as she made her way discreetly with her parents to Wimbledon Parish Church, a far cry from the usual fashionable wedding destination of St George's on Hanover Square. Fearing a fuss from their daughter, her parents had only told her that she was to be married that day in the morning and it must have been with some relief that they bundled her into the carriage now to meet up with her fiancé in Wimbledon.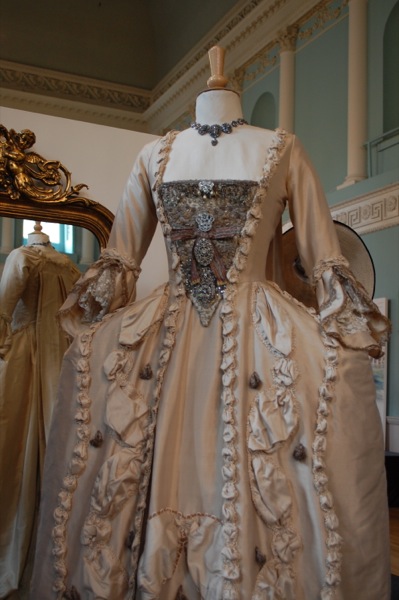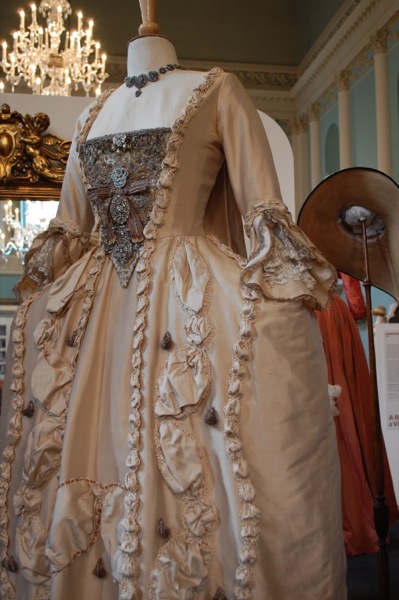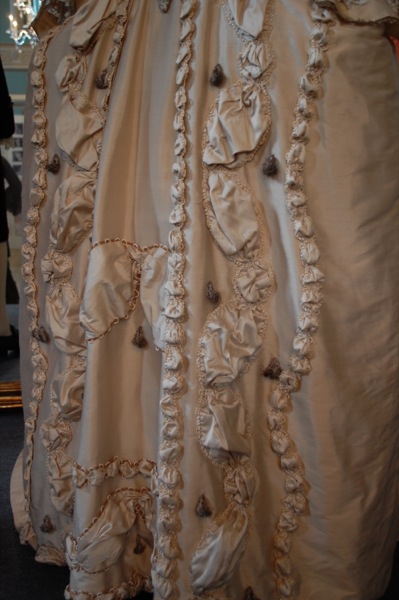 Georgiana's wedding dress in The Duchess, 2008. Photo: Melanie Clegg.
What should by rights have been the social event of the season, marked with hundreds of guests and all manner of fuss was conducted in front of just five witnesses: Georgiana's parents and grandmother, Lady Cowper and on the groom's side, his brother, Lord Richard Cavendish and sister, the Duchess of Portland. Oddly, the bride's brother and sister, whom she absolutely adored seem to have been absent from the ceremony. If she was bothered by this, Georgiana almost certainly didn't care about losing all the usual attendant fuss, society belle though she may have been, like her later best chum Marie Antoinette, she wasn't actually all that keen on big society bashes and a simple quiet wedding would have been almost exactly to her taste – in fact she would have highly approved of the recent very simple nuptials of Keira Knightley, who played her in the 2008 film The Duchess. We can imagine her blushing and beaming with joy as she stood at the altar beside her impassive groom, whom we are told displayed no emotion at all during the ceremony other than, I assume, a decided relief when it was all over while his bride, newly seventeen, brimmed over with feelings.
Poor Georgiana. The marriage started badly and got steadily worse – within three days of the ceremony, the Duke was back on the town again, kicking about with his drinking cronies in Ranelagh while his tender hearted bride ate her heart out amidst the brittle grandeur of Devonshire House and, with the assistance of her mother but not much help from her husband, got to grips with her new position in life. Having been brought up within the highest of society as the daughter of a wealthy Earl and with the expectation of becoming wife of an even wealthier Duke (her new husband's income was estimated to be over £60,000 a year, around £3.6 million a year in modern terms, twice that of her parents), the new Duchess can't have held out much hope that her honeymoon period would be happy and romantic – she would have grasped quite early on that her duty was to marry to oblige her family and that personal feelings didn't really come into it all that much. However, like her friend Marie Antoinette, another disappointed romantic, she was being somewhat hypocritically coached in the harsh realities of upper crust matrimony by parents who had fallen madly in love and were to an extent so blinded by their own happiness and delight in each other that they could not or would not understand how devastating an arranged aristocratic marriage could (and would) be for their own offspring. As far as they were concerned, the couple would learn to get along and that was the end of the matter.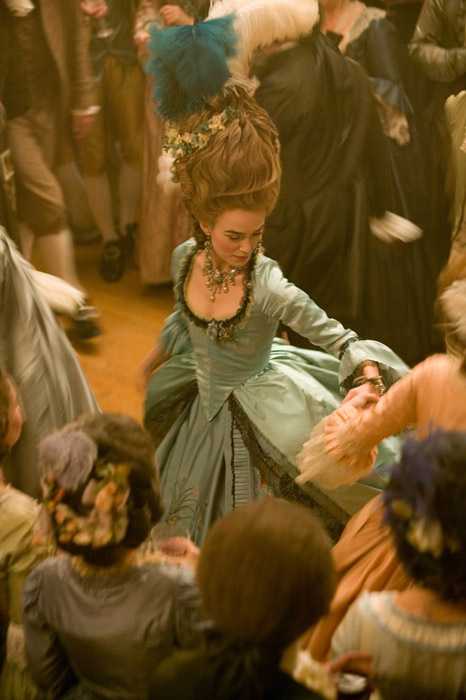 Still from The Duchess, 2008.
Of course, as we all know, Lady Georgiana's marriage would turn out to be something of a disaster but all that lay in the future for that year's most talked about society bride.