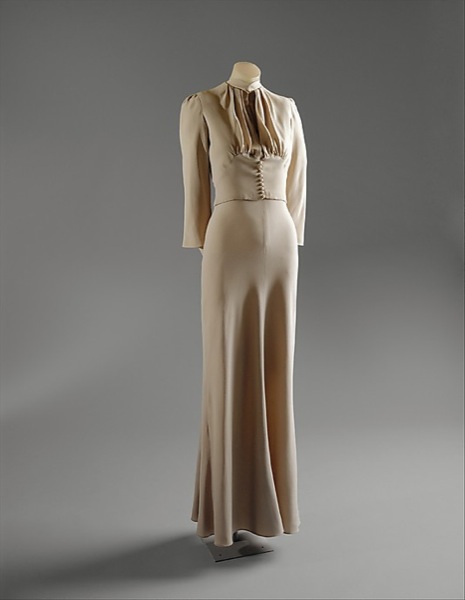 Wallis Simpson's wedding ensemble, 1937. Photo: Metropolitan Museum of Art, New York.

As today marks the anniversary of Wallis Simpson's wedding to Edward Formerly VIII on the 3rd of June 1937, I could think of no better dress of the week than her iconically simple crepe silk wedding ensemble by Mainbocher, which comprised a dress, jacket, slip, shoes, hat and gloves and which is currently looked after in the collection of the Metropolitan Museum of Art in New York.
In contrast to the lace and crystal bedecked flounciness of most royal wedding dress, Wallis, whom for all her faults had an unerring sense of style and fabulous taste in clothes (and jewels if not men), opted for the clean yet still gracefully flowing lines of this suit, with its almost demure high neck and long sleeves and scarce decoration in the form of the beautiful buttons down the front and petal shaped collar. Of course, unlike most royal brides at the time, Mrs Simpson knew the game was up when it came to emphasising her maidenly virtue and so instead opted for something altogether more luxe that would emphasise her famously lean ('boyish' some might say) figure.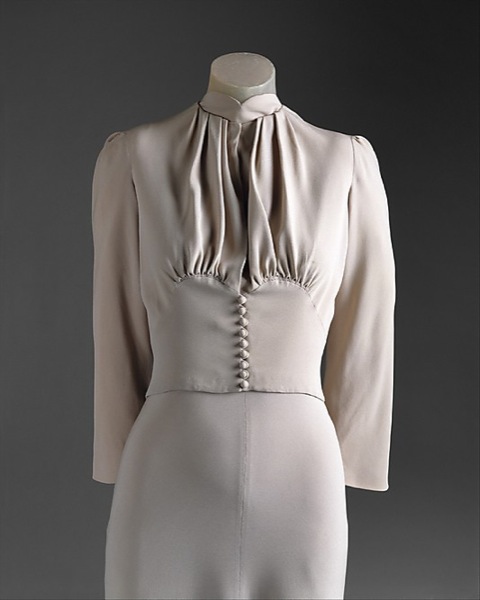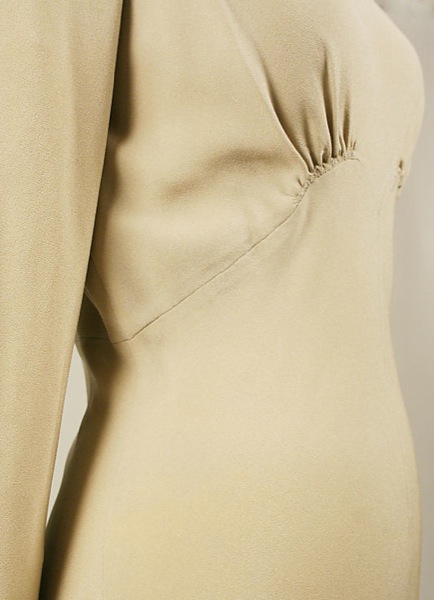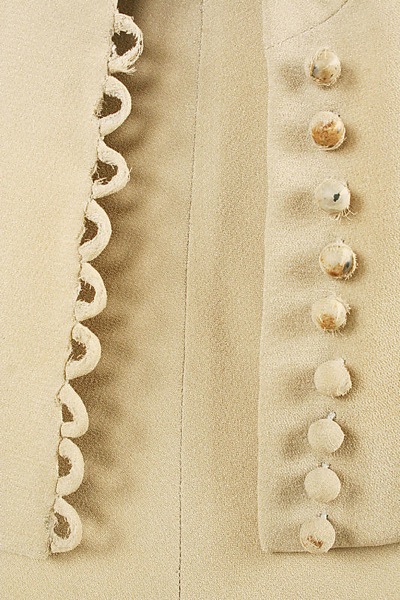 Wallis Simpson's wedding ensemble, 1937. Photo: Metropolitan Museum of Art, New York.

Ironically, the ensemble looks more bridal now than it did at the time it was worn back in 1937 as at the time it was actually a beautiful pale blue shade known as 'Wallis Blue' as it matched Mrs Simpson's eyes. However, over time the dye has faded so much that the outfit is now a more traditionally bridal cream.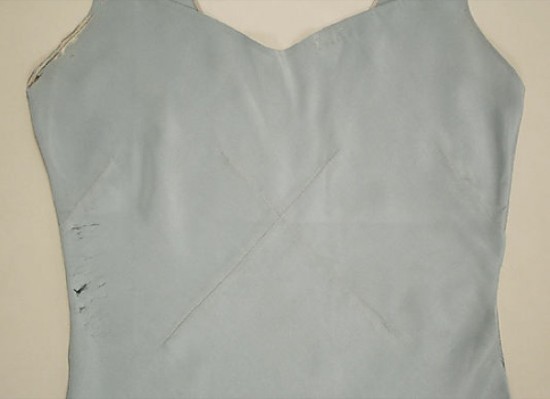 Wallis Simpson's wedding ensemble, 1937. Photo: Metropolitan Museum of Art, New York.

However, you can still see some vestiges of the original Wallis Blue colour on the lining inside and also on the slip that Wallis wore underneath the ensemble.
Wallis Simpson's wedding dress, 1937. Photo: Metropolitan Museum of Art, New York.

It's also fascinating to see just how austerely simple the cut of the actual dress was as evidenced by the neckline which mirrors the high collar of the jacket worn over the top. This is indeed a contrast to the gowns worn by her nearest contemporary royal brides, the Duchesses of York and Kent and the Princess Mary who went down the aisle in shimmering white silk and lace and swathed in yards of tulle. They all looked every inch the fairy tale royal princess but when their outfits are viewed alongside Wallis' clingy Parisian chic ensemble, they all look a tad gauche, overdressed (even for their own weddings!) and more than a little bit ridiculous, particularly her supposed rival, the Duchess of York who went down the aisle of Westminster Abbey in a rather peculiar medieval inspired gown. Which, of course, may well have been the comparison that Wallis was intending should be made.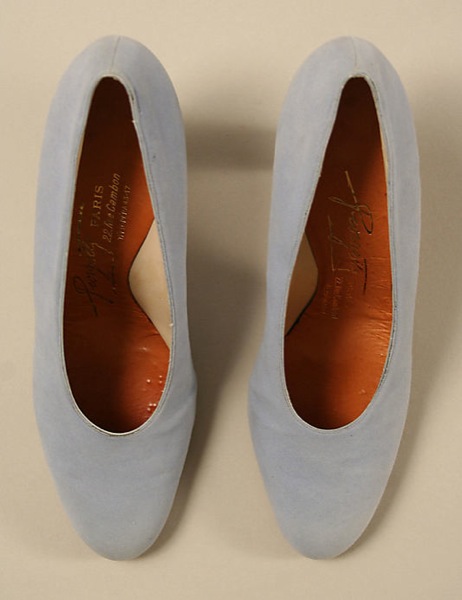 Wallis Simpson's wedding shoes, 1937. Photo: Metropolitan Museum of Art, New York.

Wallis' blue leather shoes (made by Georgette at 22 Rue Cambon) give some clue as to the shade of the dress when it was in its heyday as she would have ensured with her great eye to sartorial detail that the shoes and dress exactly matched. For Wallis' 'something new' she slipped a shiny gold Coronation coin with her husband's image on it into one of her shoes, which must have been horrendously uncomfortable. The entire outfit, of course, was her 'something blue'.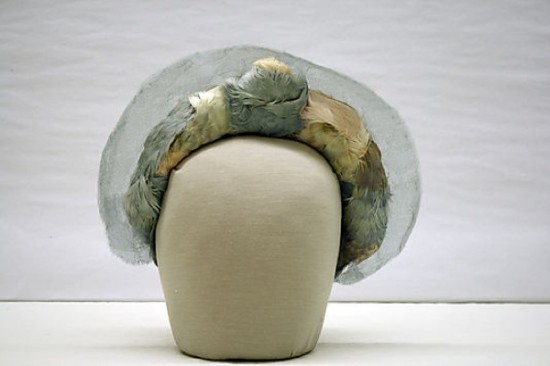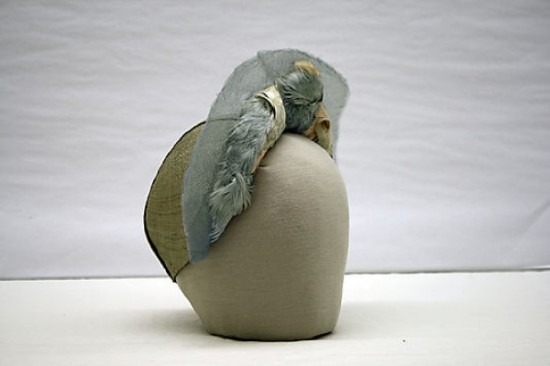 Wallis Simpson's wedding hat, 1937. Photo: Metropolitan Museum of Art, New York.

Her hat, now looking a bit sadly crushed was made by Caroline Reboux at 9 Avenue Matignon and echoes the shape of a tiara or perhaps the crowns worn by Russian princesses, only in the medium of stiffened gauzey straw decorated with pink and blue feathers – another reminder that the elegant Wallis was a royal bride, albeit an unconventional one.
******
Set against the infamous Jack the Ripper murders of autumn 1888 and based on the author's own family history, From Whitechapel is a dark and sumptuous tale of bittersweet love, friendship, loss and redemption and is available NOW from Amazon UK
and Amazon US.
'Frothy, light hearted, gorgeous. The perfect summer read.' Minette, my young adult novel of 17th century posh doom and intrigue is now 99p from Amazon UK
and 99c from Amazon US. CHEAP AS CHIPS as we like to say in dear old Blighty.
Blood Sisters, my novel of posh doom and iniquity during the French Revolution is just a fiver (offer is UK only sorry!) right now! Just use the clicky box on my blog sidebar to order your copy!
Copyright secured by Digiprove © 2014 Melanie Clegg