I thought I would take a break from weeping over the seventh chapter of The Ripper Book in order to chat a bit about my other heroine, Clara Lee whose life in Whitechapel is rather less fancy than that of Alice Redmayne with her knighted artist Papa, big house in Highbury and lovely dresses.
Clara is actually based in part on my own great great aunt Clara, who was born in Poplar in 1865, the second daughter of David Lee of H Division and his first wife, Elizabeth Barr. The real Clara Lee was actually twenty two at the time of the Ripper murders so I've made her a bit younger in my book but I've mostly left the family as it was with two girls as the eldest and four younger boys, only changing their ages to make them all younger, changing the eldest daughter's name from Mary to Catherine and missing out the baby of the family, Beatrice, who was born in 1880.
A bit creepily, I totally forgot the names of David Lee's actual children (this was sort of deliberate as I didn't want to get too hung up on the facts of my family history while in the initial planning stage) and still managed to name his fictional daughter 'Cora', which is pretty close to Clara. I've changed it now though as I think Clara suits my fictional great great aunt rather better.
At the time of the 1881 census, my great great great grandfather, Sergeant David Lee was just thirty nine years old, widowed and the father of a brood of seven children, all of whom were still living with him in two flats on the Peabody building in Shadwell. His youngest child, Beatrice was just one year old, his wife Elizabeth having died giving birth to her while the next in age was my great great grandfather, Alfred who was four years old. It's likely that David's eldest daughters, Mary and Clara (who were seventeen and fifteen at the time of the census – the ages I have given them in my book) stayed at home in order to help look after their younger siblings.
David Lee wasn't to remain single for long though and he remarried in Whitechapel in 1881 to a twenty seven year old widow, Harriet Cook, who came from near me in Wiltshire. Harriet already had two young children, a daughter called Alice and son called William and she went on to have another son, David, with her new husband in 1885, making a family of ten children. Blimey, crikey.
David Lee apparently put Whitechapel police station on Commercial Street down as his address on his marriage certificate so I used that as my inspiration to have he and his children living there during the 1888 murders, something that will cause no end of trouble for the fictional Clara Lee! There is basis in fact for this though – it was actually pretty usual for police officers to live in the station, some of them with their families so there would have been women, wives and relatives of the policemen, about the place at the Commercial Street and Leman Street stations so although I'll admit that it feels a bit weird writing about a pair of adolescent girls living above Whitechapel police station in 1888, it's actually not at all fanciful.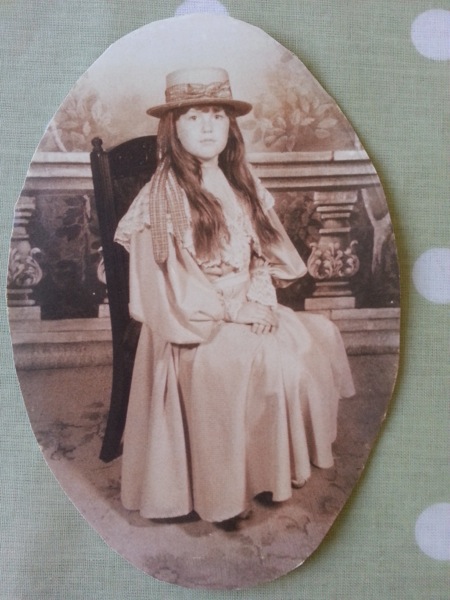 Although the Lee children grew up in Whitechapel and were surrounded by terrible poverty and want, not to mention the things they must have heard about when their father was involved in the hunt for Jack the Ripper, great pains seem to have been taken to make sure that they were all well educated and respectable. I've seen the handwriting of his widow, Harriet and his sons on the 1911 census and they all write with a fair and clear hand and have jobs as clerks, mainly in the docks area. At some point after David's death in 1906 the Lee boys and Harriet moved out of Spitalfields and on to West Ham, the only exception being David Lee Jnr, the baby of the family who eschewed the doldrums of being a clerk in favour of the excitement of being a 'driver on the electric railway' and living in Highbury then Finsbury Park with his wife and daughters. At some point though, so family lore tells me, he would go on to become a policeman like his father.
I don't know as yet what happened to the Lee girls, Mary, Clara and Beatrice – I think I will have a concerted hunt for them in the records when I've finished writing the book.
I couldn't resist illustrating this post with a photograph not of Clara Lee but of myself, her great great niece, dressed to impress in Edwardian style. There's a strong likeness running through the Lee branch of my family to myself so it isn't entirely fanciful to think that she may well have looked at least a bit like me in real life.
My research BIBLE right now is Jack The Ripper and the East End: Introduction by Peter Ackroyd
. It's not really about the Ripper murders, so don't get it expecting a run down of facts and figures (for that I completely recommend Jack the Ripper: CSI: Whitechapel
), but is actually about the AREA at the time so is invaluable to me as I stagger through this novel.
Many thanks to Victorian Policing expert extraordinaire Neil Bell for his huge help getting me through the first few chapters.
Edit: I caved in and looked Clara up. It turns out that her middle name was Eleanor and she was born on the 15th of December 1865 at 38 Upper Randall Street, Poplar. She died at the grand old age of ninety on the 11th of April 1956 in Whipps Cross Hospital. At some point before 1901 she married someone called Walter Pease and moved out to West Ham like her step mother and brothers. It would seem that Walter was five years her junior, came from Billericay and worked as a 'railway carriage gasman'. They had at least two children, also named Walter and Clara.