Georgiana, Duchess of Devonshire, after Maria Cosway, 1783. Photo: National Portrait Gallery, London.
The 30th March is a sad day for all fans of eighteenth century history as not one but THREE of the greatest and most glamorous luminaries of that exquisite age were to pass away on this day.
First to pop their pretty silk clogs was Georgiana Spencer, Duchess of Devonshire, who passed away in 1806 at the age of forty eight, which is no age at all really is it? Poor Georgiana. She was one of those incredibly comely and charismatic women who appeared to have perfect lives full of fashion, fun and frivolity, but were actually miserable as hell in private with indifferent husbands, faithless lovers, illegitimate children, bossy parents and hideous debts (at the time of her death, she owed the equivalent of £3,720,000 in modern money). Georgiana had all of this and more. She even had one of the worst frenemies in history in the person of Lady Bess Foster.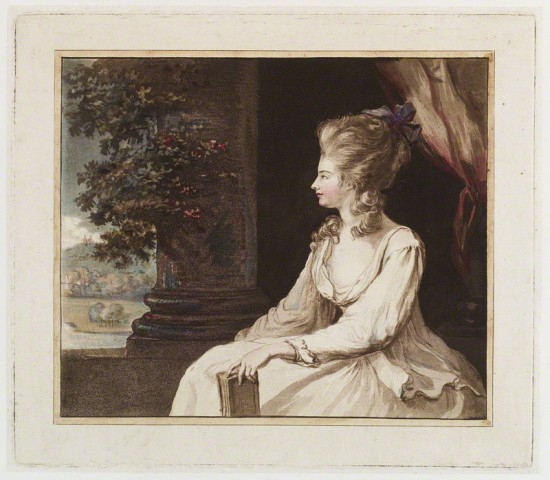 Georgiana, Duchess of Devonshire, Francesco Bartolozzi, after Lady Diana Beauclerk, 1779. Photo: National Portrait Gallery, London.
Unlike most famous beauties, it isn't hard to see from her many portraits why Georgiana was considered so divinely alluring – she was a charming, sweet faced auburn haired lovely with wide candid eyes and a smile that played in the corners of a pouting little mouth. I often wish that she had been painted by Madame Vigée Lebrun – what a masterpiece that would have been! I wonder why it never happened?
There's something so lovable about Georgiana – her charm was so enormous, so huge that it can still be felt today. One may feel impatience when reading about her debts and disorderly lifestyle but nonetheless it is impossible not to feel sympathy for her. It's no wonder that she is often linked to those other tragic fashion icons Princess Diana (The Other Spencer Girl) and Marie Antoinette (who was one of her best friends).
Beau Brummell, John Cook after an unknown miniaturist. Photo: National Portrait Gallery, London.
Next to go was the most divinely charming dandy and least awful Old Etonian of them all, Mr George Bryan 'Beau' Brummel, who died in France (he'd retrenched there several years later to escape his heinous mountain of debts) in 1840 at the age of sixty one (note that he also shared his birthday with The Divine Georgiana). If you love Austen heroes and the novels of Georgette Heyer then you owe Mr Brummel a HUGE and heartfelt thank you for his stirling work in guiding the Prince Regent and other fashionable upper crust gentlemen not only towards daily washing and cleaning their boots with champagne but also a more refined and elegant style of masculine dress, which featured well fitting dark jackets to show off those BROAD HEROIC SHOULDERS, long white trousers that accentuated the wearer's MUSCULAR THIGHS and a well shaped cravat to give them something other than the heroine to chat about with their chums and valet.
James Purefoy as This Charming Man, Beau Brummell.
My favourite Brummel moment, apart from seeing him played by the frankly hot as hell James Purefoy in a BBC Drama was his appearance in Heyer's novel Regency Buck when he was a chum of the really quite horribly self righteous and annoying heroine, Judith Challoner. I can't abide Judith but Beau was just fabulous in this book – especially when he makes his first appearance, which I won't spoil for the Heyer Newbies among you, but it's fabulous. I may have to re-read it now in his honour.
Madame Vigée Lebrun, self portrait, 1783. Photo: National Gallery, London.
The last of the sad 30th of March deaths was that of Madame Louise Élisabeth Vigée Lebrun in 1842 at the grand old age of eighty six. Never mind ridiculous and ill informed Twitter memes about there being NO paintings by female artists in the Louvre – you can see more than one example of Madame Vigée Lebrun's delightful portraits in its hallowed halls – including not one but TWO self portraits of herself with her daughter.
I'm a huge HUGE fan of Vigée Lebrun (I know it should probably be spelt Le Brun, but I always think that looks a bit inelegant n'est ce pas?) and adore her portraits so much but even I can see that Madame was perhaps a bit of a flatterer where her subjects were concerned. She was also, perhaps, not the best at capturing an exact likeness, although there is an essential vividness, heart and soul to her works that speaks volumes about the personality and essence of her sitters.
Beautiful and ugly, young and old they are recorded alike for all posterity as gorgeously, wholesomely fresh complexioned with wide dewy rolling eyes, lips parted as if on the verge of laughter or song and glossy hair tumbling about plump, dimpled white shoulders. They speak to us of a long lost, vanished, probably fictional age of supreme elegance, lighthearted enjoyment, graceful levity and gaiety that teetered on the very edge of revolution and destruction.
Madame Vigée Lebrun and her daughter, 1789, Musée Louvre. Photo: my own.
Madame Vigée Lebrun herself talks to us most vividly via the medium of her memoirs, a fascinating book that details her entire life from her early forays into painting to her time as one of the most fashionable painters at Louis and Marie Antoinette's court to her exile and wanderings around Europe after the cataclysmic upheavals of 1789. Madame turns her flatterer's eye upon the beauteous, great and good of Europe's cities and records them for our amusement. It's a masterpiece and, like the memoirs of Madame de la Tour du Pin, an essential read for anyone who wishes to write about this lost period of history with any accuracy.
So there we have it – a sad day indeed for all fans of the eighteenth century, but on the plus side it is also the 264th birthday of Goya, who left his own incredible mark upon that remarkable period…
******
Set against the infamous Jack the Ripper murders of autumn 1888 and based on the author's own family history, From Whitechapel is a dark and sumptuous tale of bittersweet love, friendship, loss and redemption and is available NOW from Amazon UK
and Amazon US.
'Frothy, light hearted, gorgeous. The perfect summer read.' Minette, my young adult novel of 17th century posh doom and intrigue is now £2.02 from Amazon UK
and $2.99 from Amazon US.
Blood Sisters, my novel of posh doom and iniquity during the French Revolution is just a fiver (offer is UK only sorry!) right now! Just use the clicky box on my blog sidebar to order your copy!
Copyright secured by Digiprove © 2014 Melanie Clegg