We're peculiarly un-blessed when it comes to castles in our part of England, so much so that we commit the ultimate middle class crime of not having membership of the National Trust or English Heritage because they have naff all properties nearby. I know. I know. Although maybe that's an excuse as I'm just about to buy a family membership to Historic Royal Palaces for the year so that we can have lots of trips to the Tower of London, Hampton Court and Kensington Palace.
Anyway, there are few things I like better than scrambling all over ruined castles so we hauled the boys out of bed early on Sunday (none of us are what I like to derisively refer to as 'Bloody Morning People') and off we went to one of the few English Heritage sites nearby – Farleigh Hungerford Castle.
Farleigh Hungerford was started off in 1377 by Sir Thomas Hungerford, who had become obscenely wealthy during his years as Chief Steward to our common ancestor John of Gaunt. Nowadays, people who come into sudden wealth excitedly rush to look at the most expensive house in their area on Rightmove while lying about how 'this won't change my life' but back in the 14th century, they built castles which is a rather more proper way of going about these things, I think. In fact Sir Thomas got a tad over excited while building his castle and added crenellation before getting the required license to do so which earned him a rap over the knuckles and fine from Richard II.
There's not all that much left of Sir Thomas Hungerford's castle now but it's still possible to make out his fortifications which surrounded what would have been a rather lovely and cosy manor house in the middle, the remains of an earlier one that had been granted by William the Conquerer to Roger de Cercelles and then subsequently passed into the hands of the powerful De Montfort family. Basically speaking, Farleigh Hungerford was essentially a fortified manor and designed to act as a comfortable family residence rather than a defensive property, although it was quite capable of acting as the latter if required.
The Hungerford family prospered greatly under John of Gaunt's son Henry IV and Sir Thomas' heir, Sir Walter was a chum of Henry V, probably because like him he was rather keen on fighting battles and took part in Agincourt although it's probably not true that he was responsible for the capture of the Duc d'Orléans. Despite this, Walter's rise to power was swift with him subsequently becoming admiral of the fleet, steward of the King's household, a Knight of the Garter and then an executor of Henry's will before taking his place on the Protectorate's council as a legal guardian of Henry VI during his minority. Not bad for the son of a Chief Steward. His career reached its pinnacle in 1427 when he became Treasurer of England.
Naturally, some of the vast wealth amassed by Walter during this period was diverted to Farleigh Hungerford, which he enlarged and further beautified with new decorations in the chapel, including a rather powerful mural of St George, the favourite saint of his patron, Henry V as well as beautiful tapestries in the manor house, fine bedding and expensive silverware for his table. He also extended the parkland so that he had more space for hunting. It would have been clear to everyone that Farleigh Hungerford was the residence of an extremely wealthy man.
The mural of St George and the Dragon in Farleigh Hungerford chapel – one of a very VERY few remaining ecclesiastical wall paintings from this period.
The Hungerford family prosperity was not to last much longer however as Walter's grandson, Robert, who followed the family tradition of being a staunch Lancastrian supporter, was captured by the French in the battle of Castillon in 1453, which necessitated his mother raiding the family assets in order to raise an enormous ransom to set him free. Then, when the Wars of the Roses broke out, Robert naturally fought on the side of Henry VI and was eventually fled with his King into exile in Scotland in 1460 when things turned against them. He had his property and remaining wealth seized by Edward IV for his pains and would ultimately end up executed after his capture in the battle of Hexham.
At this point, Farleigh Hungerford passed into royal hands when Edward IV gifted it to his brother Richard, Duke of Gloucester (subsequently Richard III but you know that, don't you?) in 1462. It's not known if Richard, the current most talked about English king, ever stayed there but his brother George, Duke of Clarence most likely did as his wife Isabel Neville gave birth to their daughter, Margaret there on the 14th of August 1473. Margaret would later become Countess of Salisbury and would be executed in horrible circumstances by Henry VIII in May 1541.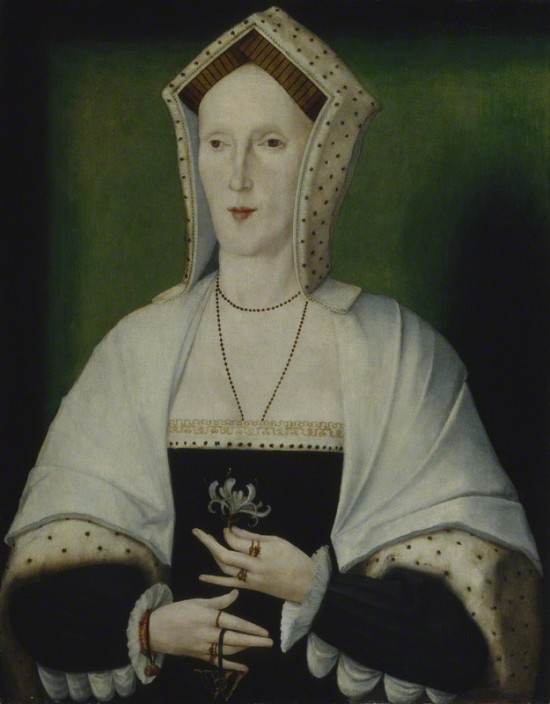 Unknown woman, formerly known as Margaret Pole, Countess of Salisbury, unknown artist, c1535. Photo: National Portrait Gallery, London.
Meanwhile, the fortunes of the Hungerford family were beginning to turn when Walter, the dispossessed heir of the unfortunately executed Sir Robert, chummed up with Edward IV and managed to claw the family back into the royal good books. This brief interlude of Yorkist support didn't last though as he then joined in the 1483 rebellion against Richard III and ended up in the Tower for his pains. He was back in the Lancastrian fold upon his release and fought on the side of Henry Tudor at Bosworth which earned him his lands back, including Farleigh Hungerford.
The estate was inherited by Walter's son, Edward who was a denizen of Henry VIII's court and appears to have managed to retain royal favour until his death in 1522. However, in the summer of 1518, Sir Edward had taken a widow Agnes Cotell, who was probably his mistress, as his second wife and was fond enough of her to leave the castle to her in his will. Unfortunately, it then transpired that Agnes had actually strangled her first husband on the 26th of July 1518 in order to leave herself free to marry Sir Edward and get her hands on all his cash. Worse still, it turned out that she had disposed of her unfortunate first husband's body by incinerating him in the huge cavernous oven in the kitchens of Farleigh Hungerford. As you may expect, Agnes did not enjoy the fruits of her murdering ways for very long and was executed at Tyburn along with two accomplices on the 20th of February 1524.
After Agnes' execution, Farleigh Hungerford fell into the hands of Sir Edward's heir, the twenty one year old Sir Walter Hungerford (there's a lot of Walters – sorry), who was one of Henry VIII's squires at the time. He became very friendly with Thomas Cromwell when the latter made him Sheriff of Wiltshire in 1533 and then, approving of his worth, loyalty and efficiency, ensured that he was richly rewarded and also promoted within the peerage to Lord Hungerford of Heytesbury.
These must have been halcyon years for the Hungerford family as they enjoyed the fruits of their connection with the increasingly powerful Cromwell, a man whom for all his faults knew how to inspire loyalty and also, more crucially, was always keen to reward it. However, the bad luck of the Hungerfords struck again in 1540 when Walter, who really should have been a tad more circumspect considering the dangerous times he lived in, was thrown into the Tower for a myriad of charges which included sympathising with the rebels of the Pilgrimage of Grace (oh dear), consulting a presumed necromancer with the fabulous name of Dr Maudlin to discover how long the King was going to live for (oh dear oh dear) and then finally with the 'committing of unnatural sexual acts' (oh dear oh dear oh dear) under the charmingly named Buggery Act of 1533, which had been the brain child of his own patron Thomas Cromwell.
Poor Sir Walter lost his head, the first person to be executed for sodomy under the new law as well as treason and witchcraft, on the 28th of July 1540 alongside his chum, Thomas Cromwell. We know that Cromwell's beheading was a somewhat botched job so let's hope fate was kinder to Sir Walter.
Not everyone was upset about Sir Walter's execution though. He had married three times and is known to have treated his third wife, Elizabeth Hussey, whom he married in the autumn of 1532, incredibly badly, at one point allegedly incarcerating her in the so called Lady Tower of Farleigh Hungerford for about four years with very little contact with the outside world – although at some point the couple managed to have four children. In 1536, Elizabeth managed to smuggle out a letter to Thomas Cromwell who was a close friend of her father, Baron Hussey of Sleaford, telling him of her distress and begging for help. She also claimed that her husband was trying to starve her to death in between attempts to poison her food and he almost certainly emulated his royal patron by trying, unsuccessfully, to acquire a divorce. She must have been exceedingly relieved when his execution freed her at last from Farleigh Hungerford and she went on to marry again to Catherine Parr's first cousin, Sir Robert Throckmorton and had four more children with him, one of whom, Anne Throckmorton, would become mother to Robert Catesby of Gunpowder Plot fame.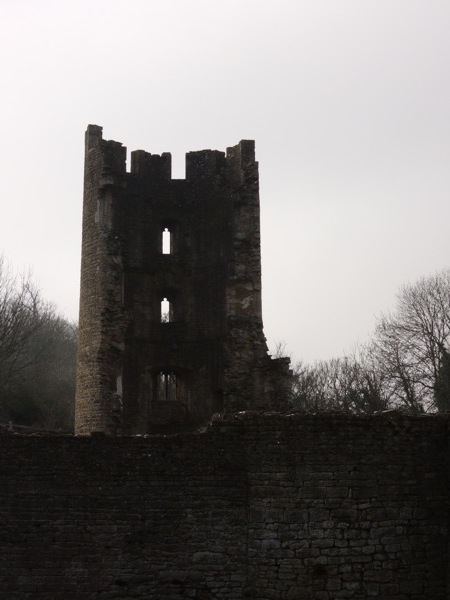 As was usual when someone was executed for treason, all of the Hungerford family estates were handed over to the crown upon the beheading of Sir Walter but his heir, yet another Walter, was sufficiently fond of Farleigh Hungerford to buy it back from the crown for £5,000 in 1554 and restore it to its former splendour as family seat. Things went on reasonably well after this until the English Civil War broke out in 1642 and ruined everything again. The Hungerfords sided with Parliament and the current owner of the estate, Sir Edward, even managed to become leader of the Parliamentarian forces in Wiltshire although, typically, he managed to embroil himself in a bitter feud with another nobleman, Sir Edward Bayntun, by so doing.
Farleigh Hungerford was captured by royalist troops in 1643 which would have been dreadful if the said troops hadn't been led by a certain Colonel John Hungerford, who was half brother of Sir Edward – it wasn't unusual at this time for siblings to fight on opposing sides. Colonel Hungerford held the castle for two years before the Parliamentarians managed to capture it back again and he had to hand it back to Edward again, which meant that it was back in the hands of Parliamentarian forces and escaped the deliberate and very sad destruction of similar castles in the area that went on at this time.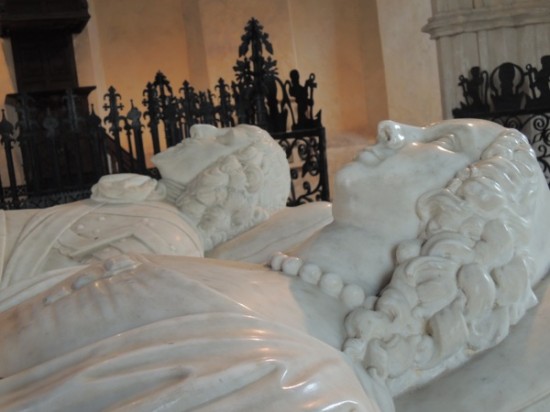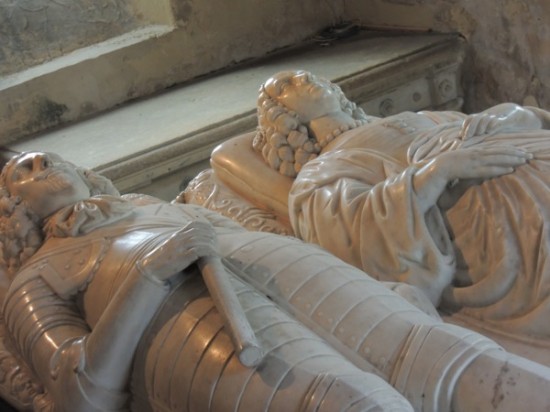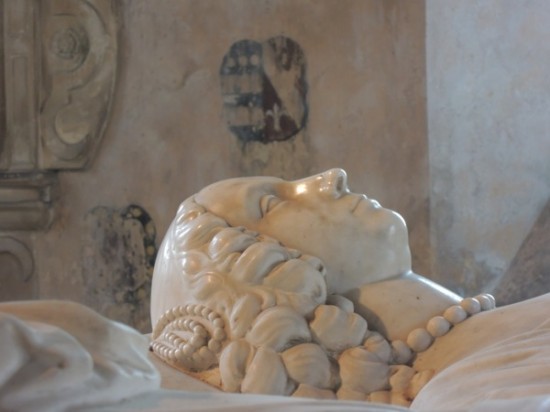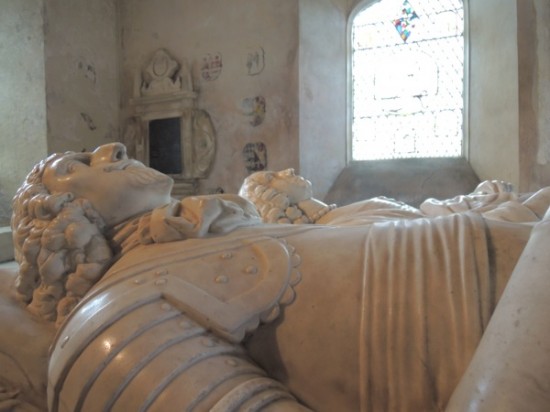 Sir Edward died in 1648 and his widow, Margaret set about creating the most beautiful (and extremely expensive – it cost the equivalent of over £150,000 of modern money!) tomb for them both in the chapel at Farleigh Hungerford, which still stands today. It's a really gorgeous example of seventeenth century funerary sculpture although it must be said it makes the rest of the chapel look a bit shabby in comparison.
Upon Sir Edward's death, Farleigh Hungerford was inherited by another half brother, Anthony, who was also on the royalist side and had even ended up in the Tower in 1644 for taking a seat on Charles I's rebel parliament in Oxford although he tried his best to wangle his way out of paying any fines by stating that he had never actually fought for the king in any battles but had rather been forcibly compelled to join Charles' court in Oxford before voluntarily surrendering himself to Parliament.
Anthony Hungerford died in August 1657 and was succeeded by his son, Sir Edward Hungerford, who was just in time to enjoy to the absolute full the restoration of Charles II to the throne, becoming along the way the epitome of the typical wastrel, extravagant, folly driven Restoration aristocrat, blessed with abundances of wealth thanks to his inheritance and also a very shrewd marriage to a disgustingly rich heiress. At some point, Sir Edward had made a respectable political career for himself, becoming MP for Chippenham shortly after his father's death but it all went to hell once the Stuarts were back in charge and he could give in to his passion for gambling as well as the usual wine, women and song, landing himself in debt to the tune of around £11 million in the process, which necessitated the selling off of most of the family lands.
Farleigh Hungerford was to have its last moment of glory though when Charles II and his court visited in 1673, which must have been extremely thrilling for the local countryside. However, ten years later, Sir Edward had lost Charles' favour irrevocably over the question of James, Duke of York's succession to the throne and his downfall followed speedily afterwards with Farleigh Hungerford included in the parcel of lands and estates sold off to Sir Henry Bayton in 1686 for over £7 million. Sir Edward himself died impoverished in London in 1711. Let's hope he thought it was all worth it.
Farleigh's departure out of the clutches of the Hungerford family spelled the end of the castle's glory days and its decline into a neglected but picturesque ruin ensued soon afterwards although its aesthetic demise was down to its later owners, the Houlton family, breaking it apart and pulling out all the beautiful fireplaces, marble floors and stone door surrounds for their new mansion at Farleigh. We can only imagine what loveliness is now lost to us. It was a ruin by the start of the 18th century and, like many of its ilk, was even used as a farm yard at one point with cows roaming the foundations of what had once been a home to knights, scene of royal revels and birthplace of the last Plantagenet princess.
Today Farleigh Hungerford is in the care of English Heritage and a most excellent place to take small children for a ramble – it's still completely recognisable as a castle but is ruined enough to make walking around something of an interesting puzzle as you try to work out what room you are standing 'inside' and how it must have looked back in its heyday.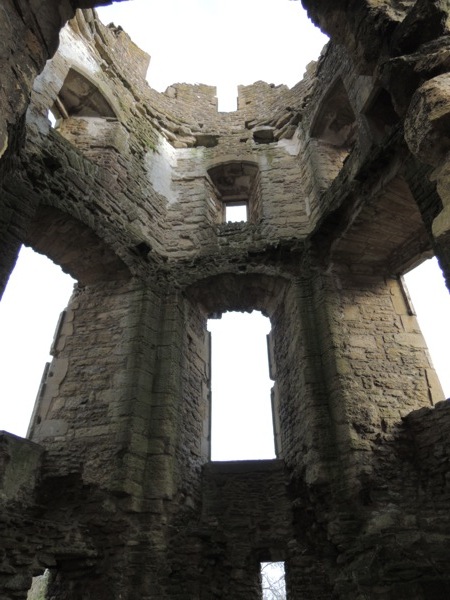 ps. Apparently The Lady in the Tower
by Marie-Louise Jensen is based on the tale of Elizabeth Hungerford's imprisonment at Farleigh Hungerford. I haven't read it but I hear it's rather good – although the title always makes me think it's going to be about Anne Boleyn!