'Tolly lay awake in bed. There was so much to thinks about – the birds, the children, the floods, the stables where lovely Feste called for his master. It was a clear night with a full moon shining on miles of water and seeming twice as bright as usual. The bedroom was all silver and black with it as it poured through the window and flooded the floor with quicksilver. The flame of the night-light looked like a little golden pen-nib, giving less light than there was already around it. The moon shone in the rocking-horse's eye, and in the mouse's eye too when Tolly fetched it out from under his pillow to see. The clock went tick-tock, and in the stillness he thought he heard little bare feet running across the floor, then laughter and whispering, and a sound like the pages of a big book being turned over.' — The Children of Green Knowe, Lucy M Boston.
As I have mentioned here before, I was raised in a rather creepy big old house by my maternal grandparents, who were obsessed with history, France and books. I wasn't really allowed to read many children's books (although my grandmother's crowded bookshelves, stuffed full of Dickens, Austen and thousands of historical novels were fair game) but there were a very few honourable exceptions – the William Brown books by Richmal Compton; the Anne of Green Gables series; What Katy Did and Little Women and their various sequels and The Children of Green Knowe.
The Children of Green Knowe
is a beautiful, evocative novel that is part ghost story, part love letter to Lucy M Boston's own house, The Manor in Hemingford Grey. It tells the story of seven year old Toseland, who has been raised in Burma and sent to school in England, whereupon he is to spend his holidays with his maternal great-grandmother, Mrs Oldknow in her house at Green Knowe, which is 'haunted' by the spirits of Toby, Alexander and Linnet Oldknow who died in the plague in the seventeenth century. Like so many protagonists in children's literature, Tolly's mother is dead and he seems to have a rather distant relationship with his father and step-mother. He comes to Green Knowe feeling lost, lonely and rather out of place but the affection of his adoring granny and the essential magic of the house and its grounds completely transform his life.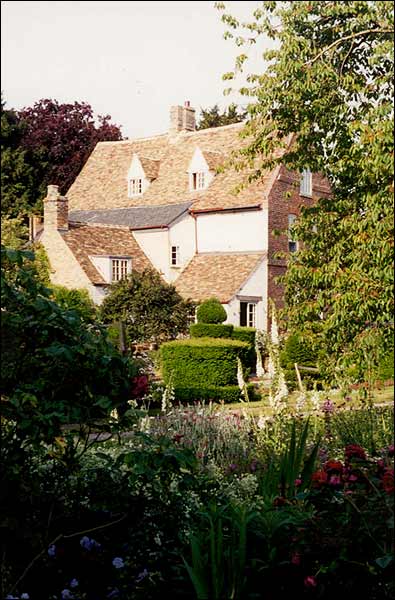 The Manor at Hemingford Grey, the original Green Knowe. Photo: Diana Boston.
I've just started reading The Children of Green Knowe to my own seven year old son and although I remembered it as a gentle and rather uplifting novel about ghosts, love and hope, I can now see that it is also a book about home and what it means to belong to a place. The Oldknow family have lived at Green Knowe since the Norman Conquest and the house and its grounds are seemingly entwined within their DNA so that when they die, many of them choose never to leave. Tolly himself is one of a long long line of Oldknow boys called Toseland, while his great-grandmother is one of dozens of Linnets. Every single item in the house, whether it be an ornament, a book, a painting or a piece of furniture has a story to tell and gradually the shy, uncertain Tolly is bewitched by the house that has always been a part of him, even though he was born and grew up so far away.
It's a gorgeous book and I can't tell you how much pleasure it gives me to read it to my own little boys now. The most amazing thing is that they are as rough and tumble and Star Wars, Doctor Who and Harry Potter obsessed as any other small boys and yet they've started demanding another chapter every night and both curl up beside me, completely enraptured as I read.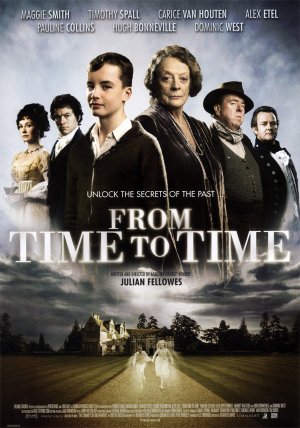 Of course, when I recently discovered that the film From Time To Time
was adapted by Julian Fellowes (of Downton Abbey) from The Chimneys of Green Knowe
, a book further along in the series, I had to buy it and I have to say that I was not disappointed as it has much the same magical and other worldly atmosphere as the books even though Fellowes took several liberties with the plot and Tolly's family circumstances (setting it in 1944, making his father a soldier and the son of Mrs Oldknow and his mother still very much alive but rather disapproved of by her in laws) so that it has his trademark clashings of class. I didn't mind this though as I thought the story was still genuinely very touching and indeed I wept BUCKETS at the very end.
The BBC adaptation of The Children of Green Knowe is notoriously difficult to get hold of (and it's also been ruined for me as one of my best friends from sixth form went to university with the boy who played Tolly) and in fact I've heard rumours that it was completely erased. Until it resurfaces, I would recommend a viewing of From Time to Time – especially as it stars the wonderful Dame Maggie Smith, Hugh Bonneville, Allen Leech (Branston from Downton! With long hair!) and Dominic West as well as the slightly terrifyingly good looking Douglas Booth.
Did you love The Children of Green Knowe when you were growing up? I've promised the Seven Year Old that at some point next year we are going to make the trip to Cambridgeshire (so near where I grew up) and see Green Knowe for ourselves.