Caitlin Moran at Blogfest. Photo: Mumsnet Bloggers Network
I have returned from a rather amazing, often surreal but always inspiring two days in London and, as always, have hastened here to spill the beans about what happened.
After much disorganisation and general rubbishness, I arrived at Paddington on Friday and, as usual, got the bus to Whitechapel, where I was staying the night with my dear chum Rachael from Tales from the Village. While on the bus I gradually began to realise that the man sitting opposite me, who looked apparently otherwise normal – a bit like a younger Bill Nighy and dressed in a black pin stripe suit, was STARING fixedly at me and not only that, following my gaze whenever I looked out of the window then regarding me quizzically. I glanced back a few times which made him look away but his gaze always returned to my face. 'What's going on?' I wondered. 'Do I HAVE SAUCE ALL OVER MY FACE? Does he know me? Has he read one of my books? Am I actually going to get murdered on the 205 to Bow Church? Does he hate goths?' I didn't get murdered, self evidently, but when he eventually got off at Liverpool Street Station, he actually paused and turned to give me one last look at the bus door before leaving. All very strange.
New hair.
Maybe he was admiring my new hair? I got bored and put purple bits in underneath the bright pink.
Upon arriving at our hotel on Commercial Street, I ditched my stuff and went for a nice wander around the back streets by Christ Church, Spitalfields Market and across to Mitre Square before returning to the hotel to meet Rachael, who arrived full of high spirits and was much taller than I remembered.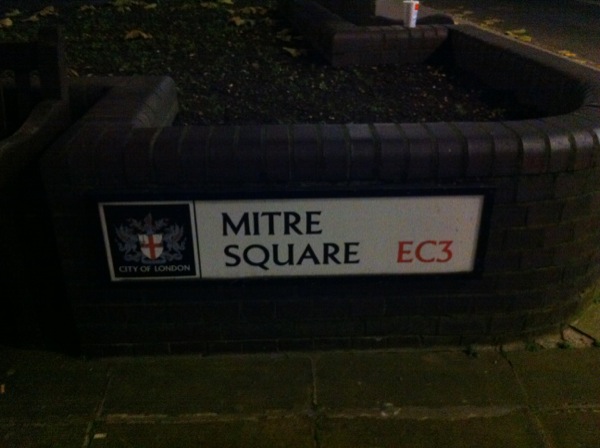 Mitre Square yet again.
We went for curry on Brick Lane and also GIN at the Ten Bells (my favourite Whitechapel pub, The Princess Alice was having another power cut and so was closed again for the night), whereupon we realised that we can both tell Gordon's from Hendrick's from Tanqueray just by tasting them. Does this mean we've had too much GIN? Is such a thing possible? They've really done the Ten Bells up by sorting the walls out and moving the back bar to the middle of the room and I think I like it. It's much cosier now and I managed to stay for two drinks rather than just downing one and storming out in annoyance.
After this I took Rachael for a very brief Ripper tour, taking her out to Mitre Square, which was very eerie and deserted in the middle of the night once the Ripper tours had packed up for the day; Henriques Street, scene of the murder of Elizabeth Stride; Goulston Street; the White Hart; Artillery Row; White's Row, Puma Court and so on. I don't think she had a horrible time. I love doing Ripper walks for my friends – I'd hate to drag a whole group around but it's nice to take a couple of people out to the murder sites and other related places especially when it's all dark and gloomy.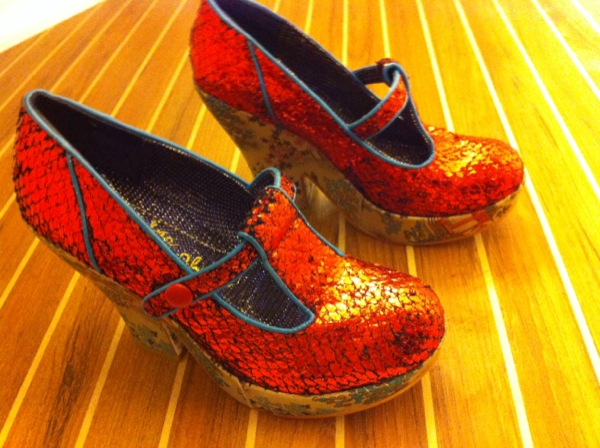 The shoes that I didn't wear but probably should have done.
Of course, the next morning heralded Mumsnet Blogfest Day, which we'd been really excited about for ages. I was planning to wear my beloved red Irregular Choice shoes with my favourite Vivien of Holloway pirate dress but in the end I teamed it with my Doc Martens, which looked much better than expected and had the added bonus of being warm and also fairly rain resistant. Behold the beauty of the Irregular Choice shoes though.
When we arrived at the Millbank Tower, the venue for the Blogfest, I felt very shy and out of place to be surrounded by so many people. Apparently three hundred people attended – not all of whom were women, mothers or even bloggers incidentally. Rachael and I entertained ourselves by complaining that 'Everyone's talking about bloody blogging' and also playing 'Spot the Boden' as well as 'Spot the Beauty Blogger' in between chatting to people. I was thrilled to finally meet the lovely ladies behind Live Otherwise, Sandy Calico, Dilly Tante and Stitch This before we went in for the first key note session.
Miriam Gonzales Durantez.
Justine Roberts, the founder and CEO of Mumsnet kicked things off with a welcome that reminded us of the power of women's words in the modern world before the very VERY lovely Miriam Gonzalez Durantez, who was sitting in front of me so I was already madly envious of her lovely glossy hair and amazing smile, stepped up to give the opening keynote talk. Miriam is married to the Deputy Prime Minister, Nick Clegg (no relation but my grandfather knows her brother-in-law and lent a copy of my novel about Marie Antoinette to her sister-in-law and nieces which is pretty cool) and I know people were really keen to hear what she had to say especially as the Coalition Government isn't too popular right now.
What we got was a delightful, very warm and personal speech about the importance of women and mothers and how 'women's rights are human rights' as Miriam put it so well. I think pretty much everyone there ended up with a thumping GIRL CRUSH on her as we all gazed at her in misty eyed adoration and murmured 'Isn't she wonderful' at each other like hormonal sixth formers listening to the Head Girl's speech on Prize Giving Day.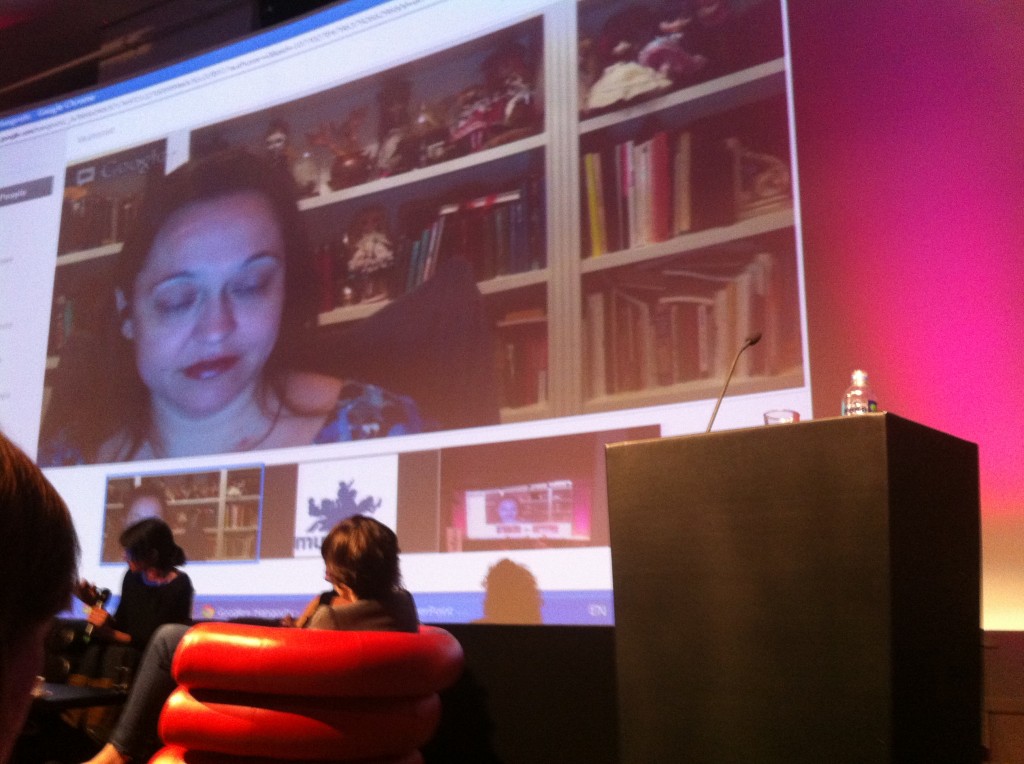 The Finding Your Voice panel.
After this there was a panel discussion about 'Finding Your Voice' which was excellent and covered the ways that writers and bloggers can remain true to themselves while still producing interesting content. There was a special appearance by Blogging Celebrity The Bloggess via a direct online link onto the back screen, which meant that she hovered over the other panellists like the benignly smiling baby from The Teletubbies. The overall message of this discussion seemed to be that bloggers should always be themselves and if people don't like that then screw them. Or something.
The morning break followed and this was the moment I'd been dreading as the first two sessions had been on the ground floor but pretty much everything else from that point on was upstairs on the 28th and 29th floors, which was hideous for me as I am terrified of both lifts and heights. Everyone else wandered off to the lifts for the first break while I lurked downstairs and felt a bit sorry for myself as I was longing for some tea and biscuits. At this point, Rachael appeared with the very awesome Dr Tanya Byron who won my heart by saying that I looked beautiful and complimenting the Pirate Dress of Doom before insisting that I could and would go in the lift. Look, if anything is going to get a massive scaredy cat like me into a lift it is the encouragement of a professional and VERY well known psychologist so I was hardly going to refuse, was I!
The lift wasn't actually that bad. Dr Tanya Byron (who is amazing and so beautiful, did I mention that?) kept me chatting as we went up or maybe she didn't, maybe I just nervously gabbled at her about eels and Cockneys and how I used to be an internet troll (it was a VERY long time ago and I was very very very unhappy back then so I used to go onto forums and troll people that I thought were being wrong on the internet pretty mercilessly in a completely futile attempt to cheer myself up) while everyone around us face palmed and made cut throat gestures at me. Who knows – either way she won a fan for life. Er as I told her on the way out. I may also have told her that I love her and stuff, but we'll pretend that didn't happen.
Sadly however, although the lift turned out to be absolutely fine the height was not and I lasted about five minutes up there (long enough to grab water and a brownie) before I had to take the stairs back down again, which meant missing the talk on tackling trolls, which Dr Tanya Byron and the also lovely Liz Fraser (who is COMPLETELY FAB and according to Caitlin Moran has a totally symmetrical face and got handed one of her 'I like your look' cards, which I think I really must copy as what a brilliant idea!) were sitting on. Dilly Tante came with me and together we braved descending twenty eight floors, which I sincerely hope had an excellent effect on my leg muscles but probably only just negated the calorific value of the brownie that I later shovelled into my face while waiting to go into the social media session on the ground floor.
The social media session was aimed at beginners really but was enlivened by the presence in front of me by a long time twitter chum, Bellerants, whom I had no idea would be attending! She is ace and was lovely company despite being hideously hung over after an evening spent knocking back GIN at a Victorian pop up event by London Bridge (PLEASE TELL ME WHERE IT IS AS IT SOUNDS LIKE MY IDEA OF HEAVEN). So lovely is she that after everyone had cleared off back upstairs for lunch, leaving me like a complete no mates on the ground floor, she actually came back down again with lunch for me and she and her friend sat and ate with me, which was extremely kind of them. The lunch, incidentally, was delicious.
Bellerants took this ace picture of me before the panel started. I'm actually grimacing and sticking my fingers up at her. Haha, I'm such a charmer.
The Getting Published panel was after lunch and I was a complete sack of nerves as I made my way inside and took my place on the stage, typically picking a red chair that clashed with my pink hair. I started to feel really sick as people began to drift in until the lecture theatre was almost completely full and then almost fainted when the chair, Geraldine Bedell called for silence and the session began.
It wasn't actually that bad – I was frozen in horror for the first few minutes and almost ran off screaming when I had to speak but it was okay, no one died and I think people laughed with me and not at me, so that's okay. Our panel was pretty great actually – there was Cari Rosen, who wrote a book about becoming a first time mother in her forties; Neil Sinclair, writer of Commando Dad; Felicity Rubenstein, an agent with Lutyens and Rubenstein and Louise France, who is an editor for The Times. I wasn't really sure what to expect but had a feeling that people were expecting some sort of cat fight to break out between me and the agent – in which case they were sorely disappointed as she was actually really honest about the shifting and uncertain state of contemporary publishing and I made it clear that there were no battle lines here, there is no us versus them in the world of publishing and that self publishing no longer means that a writer is too rubbish to be picked up by trade publishers and agents, it can in fact mean a myriad of other things, all of which are positive.
The questions were very interesting – I was asked how I manage to sell so many books and get so many readers without vigorous promotion (as regular readers of this blog will know, I'm not a fan of excessive promotion, which I believe can be completely counter productive) and all I could think to say is that I try to be as interesting and relevant as possible so that people want to read and retweet my posts and that I also cultivate an excessively Bohemian persona with my own in jokes and idiom which are open to my readers to share in. I'd been previously dared to quote my beloved 'Eels' song by The Mighty Boosh at this point but only managed to mention 'gin, eels and Victorian prostitutes' as examples of the sorts of things that I've made part of this blog's and by extension, my own, identity.
We were also asked if having a large following could outweigh being a rubbish writer when it came to publication ('That's what editors are for') and if people like me can successfully self publish, why on earth would anyone want to go down the trade publishing route (er there wasn't really an answer to that one – this question was passed to me and to be honest I don't think I'm in a position to big up trade publishing because it's not something I've had very positive experiences with).
Ultimately though, I think our panel went really well and I had a lovely chat with Felicity Rubenstein afterwards where she assured me that she thinks what I do is amazing and wished me luck with it. No, I didn't pitch at her! I do know though, if you were thinking of doing so, (as someone else did while we were chatting) that she has a full compliment of authors and isn't taking on new submissions right now.
Rachael, Sandy Calico and me doing the duck face Myspace thing.

After this everyone scampered off upstairs again leaving me lurking on the ground floor with my Kindle. I was really annoyed with myself at this point as I really wanted to see the Blogging Beautiful panel about beauty blogging as I really like Sali Hughes and also love make up and clothes but my stupid fear of heights meant that I just couldn't face it. Boo. However, I was cheered up by bumping into Justine Roberts whereupon we had a really lovely chat about how the day was going, make up (I'd been pushing NARS Super Orgasm highlighter on everyone all day – it's seriously like health in a bottle) and books. Justine is incredibly charming, self deprecating, honest and intelligent and is a great ambassador for Mumsnet – in fact, and I'm a bit biased as I've been a loyal Mumsnetter for years, the whole day was a fabulous example of the power and all encompassing reach of the site.
The final keynote panel followed this and I managed to nab a seat on the second row for the discussion of 'Private Lives on a Public Stage: how much should you reveal online?' which was chaired once again by Geraldine Bedell and involved Tim Dowling, Zoe Margolis, Eliza Gray and Liz Jones. I think most people were intrigued to hear what the latter had to say for herself as she's a bit of a reviled figure here in the UK and there were even some expectations that she would be booed or heckled although I doubted this would actually happen. What DID happen is that she looked absolutely terrified and didn't really have much to say for herself other than admitting that she regrets everything that she writes, that she does it for money, that she thinks being a writer has made her a nastier person and that she doesn't have any relationships. She came across as a frail, uncertain and desperately unhappy woman and a lot of people, myself included, were surprised to find that they actually felt sorry for her. This didn't last long.
The completely brilliant Mammasaurus described Liz Jones as being like a Dementor from Harry Potter, in which case Caitlin Moran, who bounded in afterwards to give the final closing keynote speech had the effect of a whopping great Patronus Charm to send the atmosphere of uncomfortable, dank misery out of the hall. If Miriam Gonzalez Durantez is the head girl that we all fancy then Caitlin Moran is the school rebel made good, the one who turns up every day in a rough approximation of the uniform, smokes behind the bike sheds with the boys from the grammar next door and then wins all the prizes on the day for being BLOODY BRILLIANT.
Caitlin Moran. Photo: Mumsnet Bloggers Network.
Blimey, she has some energy. I'll admit here that I usually to desperately admire Caitlin Moran when I was a gawky teenager as we are much the same age but while I was doing my A Levels at Sixth Form, she was writing for Melody Maker and being interviewed about her love of empire line velvet goth dresses (yes, I remember the piece well as I was incandescent with ENVY). I thought it desperately unfair but then forgot all about her until fairly recently when she seemed to make a reappearance in my consciousness and became really quite famous indeed. I think she's marvellous and her talk yesterday afternoon just reinforced this.
Also she gives the BEST writing advice ever – if you are ever stuck, just imagine you are writing to catch the attention of someone you fancy and are trying to make them want to get off with you. In Caitlin Moran's case this happens to be Tom Hardy, who would probably be my choice as well. I wonder if it works?
After this, Justine came on again to close the day and we all trooped off upstairs to have prosecco in a pink lit room overlooking the Thames. I'd started the day feeling really shy and a bit out of place and ended it feeling really included, inspired and full of love and admiration for everyone else in the room.
I scooted off straight after this, clutching my amazing goodie bag (chocolate, The Bloggess' book, a Boden umbrella, Lush treats and so on!) to get a bus to Paddington and then train home to Bristol and mused all the way back about what a great day it had been and what an excellent showcase of the power and potential of women writers.
That high continued right up until I read the error ridden, catty and downright nasty Daily Mail piece by one of the panellists who will remain nameless, which lampooned the Mumsnet Blogfest crowd mercilessly and added a repellant racist insult for good measure. I'll admit that I was pretty annoyed at first, especially when I saw other commenters sticking their oars in too but then I simmered down and just felt sad all over again. I mean, I left the Blogfest feeling uplifted, inspired and encouraged by what felt like a huge, warm and welcoming group of women (and some men) but clearly the said panellist didn't feel that at all and I think that's just really quite depressing.
It would be easy for me to say 'Well, I don't write a parenting blog so this attack doesn't relate to me' but you know what, I'm not going to do that because if I took just ONE THING away from the Blogfest it is that we are all in this together, supporting each other, comforting each other and bolstering each other and that means taking the rough with the smooth side by side. We're all writers together, no matter what we choose to write about (and isn't great and to be celebrated that we even HAVE that choice?), and that's all that matters.
I think I'm going to let Mrs Dane Calthrop from Agatha Christie's The Moving Finger have the final word on this as she's ace. She was talking about the writer of poison pen letters but it's much the same thing in principle:
'But don't you realize – can't you feel? Use your imagination. Think how desperately, violently unhappy anyone must be to sit down and write these things. How lonely, how cut off from human kind. Poisoned through and through with a dark stream of poison that finds its outlet in this way… Poor soul, poor soul.'
Anyway, did you go to the Blogfest? What did you think? I met so many wonderful people yesterday and can't namecheck everyone but believe me when I say that you are all awesome and it was a pleasure to spend time with you as well as an absolute honour to speak at the first ever Mumsnet blogging event.
Oh and Dr Tanya Byron made me promise that I will never EVER again refer to my figure as being 'like suet', which is actually a really horrible way to talk about myself, isn't it so I hereby PUBLICLY DECLARE that I will no longer do so and that when someone compliments me I won't immediately deflect it with a load of unattractive self criticism. There.