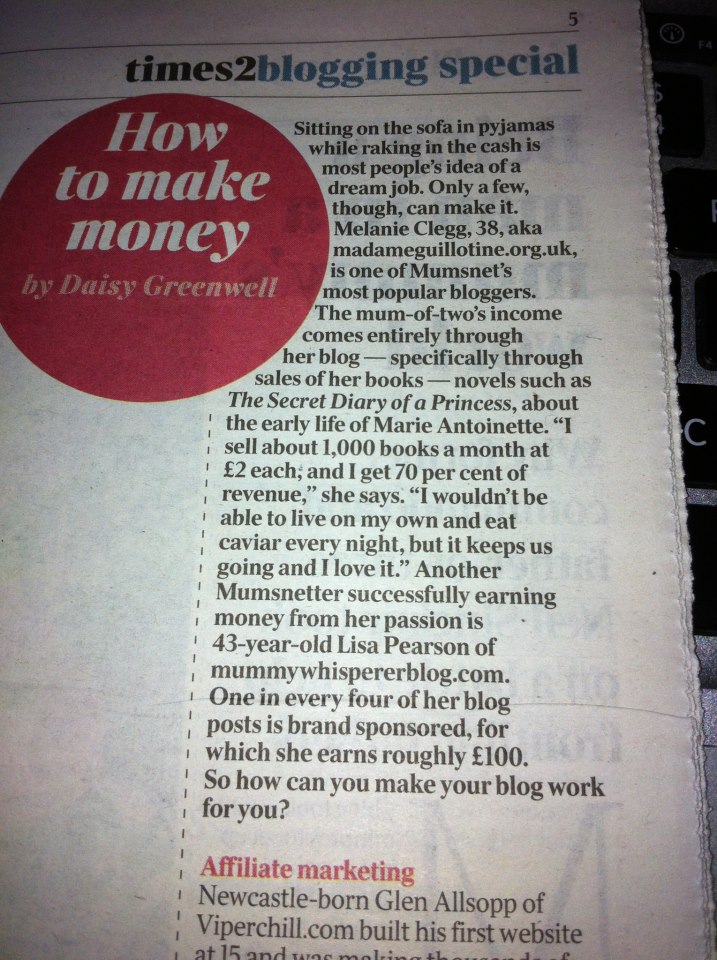 Yesterday was quite an exciting day here at Guillotine Towers as I got a mention in a Times piece about making money from your blog, which I do in a roundabout way because this is pretty much the only place that I promote my books and even then it's not so you'll particularly notice it.
I don't know why I mentioned caviar as I'm practically vegan but I expect you get the general idea. I'd also like it to be known that I don't laze about on the sofa in my pyjamas while writing but am in fact dressed in full Victorian Prostitute costume and swigging alternately from a bottle of Hendricks GIN and some well sugared absinthe in between sentences.
I was asked for a few top tips for bloggers hoping to use their blog to push their writing but as my Four Year Old was having a bit of a tantrum about me putting his milk into the wrong beaker, I couldn't think of anything off the top of my head so here's some tips now.
1. Don't underprice yourself. The odd freebie is great, of course it is, but your time and work are VALUABLE so don't undersell yourself.
2. Make friends with other bloggers. Seriously, this is such a lonely business, tapping away at a laptop while ignoring your family, the laundry, the incessant ringing of the telephone. The only way to really get through it is by having Blogging Friends who know what it's like and can give you a bit of virtual company when you need it. And often when you don't but hey, you take the rough with the smooth.
3. Be organised. I have to juggle a lot of things – children, husband, house, vague social life, my novels, the book I've been commissioned to write, this blog, keeping an eye on the books I've already written, reading books other people have written, my stupid diet, having long baths and so on. I couldn't do all this without LISTS and being ruthlessly well organised, which I might add, doesn't come entirely naturally to me. It has to be done though or I'd never get ANYTHING done or I'd just get drips and drabs done and end every single day feeling oppressed and miserable.
4. Don't be afraid to take time off. If it all gets too much for you, if the words won't come or you've just lost your blogging mojo then for the love of God, don't be scared to walk away and do something else.
5. Have fun with it. Yes, for me this is a job but if it ever stopped being fun then I'd find something else to do because I reason that if I am not having fun writing this stuff then you probably won't be having fun reading it and THAT, my little chickadees, would NEVER do.
6. If you're specifically interested in promoting books PLEASE bear in mind that there is such a thing as over promotion. I strictly ration mentions of mine and NEVER tweet about them unless it's their actual release date and my sales are pretty healthy. I cringe though at the way some self publishers really push their books on their followers by emailing; sending continual DMs asking for reviews, blog posts or outright sales; tweeting non stop about them and so on. It's just TOO MUCH and it actively turns people off buying them because who the hell wants to read a book written by someone who irritates and annoys them. No one that's who. Unless you are a bit of a masochist.
Anyway, the piece in The Times was in advance of the Mumsnet Blogfest which is being held in London tomorrow and where I will be speaking on the Getting Published panel about my experiences of being a self publisher who uses their blog to publicise their books. I'm very excited about this because I get to have the night out in Whitechapel the night before; loads of people I really admire will be there and also, well, it's nice to get out, isn't it? I'm also VERY pleased because after months of thinking the event is going to be held on the 29th floor of the Millbank Tower, which is terrible as I am scared of both lifts AND heights, it turns out that my bit and the bits I'm most interested in will be on the ground floor. I'll have to go up to the 29th floor if I want some lunch but I'm sure I can bribe someone to bring some down…