Another series of Downton Abbey has drawn to a close and I'm sure we're all feeling a bit bereft right now. It's taken me three series to fully get into this show and I am a bit miffed that it's coming to an end just as the weather is beginning to turn truly wintry as it makes perfect snuggling under a blanket on a Sunday evening viewing.
I'm not going to ruin the series for my readers outside the UK, but suffice to say that I've wept buckets over this one. How about you?
Anyway, if you're suffering from Downton Withdrawal, here's my top ten list of books to see you through the downer until the Christmas special is shown.
1. My Last Duchess
.
'Cora Cash, possibly the wealthiest heiress in 1890s America, has been raised to believe that money will open every door to her. But when her mother whisks Cora to England to secure her an aristocratic match, Cora is dismayed by the welcome she at first receives. The great English houses in which she is entertained are frosty and forbidding, dogged by intrigue above stairs, and gossip below. And it is only when she loses her heart – to a man she barely knows – that Cora realises the game she is playing is one she does not full understand, and that her own future happiness could be the prize.'
2. The Secret Countess
'Anna, a young countess, has lived in the glittering city of St Petersburg all her life in an ice-blue palace overlooking the River Neva. But when revolution tears Russia apart, her now-penniless family is forced to flee to England. Armed with an out-of-date book on housekeeping, Anna determines to become a housemaid and she finds work at the Earl of Westerholme's crumbling but magnificent mansion. The staff and the family are sure there is something not quite right about their new maid – but she soon wins them over with her warmth and dedication.Then the young Earl returns home from the war – and Anna falls hopelessly in love. But they can never be together: Rupert is engaged to the snobbish and awful Muriel – and anyway, Anna is only a servant. Or so everybody thinks…'
3. Park Lane
'London, 1914. Two young women dream of breaking free from tradition and obligation; they know that suffragettes are on the march and that war looms, but at 35 Park Lane, Lady Masters, head of a dying industrial dynasty, insists that life is about service and duty.
Below stairs, housemaid Grace Campbell is struggling. Her family in Carlisle believes she is a high earning secretary, but she has barely managed to get work in service – something she keeps even from her adored brother. Asked to send home more money than she earns, Grace is in trouble.
As third housemaid she waits on Miss Beatrice, the youngest daughter of the house, who, fatigued with the social season, is increasingly drawn into Mrs Pankhurst's captivating underground world of militant suffragettes. Soon Bea is playing a dangerous game that will throw her in the path of a man her mother wouldn't let through the front door.
Then war comes and it is not just their secrets – now on a collision course – that will change their lives for good.'
4. Abdication
'England, 1936. After the recent death of George V, the nation has a new king, Edward VIII. But for all the confident pomp and ceremony of the accession, it is a turbulent time. Terrible poverty and unemployment affect many, but trouble few among the ruling elite; for others, Oswald Mosley's New Party, which offers a version of the fascism on the rise in Germany, seems to offer the vision of the future. Nineteen-year-old May Thomas has just disembarked at Liverpool Docks after making the long journey by steamer from Barbados to escape the constraints of her sugar-plantation childhood. Her first job as a secretary and chauffeuse to Sir Philip Blunt, Chief Whip in Baldwin's Conservative government, will open her eyes to the upper echelons of British society… The unlikely friendship she forms with Evangeline Nettlefold, American god-daughter of the Chief Whip's wife and an old school friend of Wallis Simpson, will see her through family upheavals including the shocking, sudden loss of her mother; but more significant for May, the Blunts' son Rupert has an Oxford University friend, Julian, a young man of conscience for whom, despite all barriers of class, she cannot help but fall. Secrets, hidden truths, undeclared loves, unspoken sympathies and covert complicities are everywhere – biggest and most dangerous of them all, the truth about the new King's relationship with a married woman, and the silent horror that few in Britain dare voice: the increasing inevitability of another world war…'
5. The House at Riverton
'Summer 1924: On the eve of a glittering Society party, by the lake of a grand English country house, a young poet takes his life. The only witnesses, sisters Hannah and Emmeline Hartford, will never speak to each other again. Winter 1999: Grace Bradley, 98, one-time housemaid of Riverton Manor, is visited by a young director making a film about the poet's suicide. Ghosts awaken and memories, long-consigned to the dark reaches of Grace's mind, begin to sneak back through the cracks. A shocking secret threatens to emerge; something history has forgotten but Grace never could.'
6. The Golden Prince
'Edward VIII became notorious for abandoning the throne for Mrs Simpson, but in the summer of 1911 he was a prince straight from the pages of a fairy-tale. Raised by the harsh disciplinarian King George V and his unfeeling Queen Mary, the prince longed for the warmth that had been deprived of him.
The high society Houghton girls' lives however, were full of fun, both at their magnificent family seat Snowberry, and at the whirlwind of glamorous parties which punctuated their lives. When a moment of serendipity brings Edward and Lily Houghton together, the pressures of a stuffy court are replaced with the lightness that Edward has dreamt of.
But a future monarch could not choose his own Queen, and even an enduring love might falter under the furious gaze of a King. Could the devotion of Edward and Lily triumph against him and the impending doom of World War I? Or would they bow to the inevitable and set in train events that could bring down the Crown, and change the course of history forever?'
7. The Buccaneers
'The story of four dashing and sprited American beauties who, unable to break into the upper-crust elite of New York society, launch themselves into the English world of the 1870s. Accompanied by their English governess, the girls descend on the unsuspecting English aristocracy, charming them with their beauty and their father's wealth. Before long, their new names and the titles that go with them guarantee that they will never be so disadvantaged again. But at what cost?'
8. Love in a Cold Climate
'Groomed for the perfect marriage by her mother, fearsome Lady Montdore, Polly instead scandalises society by declaring her love for her uncle 'Boy' Dougdale, the Lecherous Lecturer, and promptly eloping to France. But the consequences of this union no one could quite expect…'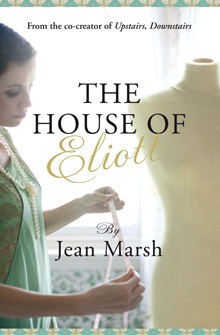 9. The House of Eliott
'Two sisters fight to assert themselves after being plunged into devastating poverty following their father's death. Luckily, their natural flair for design soon finds them in demand as dressmakers. Beatrice is the elder and apparently wiser of the two, who considers herself plain and unmarriageable and whose relationship with society photographer, Jack Maddox, is seared with conflict and doubt. Her younger sister is Evangeline, ravishingly beautiful, the victim of chancers, philanderers and rogues – but most of all the victim of her own desires. Throughout all their private turmoils, their professional goal is constant: to establish a fashion house in London to rival any in Paris.'
10. Nanny
'Keston Hall, Buckinghamshire, is the seat of the Lydiard family and the imposing setting for a compelling love story that begins in 1907.Beautiful and spirited, Grace Merrill seems to stand with the world at her feet. But then, quite unexpectedly, a family tragedy obliges Grace to abandon her artistic talents and enter a life in service at the Hall. In this Upstairs Downstairs world of sadistic housekeepers and drunken butlers there is genuine hardship and drudgery for those employed in servicing the few. But Grace soon discovers that she has another talent when, through the merest chance, she manages to escape from the kitchen to the nursery floor. Here she learns to love Lady Lydiard's children as her own. Here, too, she learns her first lesson as a woman, that passion and sacrifice make awkward bedfellows. But if the love of her life, Brake Merrowby, brings her more sorrow than joy, her love for the children more than compensates for her enforced isolation in their world of muffins and rocking horses.As change reaches out to touch the great house, the realities of war leave their mark on the family. Yet for the children, grown and growing, when they stop to look back at the top-floor window they see only their nanny. Almost as if part of the fabric of the building, Grace grows to become not just the touchstone of their lives but in essence the mistress of the house itself.'
I had to limit it to ten or I'd have been here all day! What other books do you recommend to Downton Junkies? What did you think of the third series? What predictions do you have for the Christmas Special?