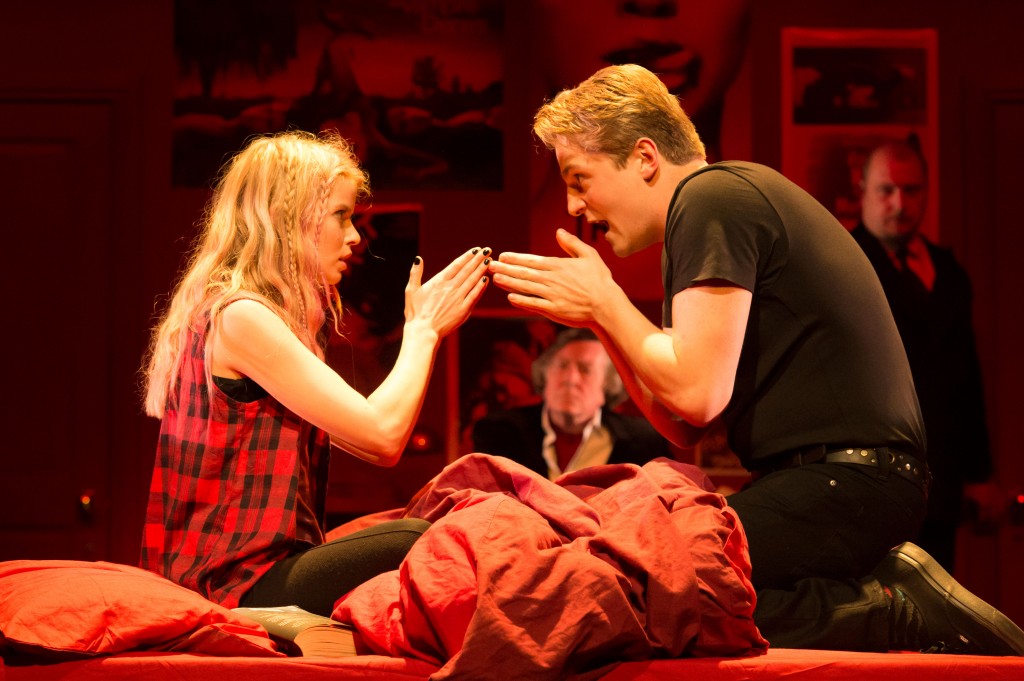 Gina Bramhill and Orlando James as Annabella and Giovanni in 'Tis Pity She's a Whore. Photo: Bristol Old Vic/Cheek by Jowl.
When I was younger one of my all time favourite things in the whole world was a trip to the theatre. My grandmother took me to see my first play – Tom Baker playing Mr Hardcastle in a production of Goldsmith's She Stoops to Conquer when I was a little girl and I was completely hooked from that point on. Sadly, however, I fell out of the habit of visiting the theatre while at university and despite much wistful talk of Plays Gone By never quite picked up the thread again.
Well, that is all about to change as my trip last week to the Old Vic to see the Cheek By Jowl interpretation of Ford's 'Tis Pity She's a Whore was just the thing to remind me why I used to adore the theatre so much and to make me determined to see more plays from now on.
It probably won't come as any surprise to most of you to learn that I have a bit of a passion for seventeenth century melodrama. In fact the more murder, incest, iniquity and general dreadfulness they can fit in, the better. It might be said, therefore, that 'Tis Pity She's a Whore could very well have been written just for me as it has all the mayhem I could possibly require with some to spare.
My preference, I'll also admit, is for plays to be performed in lavish period costume – however, I was utterly gripped by Cheek By Jowl's more contemporary vision of Ford's classic of sibling love, posh doom, violence, revenge and repentance. As the audience first files into the magnificent Old Vic auditorium, they are taken aback to find that the stage, set up to look like the typical teenage girl's bedroom with True Blood posters on the walls and mess all over the floor, is already inhabited by Annabella, the heroine who ignores us in favour of her iPod, copy of Fifty Shades of Grey and laptop as we take our seats. It's somewhat unsettling but definitely sets the tone for the dark and often comedic drama that is to follow.
I was a bit concerned before going in to discover that this production was almost two hours long without an interval but I need not have worried as I was utterly gripped and an interval, no matter how short, would have ruined the momentum of the tragedy that Ford's characters were clearly speeding headlong towards. In fact they could have made it another hour longer by adding back some of the extraneous plot that was removed from this version and I probably STILL would have been completely enthralled.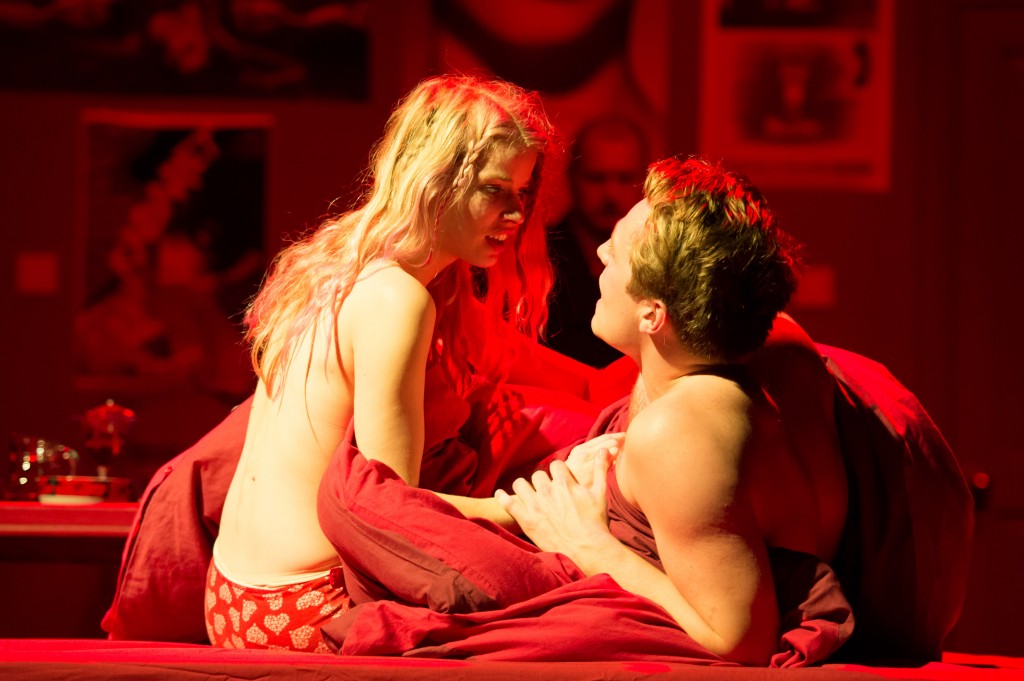 Gina Bramhill and Orlando James as Annabella and Giovanni in 'Tis Pity She's a Whore. Photo: Bristol Old Vic/Cheek by Jowl.
All of the action takes place in Annabella's bedroom set with glimpses into an 'en suite' bathroom and a sitting room, both of which were used in an extremely clever and often chilling way. This gives an intense and almost claustrophobic feel to the drama as it unfolds and reminds the audience that it is Annabella and her chamber that are the crux and focus of the play.
Did I mention how funny it is? I found myself laughing, along with the rest of the audience, several times during the course of the play. Fair enough, at times this was nervous laughter but there were also some extremely funny moments (did I imagine it or did they dance Gangnam Style in the opening dance routine?) to add a touch of levity to what would otherwise have been a very sombre and depressing production.
The entire cast were absolutely superb and perfect for their roles but I was particularly struck with Gina Bramhill's gamine, playful and at times ethereal Annabella, the unwitting object of every male's lust. Orlando James made a superbly tortured Giovanni, torn between his unsuitable love for his sister and his conscience. I also really liked Laurence Spellman's dead pan Estuary accented turn as the duplicitous servant Vasques. Everyone was fabulous though.
In summary, this is a marvellous, energetic, exciting and darkly humorous production that I urge you all to see if you get the opportunity. It's on at the Bristol Old Vic until the third of November and then moving on to the Nottingham Theatre Royal from the sixth until Tenth of November before going on a European tour.
Many thanks to the Bristol Old Vic for inviting me to their press night. I've assumed ignorance of the play so there's no spoilers here!