'The day of my wedding! Everyone had coffee together, and then went off to dress: I put on the Hussar uniform and at 11.30 drove with Misha to the Winter Palace. The whole Nevsky was lined with troops waiting for Mama to drive past with Alix. While she was being dressed in the Malachite hall, we all waited in the Arabian room. At ten to one the procession set off for the big church, from where I returned a married man! … In the Malachite hall, we were presented with a huge silver swan from the family. After changing, Alix sat with me in a carriage harnessed in the Russian manner with a postilion, and we rose to the Kazan cathedral. There were so many people on the streets, it was almost impossible to pass!
On our arrival at the Anichkov we were met by a guard of honour. Mama was waiting for us in our rooms with the bread and salt. We sat the whole evening answering telegrams. We dined at 8 o'clock and went to bed early as she had a bad headache!' — entry from Nicholas II's diary on his wedding day, 26th November 1894.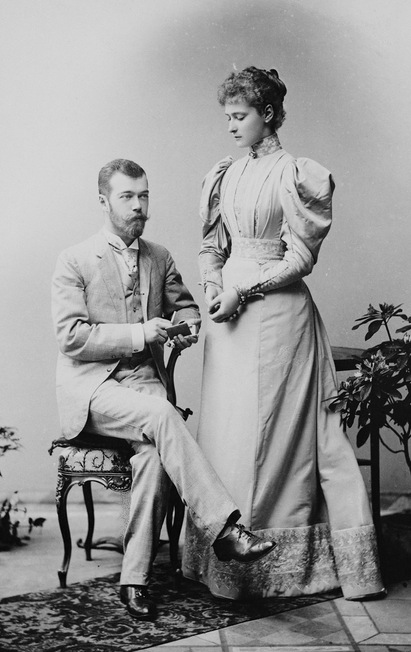 Nicholas II, Emperor of Russia, when Tsarevich and Alexandra Feodorovna, Empress of Russia, when Princess Alix of Hesse, Uhlenhuth, 1894. Photo: Royal Collection Trust/© Her Majesty Queen Elizabeth II 2014.
I've been hunting for a photograph of Nicholas II and Empress Alexandra at their wedding on the 26th of November 1894 for ages but without any success. It seems likely that as they married less than a month after Nicholas' father's death when the court was still in mourning, they didn't have a lot of the fuss and ceremonials that most Imperial weddings could be expected to involve and this included a distinct lack of photographs, which is very unusual for a royal wedding during this period – especially one that involved a relative of Queen Victoria as she had an absolute mania for photographs of her relatives, especially as blushing brides.
However, thanks to various members of the royal family who attended the splendid ceremony in the Grand Church of the Winter Palace, we do at least have descriptions of Alexandra's sumptuous silver dress (which sadly did not survive the Russian Revolution, unlike her fabulous coronation ensemble), which she wore with her mother's lace wedding veil and the fabulous pink pearl ring that Nicholas had given her upon their engagement.
The Marriage of Nicholas II, Tsar of Russia, 26th November 1894, Tuxen, 1895-6. Photo: Royal Collection Trust/© Her Majesty Queen Elizabeth II 2014.
'Her wedding dress was a magnificent creation; the outfit was so intricate that it took nearly an hour for Alexandra to dress. Her stockings were of lace, her shoes embroidered and decorated. Over these she wore layers of stiff petticoats. The wide, full skirt of silver brocade opened from the waist down to reveal a second underskirt of silver tissue, edged with fur. The décolletage was cut low, to reveal the neck and shoulders, and the gown had short sleeves trailing ermine-edged tippets. The tightly fitted, boned bodice was sewn with diamonds which sparkled with every move. The folds of the overskirt fell back to form a train, and a separate, sweeping court train of cloth-of-gold edged with ermine fell from her shoulders. Over this, Alexandra wore the imperial mantle of cloth-of-gold, lined and edged with ermine. These robes were so heavy that four pages had to help carry them.
Alexandra wore her hair swept back to emphasise her graceful neck and shoulders. Two long, twin side curls were attached to her own hair. Her long veil of tulle was held in place by a Russian Kokoshnik tiara, of diamonds set in platinum, and the Romanov nuptial crown of diamonds sewn on crimson velvet. Alexandra also wore a number of diamond brooches on the front of her gown, along with the jewelled chain of the Order of St. Andrew and strings of pearls around her neck. These jewels, as well as the tiara, had been wedding gifts from the late tsar, costing some 300,000 rubles ($150,000). She also wore the imperial riviére, a diamond necklace of 475 carats, and a pair of matching earrings. The earrings were so heavy, in fact, that they had to be supported by wires around the ears, which slowly cut into the flesh as the day wore on. Around her tiara, Alexandra wore a wreath of orange blossoms, brought from the Imperial Conservatory in Warsaw. Across the dress stretched the red ribbon of the Order of St. Catherine.' — Greg King, The Last Empress: The Life and Times of Alexandra Feodorovna, Tsarina of Russia
.
The Malachite Room of the Winter Palace.
As was traditional, the young bride was dressed for her wedding by her mother in law Empress Marie, whose birthday it was, and the other Grand Duchesses in the splendid Malachite Hall of the Winter Palace. Here, pale and trembling with anxiety, she was arrayed in her splendid outfit. There were a few more pleasing touches amongst all the splendour though – a wreath of sweetly fragrant orange blossom sent from Poland surrounded her tiara and diadem and she wore a ring sent by her grandmother, Queen Victoria on her finger. Nicholas wasn't forgotten either – Queen Victoria made him Colonel in Chief of a favourite regiment as his wedding present. Who needs an array of toasters and napkins anyway?
Queen Victoria couldn't be at the wedding, although she desperately wished to be there and noted in her journal that her thoughts were 'constantly with dear Alicky, whose wedding takes place today. I prayed most earnestly for her, and felt so sad I could not be with her.' Instead she gave a grand dinner party on the day of the wedding. In her place went her eldest son, the Prince of Wales and his wife, Alexandra, who was also the groom's aunt and who reported back that Alix looked utterly wonderful in her wedding finery.
Tsarevitch Nicholas Alexandrovitch of Russia and Princess Alix of Hesse, Mullins, August 1894. Photo: Royal Collection Trust/© Her Majesty Queen Elizabeth II 2014.
Also present was their son George, Duke of York who would later become George V. He would write a letter about the wedding of his cousins (Nicholas was the nephew of his mother, Alexandra and Alix was the niece of his father, Edward so they were both his first cousins. In fact, Victoria had long wished for Alix to marry his elder brother Prince Albert Victor and in time herself become Queen of England – a plan that was never to come to fruition) to his grandmother Queen Victoria:
'Dear Alicky looked quite lovely at the Wedding, the Service was very fine and impressive and the singing quite beautiful, she went through it all with so much modesty but was so graceful and dignified at the same time, she certainly made a most excellent impression. I do think Nicky is a very lucky man to have got such a lovely and charming wife; and I must say that I never saw two people more in love with each other or happier than they are. When they drove from the Winter Palace after the Wedding they got a tremendous reception and ovation from the large crowds in the streets, the cheering was most hearty and reminded me of England, an enormous crowd of several thousand people assembled in front of this Palace and cheered continuously from 3.0. till 8.0. The young couple showed themselves at the window several times.
Alicky got a great many lovely presents, I have never seen such jewellery, your charming locket was very much admired. Dear Nicky was most touched by your making him Col. in Chief of the Scots Greys, and it was the Regiment he admired more than any other, when he was at Aldershot this year, he is quite delighted about it…'
— letter from the future George V to his grandmother, Queen Victoria.
Alix herself would write to her grandmother after the wedding and her excitement is obvious:
'How can I ever thank You enough for your sweet letter with good wishes and blessings, for the lovely Presents. The pendant with Your dear portrait is too beautiful and I shall prize it very much – the lovely ring I wore for the Wedding and ever since, and when I look at it I have to think of the beloved giver. The stuffs, shawls and cape are charming and will be most useful – alas I shall long not be able to have the dresses made up… I shall send you some of the myrtle and orange blossom I wore at the Wedding, and a bit of the dress as soon as I can…' — letter from Empress Alexandra to her grandmother Queen Victoria.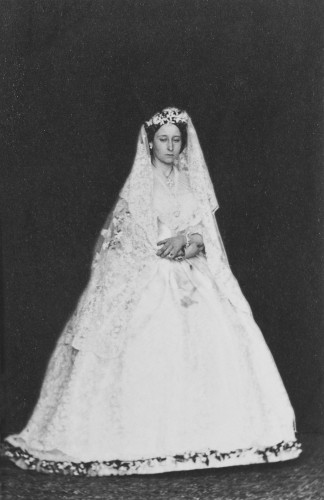 Princess Alice in her wedding dress, unknown photographer, 1862. Photo: Royal Collection Trust/© Her Majesty Queen Elizabeth II 2014.
The lace veil worn by Princess Alice on her wedding day (and later by her daughter Alix), unknown photographer, 1862. Photo: Royal Collection Trust/© Her Majesty Queen Elizabeth II 2014.
Here's a photograph of Alix's mother, Princess Alice on her own wedding day in 1862 and a close up of her veil, which the Empress would wear thirty two years later with her wedding dress in 1894. Poor Princess Alice – she married less than a year after the death of her beloved father, Albert, thus the sad looks. Although she wore a wedding dress for the ceremony itself she wore mourning black immediately beforehand and then changed back into it afterwards. Queen Victoria and some of Alice's siblings cried throughout the ceremony and the Queen would afterwards write to her absent elder daughter, Victoria that it was 'more of a funeral than a wedding'. She also told Lord Tennyson that it was 'the saddest day I can remember.' Fair enough, the timing was a bit off but even so…
All Romanov brides wore the same jewels on their wedding day: the nuptial crown; imperial rivière necklace; huge diamond earrings (which were so heavy that they couldn't hang from the earlobes but instead had to be looped around the ear); imperial clasp, originally made in 1750 for the coronation mantle of Empress Elisabeth and the imperial wedding tiara, which was originally created for the Empress Elisabeth Alexeievna in 1810 and has over a thousand diamonds with a beautiful 13 carat pink diamond ornamenting the centre.
The nuptial crown.
The Imperial rivière necklace.
Matching earrings.
The Imperial clasp.
You can see them all in action here on another Imperial bride, Grand Duchess Elena Vladimirovna, who looks a bit grumpy – probably because the whole ensemble of cloth of silver gown, mantle and jewellery weighed an absolute tonne. As an aside, Grand Duchess Elena's rather dashingly mustachioed groom was Prince Nicholas of Greece and her youngest daughter was the very glam Princess Marina, who eventually married the Duke of Kent.
Personally I think it's overkill to wear a crown AND a tiara at the same time but it doubtless looked absolutely splendid in practice, with all those diamonds glittering away and the poor imperial brides complaining about headaches. However, it's still really sad that Nicholas and Alix's own daughters never got to wear the imperial nuptial jewels – I'm sure that they were really looking forward to the day that their own girls got decked out in the Malachite Room for their weddings, but sadly it was not to be.
So that Alix's formidable grandmother, who adored her, wouldn't feel left out, her sister, Elizabeth sketched a couple of drawings of her gown to send back to England, while Alix herself promised to send a piece back to England to be kept with Victoria's beloved wedding memorabilia:
The dress itself probably looked a bit like this court dress, which was worn by Alix at a later date, but which follows the distinctive lines of imperial formal gowns during this period, with their long, almost Medieval looking, hanging sleeves and rich embroidery.
Sadly, however, despite all the rich splendour of the wedding ceremony and the festivities that marked the occasion in the streets of St Petersburg, things were to go terribly awry for Nicholas and Alexandra in the future. However, on that happy day in 1894, as the cannons of Peter and Paul fortress were fired and the church bells rang out, they could have had no other thoughts on their mind but delight to finally be joined together and optimism that their marriage would mark a new beginning for the Romanov dynasty.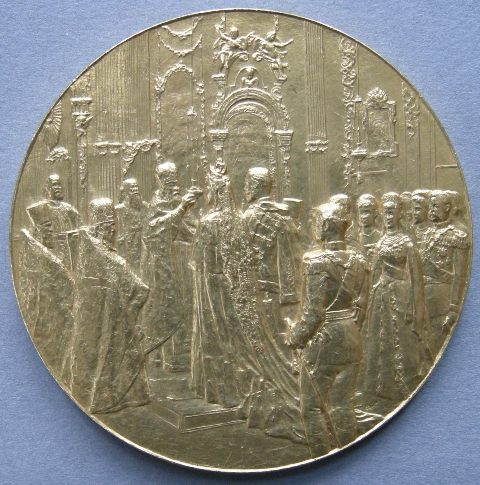 Gold medal commemorating the wedding of Nicholas II of Russia and Alix of Hesse, AB, 1894. Photo: Royal Collection Trust/© Her Majesty Queen Elizabeth II 2014.
Further reading:
The Last Empress: Life and Times of Alexandra Feodorovna, Tsarina of Russia
Nicholas & Alexandra
A Lifelong Passion: Nicholas and Alexandra – Their Own Story
The Jewels of the Romanovs: Family and Court
Born to Rule: Granddaughters of Victoria, Queens of Europe
******
Set against the infamous Jack the Ripper murders of autumn 1888 and based on the author's own family history, From Whitechapel is a dark and sumptuous tale of bittersweet love, friendship, loss and redemption and is available NOW from Amazon UK
, Amazon US and Burning Eye.
'Frothy, light hearted, gorgeous. The perfect summer read.' Minette, my young adult novel of 17th century posh doom and intrigue is available from Amazon UK
and Amazon US and is CHEAP AS CHIPS as we like to say in dear old Blighty.
Copyright secured by Digiprove © 2014 Melanie Clegg