I know that I probably come across as a bit of a goth, but I also have a secret love for kitschy floral patterned stuff too. Therefore, I was pretty thrilled when Palmers Department Store offered me this gorgeous Cath Kidston Antique Rose bedding set. It's so beautiful and romantic and crisp – I love it! It's also equally perfect for this time of year when you want to snuggle down under a duvet (having a pretty print makes me feel much less slobbish about dragging the duvet down to the sitting room) and summer, when you want something light and pretty.
It's very Marie Antoinette, I think, and has inspired me to have a look for some other pretty bits and pieces that would perhaps be perfect for Valentine's Day or just, you know, rolling around and being decadent on your own.
I Love You This Much card by Pretty Girl Postcards. I swear, I'm going to head there when I'm not so vilely skint and stock up on gorgeous cards for all sorts of occasions!
I have a secret passion for Russian dolls (a set of Russian President ones are amongst my most loved possessions) and these by Bobobabushka are particularly sweet. They have Henry VIII and his wives as well! Oh and a set of Blackadder characters too!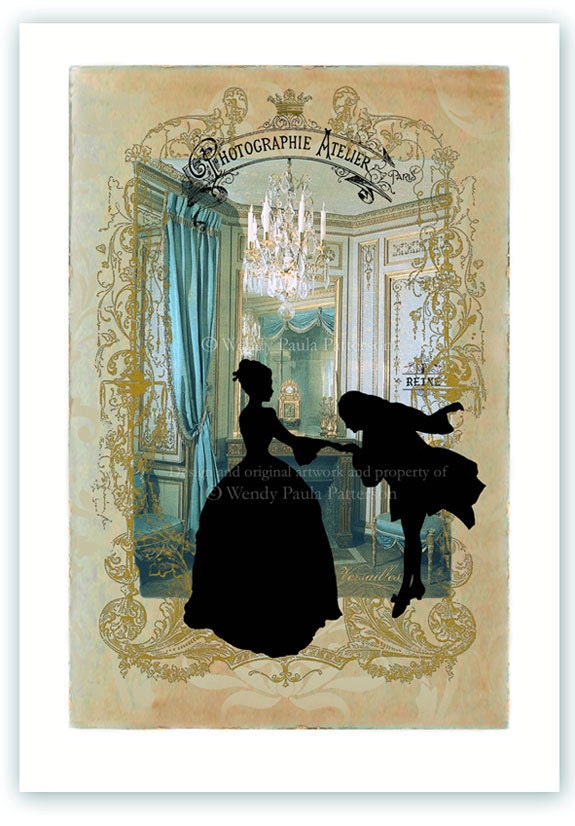 A blissfully romantic print from Cafe Baudelaire.
Don't judge me. I love this sort of thing from Welcome to the Dog House and it's very far removed from the Dogs Playing Cards type prints we are all familiar with. Just look at their sweet doggy faces!
A super sweet Marie Antoinette styled gift tag from Mulberry Muse.
I would look a bit silly in a dress like this, but that doesn't stop me admiring the gorgeous flouncy sugar almond coloured dresses by River of Romansk.
Cupcake toppers and wraps by Paper Scissors Cake. My husband and I are planning to have a vow renewal at some point and I'm bookmarking things like this for it! It looks like it's going to be an extravaganza of dark Victorian and Marie Antoinette styled excess at the moment. I'll probably have to tone it down a bit…
A set of notecards by Painted by Renee. I love the whimsical little Marie Antoinette styled bits and bobs that are popping up everywhere at the moment!
Lovely, romantic yet understated pendant by Mymbles Daughter, who do all manner of magical trinkets.
Yellow Flower soap by Tokyo Milk, who do all sorts of Marie Antoinette goodies. I still love them even if they NEVER REPLY TO EMAILS FROM PEOPLE WHO WANT TO BUY LOTS OF PRETTY STUFF FROM THEM BUT DON'T LIVE IN THE US.
Gorgeous Marie Antoinette print by Lisa Falzon.
Well, I don't know about you but I thoroughly enjoyed looking all of those lovely pastel colours on such a gloomy winter's day!