Ah, where would the blogging community be without Halloween and its creepy culinary, cake, cinematic and sartorial delights? We history bloggers can have spooky fun too though! Oh yes. I mean, for many of us, it might as well be Halloween every day as we share tales of historical bloodshed, misery and woe but that doesn't mean we can't make a special effort once in a while!
Once upon a time, many years ago, I made one of my boyfriends take me to the Ten Bells pub in Whitechapel, which is, of course, well known as the favoured drinking spot of at least one of Jack the Ripper's unfortunate victims. We fought our way to the bar through a crowd of hipsters, Ripper walk attendees and supercilious locals, bought GIN and then returned to stand at a spot by the door. Now, I am pretty sure there was no one standing near us but nonetheless as I chatted to the person I was with (he was probably giving me a hard time about something as that was his wont), I distinctly felt a pair of hands come from behind and gently rest on my hips. I looked around and saw no one there but then a feeling of unease descended on me and I insisted that we leave straight away.
I've been back to the Ten Bells several times since then and haven't had the same thing happen again but the feeling of unease remains and I've never managed to last longer than it takes to knock back one GIN before I have to leave.
As you all know (yawn, yawn, yes I know) my great-great-great grandfather, David Lee, was a police sergeant in Whitechapel's H Division in 1888, when the Ripper murders were going on, which is pretty creepy considering I've been obsessed with the Whitechapel murders since I was fourteen and had no idea that one of my ancestors was there on the very spot itself. Have the echoes of what he saw back then floated down through the decades? I'm guessing not. However, there is a family tendency to join the police force and I remember one of my cousins who was in the Met and did the Whitechapel beat telling me when I was very young that he often felt what felt like a woman pushing past him near one of the murder sites only for, you guessed it, there to be no one else actually there.
There have actually been reported sightings of the Ripper's victims pretty much ever since they met their unfortunate and tragic ends. Within a few years of Polly Nichols' murder on Bucks Row (now Durward Street), there were reports of people seeing her body lying on the ground as it was discovered, surrounded by an unearthly glow and apparently it can still be seen there from time to time.
The next woman to be murdered, Annie Chapman, is said to be have been seen walking down Hanbury Street on gloomy Autumn evenings with a spectral man, presumably her killer while other unfortunate people have reported hearing the sounds of her murder actually being committed, which is doing better than people actually at the time, who reportedly heard nothing at all. It's also said that a ghostly headless woman with a bloodstained apron seen around Hanbury Street is the shade of poor Annie, who was almost decapitated by the Ripper's knife.
For several months after her murder, Berner Street was said to be haunted by the ghost of poor Elizabeth Stride, who was found dead in a yard on the night of 30th September 1888. Spooked passersby reported that late at night, it was possible to hear the unfortunate woman's screams and struggling as she was attacked although when they peered into the darkness there was nothing to be seen.
Unwary late night visitors to Mitre Square at the end of September have reported seeing the grisly sight of Catherine Eddowes' body lying where it was found on the cobbled ground. I feel bad now for making one of my friends lie down on the very spot and assume the same position as Eddowes so I could take a photograph of her. Sorry Sarah!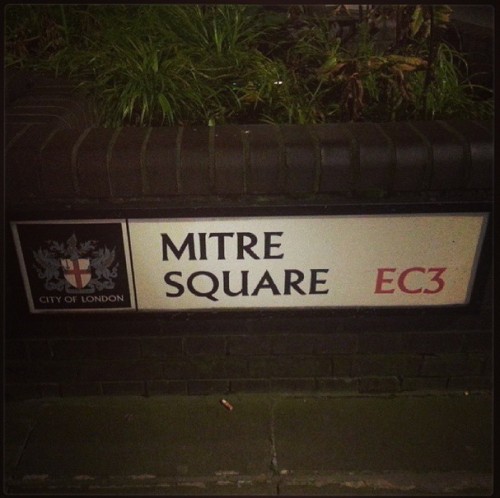 Mary Jane Kelly is perhaps the most famous and enigmatic of the Ripper's victims so it comes as no surprise that she too features in a ghostly tale. It was said at the time that for several months after her murder she could be seen dressed in black and looking sadly out of the window of her room.
Finally, if you ever find yourself on Westminster Bridge at the stroke of midnight on New Year's Eve watch out for the spectral shadow of a man that can apparently be seen rushing desperately over the side of the bridge and plunging into the icy water below. This is said to be the phantom of the Ripper himself as tormented by his terrible crimes he took his own life only to be condemned to repeat the moment of death over and over again…
If you want another spooky tale, check out my post about the Haunted Skull of Burton Agnes Hall.
******
Set against the infamous Jack the Ripper murders of autumn 1888 and based on the author's own family history, From Whitechapel is a dark and sumptuous tale of bittersweet love, friendship, loss and redemption and is available NOW from Amazon UK
, Amazon US and Burning Eye.
'Frothy, light hearted, gorgeous. The perfect summer read.' Minette, my young adult novel of 17th century posh doom and intrigue is available from Amazon UK
and Amazon US and is CHEAP AS CHIPS as we like to say in dear old Blighty.
Copyright secured by Digiprove © 2014 Melanie Clegg