Isabella de' Medici, Allori, 1558. Photo: Private Collection.

I've been thinking a lot lately about Isabella de' Medici, the adored daughter of Cosimo I de' Medici who was murdered by her husband, Paolo Orsini in July 1576. I think it might be a combination of planning a visit to Italy next year and also a generally pretty gloomy turn of mind right now that has made me think of Isabella and her doomed life.
Caroline P. Murphy's masterly biography of Isabella, subtitled The Glorious Life and Tragic End of a Renaissance Princess is brilliant and definitely one of the finest historical biographies that I have ever read. If you are interested in sixteenth century history and perhaps want a change from the Tudors, she said with a resigned sigh, then I reckon this book will make you swoon with delight as it has it all.
Isabella Romola de' Medici was born on 31st August 1542 and was one of the numerous progeny of Cosimo and his sloe eyed Spanish wife, Eleonora di Toledo whose Madonna like grave beauty of course the subject of some of Bronzino's most sumptuous works.
Being born in 1542 makes Isabella a contemporary of Mary, Queen of Scots, who was born in December of that year as well as her distant cousins, the children of Catherine de' Medici and Henri II.
Lucrezia de' Medici, Bronzino, 1560. Photo: North Carolina Museum of Art.
Isabella's younger sister was the unfortunate Lucrezia de' Medici who married Lucrezia Borgia's son, Alfonso d'Este, Duke of Ferrara and is said to have inspired a poem by Browning. Lucrezia, we are told, was desperate to leave Florence and go to Ferrara to be with her handsome husband while her elder sister, Isabella was desperate to remain at home with her family and so she did.
Along with their siblings, the Medici girls grew up surrounded by splendour at the Palazzo Pitti and Palazzo Vecchio in Florence as well as the family country estate, the Villa di Castello where they would spend long languid summers. It was at Castello, in 1558 that the sixteen year old Isabella was married to Paulo d'Orsini to whom she had been betrothed five years earlier. Unusually for the period, her husband left for his own home in Rome the day after the wedding while Isabella and, perhaps most significantly, her huge dowry, remained at home with her family or, more pertinently, at the side of her adoring father.
Of course, as a married woman, Isabella was allowed a great deal more freedom and license than she had been granted as an unmarried daughter and took the fullest advantage of this, while spending the rest of her life making excuses not to join her husband at his own home. Instead, she preferred to set up her own establishments in Florence and live a life of opulent independence, giving famously extravagant parties, becoming a renowned artistic patroness, taking lovers, obsessing about fashion and acting as hostess for her widowed father.
Isabella de' Medici, Allori, c1568. Photo: Uffizi, Florence.
Despite their continued separation, Isabella and her husband (who was living the high life as a spendthrift bachelor on the town in Rome), kept up a relatively affectionate correspondence and he often came to Florence to see her although she could rarely be prevailed upon to travel to Rome. Isabella appears to have had several pregnancies as a result of these conjugal meetings but the pair only had two children: Leonora (familiarly called Nora) and Virginio, who would later inherit his father's title.
However, over the years, Paolo's seemingly cheerful acceptance of his wife's continued residence in a different city began to slip and he became disgruntled and jealous – not because he was in love with Isabella, comely though she undoubtedly was, but because he felt that his Italian Machismo was threatened. A small minded, petty, selfish man he became concerned that people were laughing at his unusual marital arrangement and when it came to his ears that his wife had taken one of his own cousins as her lover, it appears to have added the final straw to his kindling pile of frustrated resentment.
As long as Cosimo lived, Isabella was safe as her father would hear no criticism of his beloved daughter. However, when he died in April 1574 and was succeeded as Grand Duke of Tuscany by her brother, Francesco, a gloomy, petulant hypocrite who was rather less forgiving of his sister's foibles, her position became a lot more shaky.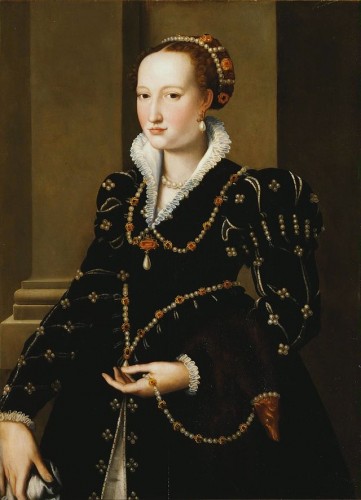 Isabella de' Medici, Allori, c1555. Photo: Pitti Palace, Florence.
It's not known precisely what happened in the summer of 1576 but from contemporary accounts and letters, it appears that Paolo d'Orsini, completely fed up with Isabella, asked her brother for help in getting her to do her wifely duty. At the same time, Isabella's younger brother, the cruel and altogether horrible, Pietro begged Francesco for help controlling his own young wife, twenty three year old Eleanora di Garzia di Toledo.
The beautiful redhead, Eleonora was born in Florence in 1553 and raised amidst great splendour by her doting aunt and uncle, Cosimo and Eleonora di Medici, Duke and Duchess of Florence after her mother, Vittoria died when she was just a few months old.
Cosimo and Eleonora doted on their lovely, lively niece, Leonora and ensured that she had every advantage in life, which helped her become the very epitome of the graceful, elegant and accomplished Renaissance princess, admired by all who knew her for her vivacity, wit and general gorgeousness. The ageing prince Cosimo di Medici was particularly fond of Leonora, and it was this fondness and desire to keep her close which may ultimately have led to her downfall.
Leonora was popular with her Medici cousins and was especially close to Lucrezia and Isabella, the most beautiful and witty of them all.
A girl as well endowed in every way as Leonora di Toledo could not remain unmarried for long and in 1571, she was married to her cousin, Pietro di Medici. This was a splendid marriage, with the bride bringing a dowry of 40,000 gold ducats and was probably the result of Cosimo's desire to keep her within his own family as by now he considered her to almost be one of his own daughters.
Unfortunately for Leonora, her new husband was a horrible, spiteful, disturbed young man who had to be forced to consummate the marriage, was subject to terrible violent rages and was in permanent debt due to spending all of his money on his many mistresses.
Eleonora di Garzia di Toledo, Allori, c1571. Photo: Kunsthistorisches Museum, Vienna.

Poor Leonora, however, made the best of the situation and enjoyed the freedom that her new married status gave her, making sure not to spend too much time with her husband and instead turning to her cousin, Isabella for companionship. Like Isabella, the impressionable, spirited Leonora began to take lovers, although with rather less discretion than her older cousin.
Cosimo di Medici knew about his niece's transgressions against their marriage vows but decided to turn a blind eye so long as there was no scandal and they continued to be discreet. He was well aware that their marriages were unhappy and that in the case of Leonora at least, who was married to his son, that their husbands were far from ideal. As with Isabella, however, things changed when the doting Cosimo died.
With Francesco's approval, the two disgruntled husbands swung into murderous action in July 1576 – both of them travelling with their unknowing wives to rural villas and then strangling them. Leonora was to meet her end on the 11th of July, when Don Pietro attacked his wife, Leonora in her bedchamber at the Villa de Medici at Cafaggiolo and strangled her with a dog lead, during a struggle that was so violent that she bit and injured his hand. Pietro then calmly sat down and wrote to his brother, Grand Duke Francesco:
'Last night at six hours an accident occurred to my wife and she died. Therefore Your Highness be at peace and write me what I should do, and if I should come back or not.'
Isabella died by her husband's hands six days later at Ceretto Guidi after hearing the news of her best friend's murder. Leonora and Isabella's lovers also shared their fates and were both strangled. Leonora's lover, Bernadino Antinori was imprisoned and strangled in his cell, while Isabella's, Troilo d'Orsini met his end in Paris shortly afterwards.
At first both murderers tried to pretend that their wives had coincidentally died of natural causes within under a week of each other – that Leonora had had some terrible accident in the night and suffocated in her bed and that Isabella had struck her head on a wash stand, however their excuses did not wash with anyone at the Medici court and the Medici brothers' attempt to evade blame was doomed to failure amidst the all seeing eyes of the Florentine gossip vine, in which everyone's business was openly and freely discussed. On the 29th of July, the Ferrara Ambassador to the Florentine court, wrote home to his master, the Duke of Ferrara (who was married to Isabella, Pietro and Francesco's sister, Lucrezia):
'I advise Your Excellency of the announcement of the death of Lady Isabella; of which I heard as soon as I arrived in Bologna, [and] has displeased as many as had the Lady Leonora's; both ladies were strangled, one at Cafaggiolo and the other at Cerreto. Lady Leonora was strangled on Tuesday night; having danced until two o'clock, and having gone to bed, she was surprised by Lord Pietro [with] a dog leash at her throat, and after much struggle to save herself, finally expired. And the same Lord Pietro bears the sign, having two fingers of his hand injured by [them being] bitten by the lady. And if he had not called for help two wretches from Romagna, who claim to have been summoned there precisely for this purpose, he would perhaps have fared worse. The poor lady, as far as we can understand, made a very strong defence, as was seen by the bed, which was found all convulsed, and by the voices which were heard by the entire household. As soon as she died, she was placed in a coffin prepared there for this event, and taken to Florence in a litter at six o'clock in the morning, led by those from the villa, and accompanied with eight white tapers [carried] by six brothers and four priests; she was interred as if she were a commoner.'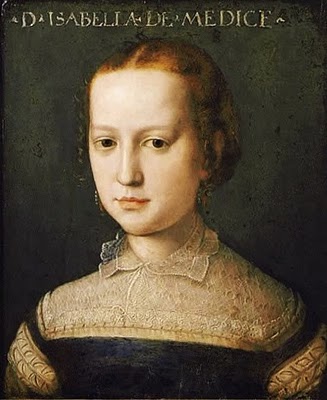 Isabella de' Medici as a young girl, Bronzino.
Francesco did his best to claim that Leonora, always the very vision of health and vitality, had died of a sudden heart attack but in vain and in the end he was forced to write to Philip II of Spain, who was furious about the incident as Leonora belonged to a Spanish noble family and tell him the truth: 'Although in the letter I had told you of Donna Eleonora's accident, I have nevertheless to say to His Catholic Majesty that Lord Pietro our brother had taken her life himself because of the treason she had committed through behaviour unbecoming to a lady … We wish that His Majesty should know the truth … and at the first opportunity he will be sent the proceedings through which she should have known with what just reasons Lord Pietro acted.'
Because Francesco publically stated his support of his brother Pietro's callous and horrific actions, he was never brought to trial but ended up being exiled to Spain a year later where he died in debt and iniquity, loathed by all.
Isabella's husband however was now a wanted man and fled first to Rome then Venice before finally settling in Abano with his mistress Vittoria Accoramboni, who was married to the nephew of the future Sixtus II. The fugitive couple were married there, but he didn't enjoy his life for much longer as he died in 1585, with Vittoria being murdered shortly afterwards by someone he had previously annoyed. What a rotter.
It probably comes as no surprise that the tragic stories of Isabella, Leonora and Vittoria served as inspiration for the works of Jacobean tragedies such as The White Devil and Duchess of Malfi with their tales of intrigue, incest and murder stalking the beautiful halls of Italian palaces. To theatre goers elsewhere in Europe, the blood soaked dramas, illicit love affairs and violent vendettas of Italian high society were rich entertainment fodder and one can certainly see why.
******
Set against the infamous Jack the Ripper murders of autumn 1888 and based on the author's own family history, From Whitechapel is a dark and sumptuous tale of bittersweet love, friendship, loss and redemption and is available NOW from Amazon UK
and Amazon US.
'Frothy, light hearted, gorgeous. The perfect summer read.' Minette, my young adult novel of 17th century posh doom and intrigue is now 99p from Amazon UK
and 99c from Amazon US. CHEAP AS CHIPS as we like to say in dear old Blighty.
Blood Sisters, my novel of posh doom and iniquity during the French Revolution is just a fiver (offer is UK only sorry!) right now! Just use the clicky box on my blog sidebar to order your copy!
Copyright secured by Digiprove © 2014 Melanie Clegg