Élisabeth-Charlotte d'Orléans, Mademoiselle de Chartres and Duchesse de Lorraine, Gobert, 1700.
Probably not entirely unexpectedly due to the vast and complex web of intermarriage that characterised European royalty at the time, Louis XVI and Marie Antoinette were cousins due to both being descended from Philippe, Duc d'Orléans, known to history as 'Monsieur', the controversial younger brother and only sibling of Louis XIV. Philippe was a complex character, famed for his liking for pretty young men and passion for fashion and the more byzantine complexities of court etiquette as well as his perhaps rather unexpected extreme natural cunning and bravery in battle.
Perhaps fittingly, Louis was the great great great grand-son of Philippe and his flighty, pretty, delicate first wife, the Princess Henrietta Anne of England, who was youngest daughter of the troubled Charles I, with whom Louis would alas, have more than one thing in common. Marie Antoinette, on the other hand was the great grand-daughter of Monsieur and his second wife, the sensible, plain talking, Protestant princess Elizabeth Charlotte (Liselotte), who was the grand-daughter of Elizabeth of Bohemia, daughter of James I and so, like Philippe's unfortunate first wife, Henrietta, who was her father's first cousin, yet another sprig on the Stuart family tree.
That there was a dash of that unlucky Stuart blood in both Louis and Marie Antoinette is perhaps no surprise as they shared James I and Anne of Denmark as common ancestors as well as James' enigmatic mother Mary, Queen of Scots (another erstwhile Queen of France who lost her head) and HER glamorous grandmother, Margaret Tudor, the daughter of Henry VII and Elizabeth of York and on and on. I can imagine Louis, who liked his history, being very interested in his Stuart, Tudor and Plantagenet ancestors while perhaps Marie Antoinette was intrigued by the glamorous and romantic personage of Mary Stuart.
Liselotte van der Pfalz, Duchesse d'Orléans, c1670. Photo: Reiss-Engelhorn-Museen, Mannheim.
Marie Antoinette's French grandmother, Élisabeth Charlotte d'Orléans was the only daughter of Monsieur and Liselotte and was born on the 13th September 1676 at the Château de Saint-Cloud, which had been perfected by her father over the years and had a commanding view from its terrace towards Paris. Later, this beautiful summer château would cause controversy when it became the personal possession of Marie Antoinette, but at the time of Élisabeth Charlotte's birth it was still, along with the Palais Royal in Paris, the primary seat of the Orléans family.
As niece of Louis XIV, the little girl was one of the first ladies in France and was given the courtesy title of Mademoiselle de Chartres, which she would use until the marriages of her two elder half sisters, Marie Louise and Anne Marie, the daughters of Henrietta of England who were married into the royal families of Spain and Sardinia respectively, had taken place and she was in her turn granted the title of Madame Royale to signify that she was now the premier unmarried princess in the country.
Mademoiselle de Chartres as Venus, Gobert, c1697, Chateau de Versailles.

Élisabeth-Charlotte d'Orléans, Mademoiselle de Chartres, Belle, c1688.
Élisabeth Charlotte's childhood was a happy one and was divided between Saint Cloud, the Palais Royal and the chief residences of her dread uncle, Louis: Versailles, Marly and Fontainebleau where she was an honoured denizen. A pretty brunette who was never less than gloriously dressed in shimmering silks, velvets and brocades, Élisabeth Charlotte was every inch the French princess – however beneath the gorgeous clothes there beat a rebellious heart which made her fond parents frequently and perhaps rather hypocritically despair of her frankness, wild behaviour and tomboyish escapades.
However, despite her wilful spirit, like all princesses at this time, Mademoiselle de Chartres would have been raised in the full knowledge that, like her half sisters, she was ultimately destined to one day marry a man that she had never met and who had been chosen for the most unromantic of reasons by her family and then travel abroad to preside over his court, probably to never see France ever again. The fates of Louis XIV's bevy of beautiful indolent illegitimate daughters by Louise de la Vallière and Athénaïs de Montespan must surely have aroused envy in the breasts of many French princesses as, unable by the stigma of their birth to marry foreign princelings, they alone had been permitted to remain at Versailles and had been married off to the most high ranking noblemen of their father's court, including Élisabeth Charlotte's own brother, Philippe, Duc de Chartres, much to her mother's fury.
Mademoiselle de Chartres as Diana, c1680.
Élisabeth Charlotte d'Orléans with her brother, Philippe, Gobert, c1690.
It is said that Liselotte was so enraged that Philippe had agreed to his brother's request that their eldest son and heir should marry Françoise Marie, the daughter of Athénaïs de Montespan, who had, to add insult to injury, once been lady in waiting to Philippe's first wife, Henrietta, that she slapped her also compliant son's face in front of the entire court then, much worse still by the standards of the day, pointedly turned her back on Louis XIV and stomped off, ignoring him, when he politely wished her a good day.
Luckily, Louis showed few signs of wanting to meddle in the marriage arrangements of her only daughter, Élisabeth Charlotte, although there was some brief panic when a match with Joseph of Bavaria, the younger brother of Madame la Dauphine was suggested to the girl, although it came to an end when the completely outraged Élisabeth Charlotte declared that she, a princess of the royal blood, had no intention of throwing herself away on a mere younger son. It was also tentatively suggested that the Princess might like to marry her cousin, the Duc de Maine, another one of La Montespan's good looking, merry, witty children but her mother nipped this in the bud without much trouble at all.
Mademoiselle de Chartres arranging flowers, School of Mignard, Château de Versailles.
Élisabeth-Charlotte d'Orléans, Duchesse de Lorraine and her eldest son Louis, Gobert, c1708, Musée Lorrain in Nancy France.
Fortunately for Élisabeth Charlotte there were several other far more worthy suitors for her hand, including that most grand of marital catches, the Emperor Joseph I and also William III of England, the widower of her cousin, Mary II of England although neither match came to anything in the end. Closer to home there was also her widowed cousin, the Grand Dauphin, but this too would eventually come to nothing.
Élisabeth Charlotte was eventually married at the age of twenty two, which was absolutely elderly by the standards of the day, to the Duc de Lorraine, who was a bit of a step down for a Princess who had been considered a suitable bride for a King and Emperor but still a rather more acceptable parti than the Duc de Maine or a despised younger son. The wedding was a very grand affair, as befitted a bride who came with a dowry of close to a million livres, and took place on the 13th of October 1698 in the beautiful chapel at Fontainebleau in front of her family and the entire court, who were probably relieved to have her married at last and to someone who wouldn't prompt her terrifying mother to lose her temper with the King.
The wedding of the Duc de Lorraine and Mademoiselle d'Orléans de Bourbon on the 13th October 1698 at Fontainebleau. Photo: Bibliothèque Nationale de France.
It wasn't a love match and had been engineered by necessities of state, but Élisabeth Charlotte and her new husband, Leopold fell in love and were to be immensely happy together bar a rough patch in the middle of their years together when he had a bit of a mid life crisis and took up with a glamorous French noblewoman, Anne-Marguerite de Lignéville, Princess of Beauvau-Craon, which made poor Élisabeth Charlotte's life extremely difficult for a while and even caused a temporary rift between husband and wife, despite her mother's counselling that she should turn a blind eye and silently endure as women had been doing for centuries. Their chief residence was the very handsome Château de Lunéville near Nancy, which her husband extensively rebuilt and would become known as 'the Versailles of Lorraine'.
The proximity of Lorraine to Versailles and Paris meant that Élisabeth Charlotte was a lot more fortunate than many other Princesses, including her own grand-daughters, the daughters of her son Francois Étienne and his wife, the Empress Maria Theresa, who were sent away from home at an early age never to return. Élisabeth Charlotte, on the other hand, could still consider herself to be on French soil (although the terms of her marriage decreed that Lorraine would cease to be so – however it must still have felt sufficiently 'French' for her to feel quite at home there) and was still able to see her family if not as much as previously then more often than perhaps she could have hoped for based on the experiences of other princesses such as her half sisters. She was even a guest at all the great events of the time, including the coronation of her cousin, Louis XV at Rheims Cathedral which was conveniently close to her main residence at Nancy.
The Duchesse de Lorraine on horseback, Jean-Baptiste Martin. I love this painting as it reminds me of the later rather dashing portraits of Marie Antoinette on horseback.
Astonishingly, the marriage of Leopold and Élisabeth Charlotte produced thirteen children over the years although, like her son and his wife, they would know the extreme sorrow of losing several of them in infancy, including three, two daughters and their eldest son, in the same week in 1711 to an outbreak of smallpox, which would also be the scourge of the Imperial court, while in perhaps an even greater calamity, their next eldest son and heir, the dashing Léopold Clément, would also be carried off by an attack of smallpox at the age of just sixteen in June 1723, leaving his younger brother as heir in his stead.
François-Étienne, the new fifteen year old heir to the Duchy of Lorraine had been born in the Lorraine ducal palace in Nancy on the 8th of December 1708 and indeed had almost not been born at all as his conception had occurred during the honeymoon period that had followed after his father's break from the Princess of Beauvau-Craon and reconciliation of his parents. He would eventually inherit his father's title and estates in March 1729, at the age of twenty, having spent the previous five years at the imperial court in Vienna where he was regarded as the intended husband of the emperor's daughter, his cousin Maria Theresa.
The Duchesse de Lorraine and her son François-Étienne, Alexis Belle, 1722. François-Étienne would become Marie Antoinette's father.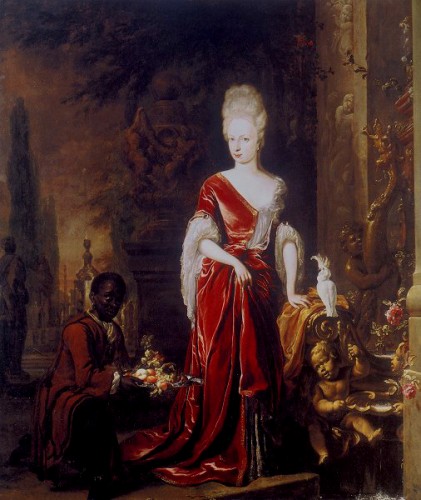 Élisabeth Charlotte d'Orléans, Weenix, c1697.
During her son's continued absence in Vienna, the widowed Élisabeth Charlotte acted as an extremely able regent in his duchy of Lorraine. Although the match with Maria Theresa, the heiress of the Habsburg empire was an undoubtedly grand one, it did not, however, meet with her approval as the terms of the marriage involved her son surrendering Lorraine back to France and taking instead the title of Grand Duke of Tuscany as part of an ongoing dance swapping titles and tracts of land. It can't be said that François Étienne was as pleased as punch about all this either – despite being madly in love with his prospective bride, he had hesitated while in the very act of signing the marriage contract and had in fact put down the pen several times before finally signing away the Lorraine. He would go on to marry Maria Theresa in February 1736 and in tribute to his lost duchy, their children all bore the name Hapsburg-Lorraine.
Élisabeth Charlotte, however, was understandably deeply aggrieved about the loss of Lorraine and took up residence in Commercy, which her cousin, Louis XV made a Principality in an attempt to appease her for what must have been a heavy blow. The rest of her life was spent not unhappily with the usual round of glittering court events, good works and brokering suitably prestigious marriages for her remaining children. She was to eventually die in the Château de Commercy on the 23rd of December 1744, at the age of sixty eight and was buried with great pomp in the Lorraine family chapel of Saint-François-des-Cordeliers in Nancy beside her husband. Twenty four years later, her granddaughter, Marie Antoinette would pause there during her long journey from Vienna to Versailles and pray in the chapel of her father's family for the repose of their souls.
Élisabeth-Charlotte d'Orléans, Duchesse de Lorraine, unknown artist, Chateau de Versailles.
******
Set against the infamous Jack the Ripper murders of autumn 1888 and based on the author's own family history, From Whitechapel is a dark and sumptuous tale of bittersweet love, friendship, loss and redemption and is available NOW from Amazon UK
and Amazon US.
'Frothy, light hearted, gorgeous. The perfect summer read.' Minette, my young adult novel of 17th century posh doom and intrigue is now 99p from Amazon UK
and 99c from Amazon US. CHEAP AS CHIPS as we like to say in dear old Blighty.
Blood Sisters, my novel of posh doom and iniquity during the French Revolution is just a fiver (offer is UK only sorry!) right now! Just use the clicky box on my blog sidebar to order your copy!
Copyright secured by Digiprove © 2013-2014 Melanie Clegg