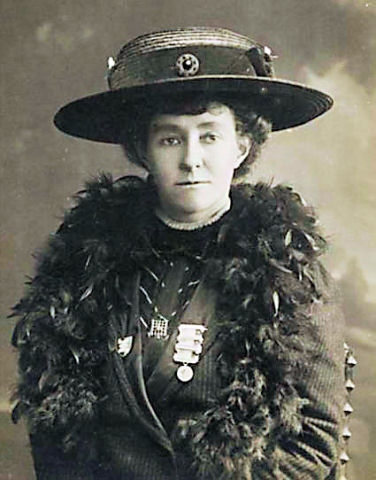 'Rebellion against tyrants is obedience to God' – Emily Davison's favourite saying.
I grew up in a horse racing mad household and Derby Day was always a bit of a big day for us, especially when I was in the throes of my terrible crush on the jockey Steve Cauthen. Dear me, that was a sad time for everyone. I have photographs somewhere of a teenaged me beaming weirdly next to a host of jockeys, including Walter Swinburne, Lester Piggott and a young Lanfranco Dettori.
Nowadays though, Derby day makes me think of Emily Davison, the Suffragette who met her end beneath the hooves of George V's horse during the 1913 Derby on Epsom Downs. Yes, that's Emily Davison NOT Emmeline Pankhurst – it's amazing how many people think that it was Mrs Pankhurst, to be fair probably the only Suffragette that they are able to name, who took the tumble that bright summer's day.
I consider myself to be a feminist – in that I am female and believe in absolute equality for all sexes and that makes me a feminist, right? I always vote; I try to take an interest in politics; I get annoyed when VS Naipaul is unkind about female writers; I roll my eyes at all the pink toys in the Early Learning Centre; I even have a certain modicum of respect for Margaret Thatcher's achievements if not her policies or anything else about her.
However, this kind of pales in comparison to the fury that Emily Davison felt. Some of the stuff that she did is pretty amazing, like getting a degree from the University of London and a double first in her exams at St Hugh's College Oxford at a time when women rarely went to any university let alone Oxbridge and hiding in a broom cupboard of the Palace of Westminster on the night of the 1911 census so that she could put 'The House of Commons' her place of residence. There's even a plaque commemorating this, mounted on the door to the very cupboard!
Other stuff is a bit frightening, like setting fire to post boxes, throwing stones at Lloyd George's car, the hunger strike at Holloway Prison and throwing herself down a staircase at Strangeways Prison. While planting a bomb that exploded in Lloyd George's house borders on terrorism. Okay, that actually IS terrorism isn't it? There's a lot to admire about Davison, like her determination and obvious intelligence but at the same time, the pathetic milquetoast pacifist me balks rather at placing bombs in people's houses and self injury.
However, the treatment meted out to her is terrifying too. When she went on hunger strike at Holloway, she tried to avoid being force fed by the guards by barricading herself into her cell. Undaunted they put pipes through the grilles and filled the room with water, stopping just before it was completely filled and Emily, who seems to have welcomed the prospect of death and martyrdom for the Suffragette cause, was drowned. We can only imagine her terror as the water rose around her before, mercifully, the door was broken down and she was released.
No one knows for sure what she intended when she ran out on to the course on the 4th June 1913. It's been claimed that she was just trying to attach a Suffragette's flag to the King's horse and was struck down by accident, while some eyewitnesses stated that she very deliberately attempted to pull down the horse and its jockey, who suffered a concussion from the fall and would eventually commit suicide in 1951, apparently haunted by what happened that Derby Day.
Another Suffragette, Mary Richardson who was with her that day would later recall: 'She stood alone there, close to the white-painted rails where the course bends round at Tattenham Corner; she looked absorbed and yet far away from everybody else and seemed to have no interest in what was going on round her.
A minute before the race started she raised a paper of her own or some kind of card before her eyes. I was watching her hand. It did not shake. Even when I heard the pounding of the horses' hoofs moving closer I saw she was still smiling. And suddenly she slipped under the rail and ran out into the middle of the racecourse. It was all over so quickly. Emily was under the hoofs of one of the horses and seemed to be hurled for some distance across the grass. The horse stumbled sideways and its jockey was thrown from its back. She lay very still.'
Among her possessions was found a return ticket to London Victoria, which suggests that she had no intention of doing herself any serious harm that day. However, Emmeline Pankhurst herself clearly believed otherwise and was to say: 'Emily Davison clung to her conviction that one great tragedy, the deliberate throwing into the breach of a human life, would put an end to the intolerable torture of women. And so she threw herself at the King's horse, in full view of the King and Queen and a great multitude of their Majesties' subjects.'
Emily herself lingered on in hospital for four more days without ever regaining consciousness before dying on the 8th of June. She was hailed as a heroine by the Suffragette movement but her actions were seen by many opposing the suffrage of women as a prime example of the wild emotional hysteria and lack of sense that meant that women should never be entrusted with the ability to vote. After all, Emily was educated at Oxford, and could therefore be assumed to be a woman of sense and intelligence…
Sylvia Pankhurst described her funeral: 'A solemn funeral procession was organised to do her honour. To the militants who had prepared so many processions, this was the natural manifestation The call to women to come garbed in black carrying purple irises, in purple with crimson peonies, in white bearing laurel wreaths, received a response from thousands who gathered from all parts of the country. Graduates and clergy marched in their robes, suffrage societies, trade unionists from the East End, unattached people. The streets were densely lined by silent, respectful crowds. The great public responded to the appeal of a life deliberately given for an impersonal end. The police had issued a notice which was virtually a prohibition of the procession, but at the same time constables were enjoined to reverent conduct.'
The WSPU (Women's Social and Political Union) slogan 'Deeds not Words' is carved on her gravestone.
As you can see, I have mixed feelings about Emily Davison. I feel like I should absolutely admire her for her staunch belief in the Suffragette cause and indeed I am very, very grateful to them for their efforts in getting the vote for women but I find her actual deeds rather terrifying. What do you think? Could we do with being a bit more like her nowadays?
******
Set against the infamous Jack the Ripper murders of autumn 1888 and based on the author's own family history, From Whitechapel is a dark and sumptuous tale of bittersweet love, friendship, loss and redemption and is available NOW from Amazon UK
and Amazon US.
'Frothy, light hearted, gorgeous. The perfect summer read.' Minette, my young adult novel of 17th century posh doom and intrigue is now 99p from Amazon UK
and 99c from Amazon US. CHEAP AS CHIPS as we like to say in dear old Blighty.
Blood Sisters, my novel of posh doom and iniquity during the French Revolution is just a fiver (offer is UK only sorry!) right now! Just use the clicky box on my blog sidebar to order your copy!
Copyright secured by Digiprove © 2014 Melanie Clegg