On this day in 1810, Napoléon and Joséphine formally ended their marriage, which had lasted for over thirteen years and weathered all manner of storms such as the infidelity of both parties, war and extensive separation. In the end it was none of these things that contributed to the divorce, but instead the overwhelming desire of Napoléon to beget an heir for his empire.
Joséphine was forty six years old, some years her husband's senior and unable to provide him with the child that he had decided he required. Napoléon gave every appearance of being reluctant to end his marriage with the woman that he still regarded as his lucky charm, his Notre Dame des Victoires, but in reality he was already looking around for a new, royal and hopefully fecund young bride.
Joséphine's moment of triumph at her coronation, JL David, 1804. Photo: Musée Louvre.
The official papers were signed in front of the court after dinner on the 10th January, with both parties looking visibly distressed and shaken. Napoléon gave a speech in which he said that: 'I can…only  rejoice over the affection and tenderness of  my well-loved spouse. She has graced fifteen  years of my life, and the memory of this will  remain for ever stamped on my heart. She  was crowned by my hand. I desire that she  shall keep the rank and title of crowned Empress,  but above all that she shall never doubt my  feelings and that she shall have me always as  her best and dearest friend.'
Joséphine's speech was no less affecting and indeed she was unable to complete it so overcome was she by tears. Like the speech given by Anne Boleyn on the scaffold, the emphasis is on her husband's kindness and care for her – no doubt with the similar intention of protecting the interests of her family and making sure he continued to treat her children with affection. Although of course, Joséphine's situation was more akin to that suffered with such dignity by Catherine of Aragon – cast aside for a younger woman who could provide her husband with his much longer for legitimate heir.
'With the permission of our august and dear spouse, I declare that, since I have no hope of bearing children who can satisfy the requirements of his policy and the interests of France, it is my pleasure to give him the greatest proof of attachment and devotion which was ever given on earth. I owe all to his bounty, it was his hand which crowned me, and, seated on this throne,
I have received nothing but proofs of affection and love from the French  people. I am recognising all this, I believe, in consenting to the dissolution of a marriage which is now an obstacle to the welfare of France and deprives her of the good fortune of being ruled one day by the descendants of a great man plainly raised up by Providence to remove the ill-effects of a terrible Revolution and to set up again the altar, the throne, and the social order. But the dissolution of my marriage will make no change in the sentiments of my heart. The Emperor will always have in me his best friend. I know how much this act, which is made necessary by his policy and by such great interests, has wounded his heart; but we shall win glory, the two of us, for the sacrifice which we have made on behalf of our country.'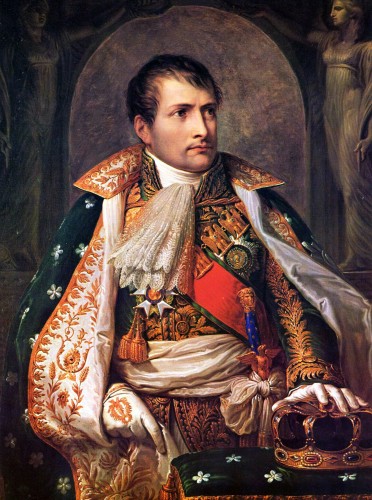 Napoléon as King of Italy, Appiani, 1805. Photo: Kunthistoriches Museum, Vienna.
Shaking and distraught, the Empress' children, Eugène and Hortense escorted her gently from from the room, away from the scornful, triumphant and delighted gazes of her loathsome Bonaparte in-laws. It must have been some small consolation to the unhappy Joséphine that at least she would never have to set eyes on any of them ever again.
Later that night, long after darkness had fallen on the Tuileries, Joséphine found herself quite unable to bear her misery alone, got out of bed and ran to the rooms of her now ex-husband. There, she found him in bed and fell upon him sobbing, while he, also in tears, held her and stroked her hair.
Empress Joséphine, Prud'hon, 1805. Photo: Musée Louvre.
It was to be their last night under the same roof. The next day at two in the afternoon, Joséphine's belongings were loaded into carriages and taken to her beautiful château of Malmaison. She sat alone in her former rooms, now empty of her belongings and waited for her husband to come to her to say a final farewell. It must have been a disappointment when he arrived not alone but with his secretary Meneval in tow, but despite this, Joséphine threw herself at him in tears once again and eventually became so overcome with woe that she fainted in his arms as he kissed her goodbye.
Napoléon, also crying, put her into the arms of his secretary and hastened from the room while the no doubt embarrassed Meneval carried the former Empress from her rooms and put her, by now revived and sobbing wildly into her carriage.
I can imagine Napoléon watching from a window, tears running down his cheeks and one hand tucked into his coat as her carriage pulled away, taking her from the Tuileries for the very last time.
Empress Joséphine, Gérard, 1801. Photo: Château Malmaison.
'My Dear Joséphine,
I found you to-day weaker than you ought to be. You have shown courage; it is necessary that you should maintain it and not give way to a doleful melancholy. You must be contented and take special care of your health, which is so precious to me.
If you are attached to me and if you love me, you should show strength of mind and force yourself to be happy. You cannot question my constant and tender friendship, and you would know very imperfectly all the affection I have for you if you imagined that I can be happy if you are unhappy, and contented if you are ill at ease.
Adieu, dear. Sleep well; dream that I wish it.
NAPOLEON.'
The couple continued to correspond after their divorce and Napoléon even visited her at Malmaison from time to time, unable to separate himself completely from the woman that he had loved so ardently for so long, while she in return never ceased to love him completely and remained loyal to him to the very end.
******
Set against the infamous Jack the Ripper murders of autumn 1888 and based on the author's own family history, From Whitechapel is a dark and sumptuous tale of bittersweet love, friendship, loss and redemption and is available NOW from Amazon UK
, Amazon US and Burning Eye.
'Frothy, light hearted, gorgeous. The perfect summer read.' Minette, my young adult novel of 17th century posh doom and intrigue is available from Amazon UK
and Amazon US and is CHEAP AS CHIPS as we like to say in dear old Blighty.
Copyright secured by Digiprove © 2015 Melanie Clegg